Camp Malmö, Sweden
By Magdalena Osborne
Photos © EMJO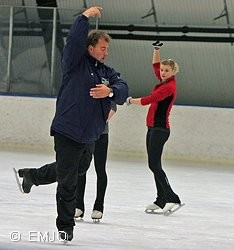 By now it's a tradition for EMJO and Magdalena to visit the Malmö rink before it closes for the summer. This time it was extra exciting as German coach Michael Huth was invited to work with the Swedish Team for a few days. Carina Skoog, the Swedish Figure Skating Association's Elite Sports Manager, was also there to offer the skaters counsel and individual evaluations. 

Since the main arena was being prepared to host a Paul Potts concert, all the skaters were referred to the practice rink. It's in a much smaller building and has hardly any place for spectators to sit. But most of all; it's freezing!!! So although the sun was nice and warm outside, we had to bundle up with sweaters and mittens to be indoors.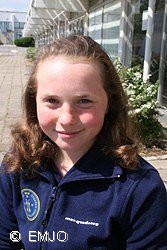 The younger skaters were already on the ice. We've watched Michael Huth in action before and he sure keeps his students busy! We feasted our eyes on Josefin Taljegård, the 12-year old who first stole our hearts at Nationals years ago skating to "Dirty dancing". She's a novice, but competed with 15-year olds at Nationals - and won - and she'd earned a spot at this camp. This spunky, very forward and outgoing girl knows what she wants and how to get it! And she already has plenty of experience talking to reporters.
"My older sisters skated and I was always going to the rink with them. But it wasn't so much fun to just watch so I started skating too. I love to compete and I'd like to go to the European Youth Olympics and later to Europeans and Worlds."
Those are pretty big goals for a preteen and yet watching her leaves little doubt that she'll make it.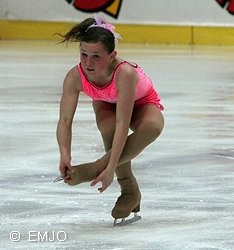 "I love competing cause everyone watches and it's up to me to prove myself to the judges and the audience. Throughout the program it's about acting out the part, to really take on the character."
She's working on a new short program in flamenco style, but the long program to "Happy feet" will stay the same for another season. And after training with Michael her feet are a bit happier.
"Yeah, this is the first time I train with him and it's very different and a lot of fun. I can do steps better now and I've learned to bend my knees a bit more. He kept reminding me!"
She smiled and took off but this girl has a lot to offer Swedish skating so we know we'll see her again.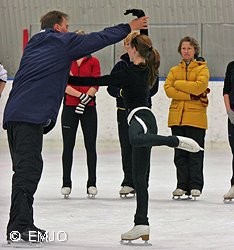 The coaches remained on the ice ready to take on the next group. The students got long breaks between sessions but the coaches only got short breathers while the ice was being resurfaced. Ela Magnusson, head coach in Malmö, was happy about Michael being there.
"He's staying with my family. He doesn't say no to coming to Sweden, right now was a good time for him to come!"
And it was a good time for the Swedish team to come to Malmö.  

Adrain Schultheiss and Sasha Majorov were in the next group. Michael had all the students holding a skate guard while rotating. Grace and balance was the name of the game while more moves were tucked on to build a sequence. There were some wobbles here and there and all the exercises were certainly harder than they looked from the boards.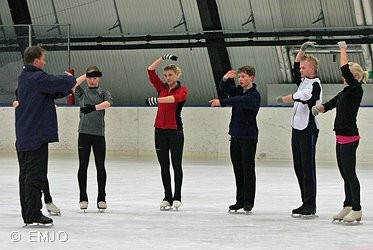 Sasha commented:
"This is ok, it's a bit different. Michael worries less about technique and wants me to work out things in my head. It's sort of opposite to what others say... but it's quite interesting!"
The key is probably just that - it was something different! Viktoria Helgesson hadn't trained with Michael before either, and she liked it a lot.
"There are many new moves!"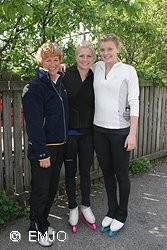 She attended the camp with her younger sister Joshi and her coach/mother, and appreciates camps as different coaches give new exercises. Her coaches, whenever they go along, also learn new things so they too can improve.
"We learn to see things from a different perspective, and training together with other skaters also helps."
Camp is fun for a lot of reasons although some elements are less desirable, like the theory classes. Sasha frowned.
"Yeah, theory... that's really not my thing, actually I can't stand it. But I know, I have to go anyway, there's no way around it." 

Viktoria had a fabulous past season. After winning Nationals she went on to take gold in Iceland at the Nordics. She finished 18th at her debut at Europeans and Worlds, and she got to skate in the gala in Göteborg.
"It was so cool to skate in front of the home crowd. The audience was fantastic, I loved it. I'm very happy with my accomplishment this past season. I missed a few things in my free skate, but it was my first Worlds so that was to be expected."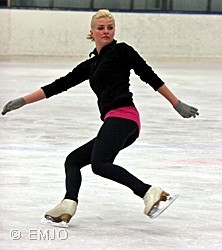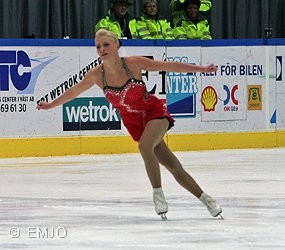 This classic beauty has done very well and there are many lady skaters who have inspired her; Michelle Kwan, Sasha Cohen and Shizuka Arakawa to mention a few. But Viktoria isn't into copying anyone.
"I can look at many skaters and get inspired by their style and certain moves, but I always try to make it my own. And I like skating to music that's a bit different and that hasn't been used by so many skaters already."
That is a difficult task. For the new long program she has selected violin music. The program is put together at a summer camp in Sweden.
"I will go to Chicago and train for a while, but it costs too much money to have programs made there."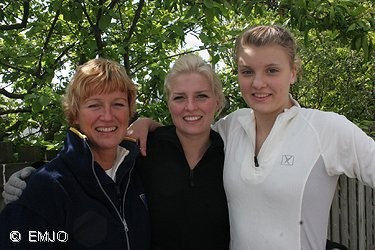 Viktoria is coached by her mother Christina and by Regina Jensen. Being coached by a parent is no problem since the role as parent and coach are so different. Having a sister as a serious competitor is no problem either, it just pushes both of them and makes them stronger. And they never have to feel alone since they spend so much time together. Both sisters have beautiful smiles, like their mother!

"I'm a bit taller than both Viktoria and my mom now!", said Joshi proudly. "But I don't think I'll get much taller. But being tall is no disadvantage. I may look different on the ice but I feel no different. It's just that growing so much so fast - it takes a while to get to know your own body."
Joshi just turned 15 and for her too the 2007/2008 season was a memorable one. She did well in the Junior Grand Prix events, placing 6th and 7th.
"The most fun place I went to was France. I was there late in the year and it was still warm so I could go swimming, it was nice!"
Later she defended and kept her title as National Junior champion and won gold at Nordics. But the big season event was Junior Worlds.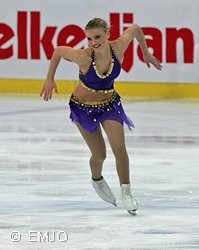 "It was my first time there, so I was nervous. My first goal was to make it to the free skate and then I just wanted to skate as well as I could, I didn't think much about how I would place."
Well, to finish 7th isn't bad for a debutant! To top things off Joshi also got to perform in the Worlds gala in Göteborg. What a way to end a season!
This summer she will train at various camps in Sweden and accompany her sister to Chicago. And in case some free time should pop up she had that covered as well.
"I like to be with some friends. And I used to play soccer, but these days I don't have so much time to practice." 

T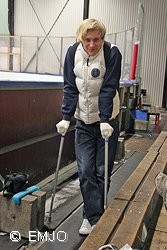 he one member of the Swedish team who didn't skate at the camp was Kristoffer Berntsson. But he was there anyway - what a sport!
"Well, I needed to be here for the individual evaluation and goal setting."
Still, his determination surely served as inspiration to the other skaters. Still recovering from the hip surgery in April, he spent some time outside the rink enjoying the sunshine. The crutches were leaning against the chair for easy access.
"The surgeon was very pleased with how things turned out. After two weeks I went back for x-rays and he said it looked like a normal hip again. It's still swollen and I don't have full mobility yet, but it's looking up! The recovery takes three months so in the middle of July I should be able to get on the ice again. The swelling has to go down and of course I must starts slowly."
The break from training gave him a chance to catch up on some schoolwork and he's reading a thick book called "Power electronics".
"Mmm, I have some term papers that have to be turned in."
In spite of all the practising and competing he's done, he's on his way towards a masters degree.
"If all goes well I'll graduate around the Vancouver Olympics."

More on the Swedish skaters is soon coming up on Absolute Skating, so be sure to check back!