EC 2009: When reigning champions fall
Helsinki - Day One
By Titanilla Bod
Photos © Absolute Skating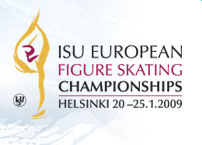 The fall of Shabalin
Some people say, compulsory dances are boring and useless, but in fact, they can show something surprising. In Helsinki, 28 couples performed the Finnstep (formerly known as Sunshine Quickstep, based on the original dance of Finnish European champions Susanna Rakhamo and Petri Kokko), and only one competitor fell - the reigning champion, Maxim Shabalin.
Oksana Domnina and Maxim Shabalin, who won the 2008 Europeans in Zagreb despite Maxim having a knee injury, had an entertaining entry of their CD. Maxim imitated he was opening a bottle of champagne and they said cheers before they started to dance.
However, after they finished, they had no reason for celebrating or champagne. The fall of Shabalin in the second part of the dance cost the Russian couple a lot. After the first segment of the competition they are ranked only 5th.
"It was just a mistake. I can't say what happened now, it is still a mystery. We did some performances of the Finnstep in our practices, in costume. But it looks like it wasn't enough", Shabalin said.
The another Russian couple, Jana Khokhlova and Sergei Novitski, have a different opinion on this dance. They had a flawless performance and are currently in first place. "We really like the Finnstep, because it is such a happy, fun dance. The character of the Finnstep suits us very well", Khokhlova told the press. 
The fall of Szolkowy
The German pair, Aliona Savchenko and Robin Szolkowy seemed unbeatable in the last two seasons. In the current season they have showed some weak points, so the biggest question of the pairs' short program was if someone can attack their position. Â 

The two-time European champion and reigning world champion started the short program with a mistake: Szolkowy fell on the side-by-side triple toe-loop. "You have to practice your mind to come back to your program after a big mistake, as soon as possible. That's what I tried", Szolkowy confessed at the press conference. He managed to do it quite well, because the other elements in the energetic program to the Lost in Space soundtrack were good and the performance of Savchenko and Szolkowy was worth 66.64 points. The Russian pair, Yuko Kawaguchi and Alexander Smirnov couldn't beat it, even though they had a clean program. However, their countrymen, Maria Mukhortova and Maxim Trankov did even better and to the capturing music of Pink Floyd's "Nobody home". They skated a very emotional and technically flawless program. The score 69.62 catapulted the Russian pair into first place. "This is the second time we beat Aliona and Robin in the short program, but it's not about beating them, it's about competing with ourselves and doing our best. We are very confident with our short program and now we have to take this confidence into the free program" Trankov stated.
Tonight we will see if they manage to.