EC 2009: Savchenko and Szolkowy in the top for the third time
Helsinki - Day Two
By Titanilla Bod
Photos © Absolute Skating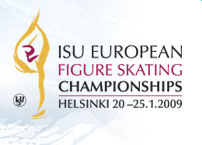 Silence in the Hartwall Arena
It is breathtaking when everyone in a crowded arena is clapping, but it is even more breathtaking when everyone in a crowded arena is totally quiet. The Hartwall Arena in Helsinki held its breath while Aliona Savchenko and Robin Szolkowy skated towards their third European title to the moving soundtrack of Schindler'4s List. When they impressively finished their free skate, which included a flawless throw triple salchow, the noise erupted. No one had doubts that this German pair would defend their title.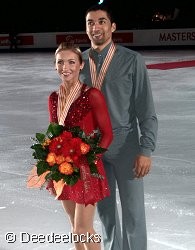 "I noticed how quiet people were and it sort of gave me goose bumps", Aliona said and her partner added: "The crowd was quiet especially during our circular step sequence. So I thought: have they fallen asleep or do they enjoy? I think they enjoyed..."
It wasn'4t an easy task for them to earn the third continental title in a row. Szolkowy fell on his triple toeloop in the short program, and let the Russian pair Mukhortova/Trankov take the lead. However, just as in Skate America, the Russians couldn'4t take this advantage they were given. They made numerous mistakes in the freeskate; one of Mukhortova'4s falls looked really painful. "It was very hard to continue after that fall", she told the press with a bitter smile.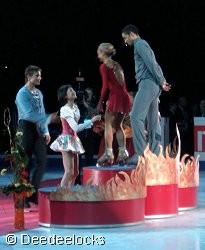 On the other hand, Yuko Kawaguchi and Alexander Smirnov, who skated last and grabbed the silver in the end, were happily smiling. "We got one step up compared to our result last year, so we are satisfied", Kawaguchi said. 

Quads and strategies
Short programs are about strategy. Should I take a risk or is it better to play it safe? - that'4s what all skaters ask themselves. Before the men'4s short program only four quads were listed in the planned element sheets, and on the ice only three of them materialized; a perfect one in combination with a triple by Brian Joubert, and two in combination with a double by Sergei Voronov and Yannick Ponsero. Reigning champion TomᚠVerner changed his mind and in the end he chose to do only a triple-triple combination. "My coach told me to do so and I just said: OK. There wasn'4t much time to discuss the issue; I could only say yes or no. I listened to my coach as it is better to start off with a clean program", Verner explained.
Brian Joubert also had some trouble with the quad - he fell on it during the warm up. "Actually I was almost happy to fall, because I made a few mistakes in practice and the fall put pressure on me." In the short program his quad toeloop was again as solid as ever, and the rest of the program was just as energetic as its beginning.
Behind Joubert and Verner lies a little surprise in third place: Samuel Contesti! Originally French but now representing Italy and despite starting in an earlier group, he skated clean and kept his third place going into the freeskate. "I would like to thank my new federation for their support and the good training conditions. I want to thank all the people who help me", Contesti said in the press conference.