EC 2009: First title for Khokhlova and Novitski
Helsinki - Day Four
By Titanilla Bod
Photos © Absolute Skating
In the ladies competition there are two Finns in the lead. First is Laura Lepistö, despite the single Axel, second is Susanna Pöykiö, who skated clean but got only low levels for her spiral and spins. Reigning champion Carolina Kostner is currently only in third because she fell on the take-off of her Lutz.
"I'm pretty satisfied with my skating today. It was annoying the Axel came out as a single, but otherwise I felt confident. After my skate I felt so happy and relieved", Lepistö said. Pöykiö had similar feelings: "I felt great before the program and even better after it. I'm a little bit disappointed because of the levels of my spins and the spiral, but otherwise it was a clean program. Perhaps judging here is stricter than normally. I'll concentrate more on spins and spirals in the free skating, on positions and rotations, and remember that each element counts."
Pöykiö wasn't the only one who got surprised by the judging. Lots of jumps were downgraded - Kiira Korpi was upset about her loop, Julia Sebestyén about her Lutz. Both of them said they felt their jumps were clean, but the judges had a different opinion.
However, there was no doubt about Carolina Kostner's missed Lutz - she fell even before she could jump. "I cannot be really happy with my skate because I made one stupid mistake. You cannot really prepare for it because it almost never happens at practice. Since I didn't get to even rotate my Lutz I didn't have a chance to fight its landing", Kostner explained. 

Skating to victory
The ice dance podium was really special: while Khokhlova and Novitski won their first European gold medal, silver medalists Federica Faiella and Massimo Scali, as well as bronze medalists Sinead and John Kerr earned their first European medals ever. "We want to thank our coaches, our friends and everyone who helped us, as well as the great audience for supported us. We are very happy", Khokhlova said.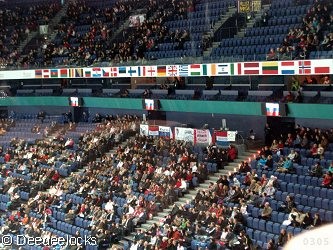 Massimo Scali revealed that his partner was crying for joy, and John Kerr added: "Usually it's the girl who cries but in our team I started to cry."
Emotional programs were received very emotionally by the spectacular audience; Sinead Kerr also mentioned the energy in the arena: "We saw the Mexican waves during the warm-up, it was very electric. It was great to skate in such an atmosphere."
And for the ladies free skating it can be even more fascinating - the Hartwall Arena is completely sold out¬Ö