EC 2009: "Please rise for the national anthem of Finland"
Helsinki - Day Five
By Titanilla Bod
Photos ┬ę Absolute Skating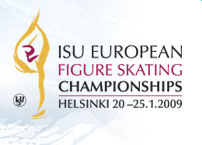 It's been all about the Finnish ladies in Helsinki this week. Look at the newspapers: Savchenko, Szolkowy won the title?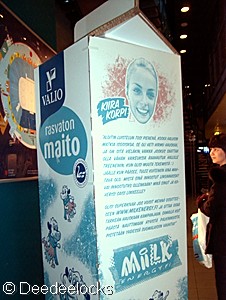 Great, but Laura, Kiira and Susanna will compete later on. Brian Joubert won the title? Let's write a short column about it, but we want the big space for Laura, Kiira and Susanna. Khokhlova & Novitski won their first gold? All right, but Laura, Kiira and Susanna…
They were smiling from the covers of magazines, they were in newspapers and they were on TV. Yes, two of them were also on the podium.
Carolina Kostner was the first to skate amongst the medal contenders, and although she doubled the flip, she skated clean. Obviously she got first position, however, her coach Michael Huth was looking at the score and he couldn't understand why Carolina got no points for the combination spin. "We'll have to check the replay. Right now we can't say anything about it", Huth said just after the program. Carolina at the press conference could tell the press more: "Probably I just did two more revolutions in the upside position before I came out of the spin. There are so many things to think about when you skate that it just sometimes overflows."
Laura Lepistö skated just after Carolina, and she wasn't flawless – she singled the Lutz. "I would say it was about the level of what I do at practice. I simplified the combination in the beginning and singled the Lutz, but I tried to keep my thoughts together and focus on the next elements. Winning here is an indescribable feeling. I could never have expected this to happen", she said.
Susanna Pöykiö was second after short program but she couldn't keep it in the free skating, so she finished third. "I'm really pleased about winning the bronze medal, but I could have skated better. I'm disappointed about doing just a double Lutz – double toe loop combination and a double flip. The levels on spins and spirals, which had low levels yesterday, were good this time. Skating my seasonal best is good, I can improve from that at upcoming competitions", Susanna said.