Choreographing the Battle of the Blades
November 9, 2011
By Tina Tyan
Photos © Tina Tyan, Insight Productions
This weekend on CBC, Tessa Bonhomme & David Pelletier, Marie-France Dubreuil & Bryan Berard, and Tanith Belbin & Boyd Devereaux face off on the ice to determine who will be the winners of this year's Battle of the Blades. Every week, these pairs have raised the bar higher and higher, dazzling fans with their daring tricks and entertaining performances.
What audiences may not realize is that each pair is not alone on the ice. Behind every pair is a third, often invisible member of the team: the hard-working choreographer. Part coach, part mentor, and part strategist, the choreographer of each team plays a key role in balancing the experience of the skater against the tenacious strength of the hockey player to produce stunning performances time after time.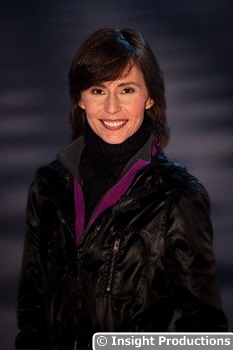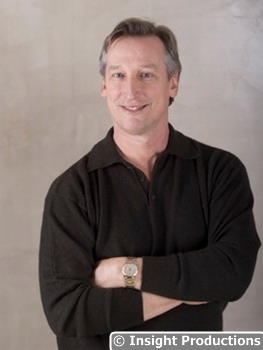 I recently had the chance to interview the choreographers behind two of the finalists: Renee Roca, the choreographer for Bonhomme & Pelletier, and Michael Seibert, of team Dubreuil & Berard. Neither Roca nor Seibert are new to the Battle. Roca previously helped Jamie Sale & Craig Simpson triumph in season 1, while Seibert coached Ekaterina Gordeeva & Val Bure to victory in season 2.
Three-time US National Dance Champion Renee Roca and five-time US National Dance Champion Michael Seibert are no strangers to creative choreography in a diverse array of situations. Between the two of them, they have worked on five seasons of Battle of the Blades for CBC, performed, choreographed, and directed over a dozen seasons of Stars on Ice, codirected and choreographed numerous television specials and tours, and even tried their hand at choreographing FOX's Skating with Celebrities.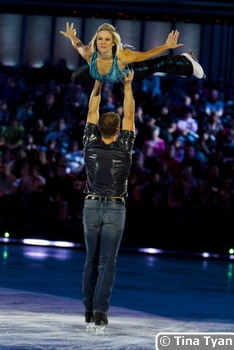 All this experience serves them well when tackling the challenges that Battle of the Blades throws at them, the biggest of which is the extreme time constraints of the show. After an initial bootcamp in the summer, the skaters are paired and assigned a choreographer. From that point, the teams have only three weeks to learn essentially everything they will need to know how to do in the show.
"When we have our three weeks in September, I stress very hard [to the players], we've got three weeks to learn our language, and we have to learn everything in those three weeks," Michael Seibert explained. "A lot of that means we do a bunch of lifts off the ice in those three weeks because once this train leaves the station, you don't have real time to learn new skills, even though they're actually getting better as skaters."
Once the season starts, it becomes a cycle of "'It's Monday morning and we've got to start the new choreography, and you might still have to skate off on Monday night, but by Tuesday, Wednesday and Thursday, the number has to be done, because we're into dress rehearsal on Saturday.' So the schedule's brutal and you don't have a lot of new learning time in that schedule. You have to have done it. Or you have to have at least laid the groundwork in September for that."
With so much to do in so little time, it is very important for the choreographers to get to know their pairs and their personalities really well, and to quickly establish a rapport and communication. While the hockey players have the advantage of already knowing how to skate, and the body awareness that comes from being an athlete, figure skating is a whole other world. As Renee Roca explained, "in figure skating, we have a whole language for turns and steps and directions and edges. There's just this whole vocabulary that these hockey men, even though they're skaters, have no idea about. They just know, go fast, go backward, go forward." Years of ingrained habit add another layer of frustration to the process, as these skilled athletes have to supplant instinct with conscious thought and technique.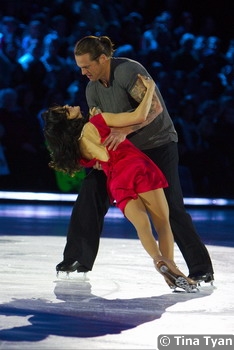 "You know, just to turn backward, they might just kind of hop forward to backward, they don't really think about the technique of the feet. And when we show them turns and things, it's hard for them. They can't get it, they're like 'Why can't I get this? I can skate!'" Roca elaborated. "And it's really hard for them. They get really frustrated, actually."
Similarly, although the hockey players are extremely strong, lifts require technique, timing and different muscle groups than the hockey players are used to using. Lifts also present an entirely different challenge that has nothing to do with physical power.
"Each week, there's so many new things for these guys. [From] counting music, to balancing a girl over your head, to getting used to, you know, inappropriately grabbing a girl who's not your wife in the wrong..." Seibert laughed. "Challenge-wise for these guys, it's all a completely different world. It's what we take for granted as male figure skaters - you know, grabbing a girl on the way down, it doesn't matter where she is as long as she doesn't hurt herself."
"And you know, these guys are trained very differently," Seibert added. "And it's charming. You know it's a very - I want to say 'old-school' - kind of manners that they just wouldn't be doing [that] to somebody other than their wives! And I don't mean that to sound as dirty as it did..."
Of course, the choreographers do get help. For one of her teams, Elena Berezhnaya & Curtis Leschyshyn, Renee Roca relied on Paul Martini as her "right arm guy." He would help Curtis with lift technique, while she worked with Elena on the patterns and movement to develop the program. In the case of Tessa and David, however, David is "just so strong as a partner and a technician that he and I just kind of do it together, and then we teach it to Tessa."
As the weeks go on, the entire team has to battle fatigue on top of all their other challenges. There are no days off. The skaters get injured, they ache all over, but there's no time to rest and recover, which makes it that much more challenging to learn and retain new things. The choreographers have to take all this into account when planning their programs each week, with what little time they have to plan.
Renee Roca said that even though they don't usually start with the next week's program until after the show on Sunday, her mind is constantly working and planning ahead, and that she'll sometimes work out ideas in her hotel room so she's ready with ideas when they hit the ice. "I don't want to waste time, that's the thing. Our ice training time is precious. So I try to have things thought out. I go to my hotel room, and I kind of run around my floor, and I think about things, so that I can come in and say, ok we're going to try this this and this, and we'll see what works, and what doesn't work gets knocked out, and what works has potential to stay."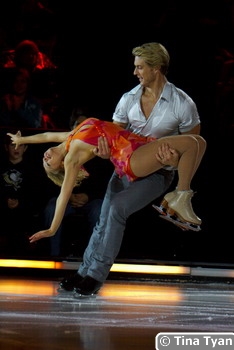 Michael Seibert takes careful note of what seems to work, and what doesn't. "Violetta [Afanasieva] and Cale [Hulse], for instance, week 2 we did a very soft, almost a rhumba, and I don't think it was very successful. I think it was our least successful program. And so when I'm picking music for them now, I think that they're better when they're picking something with a better beat, and something that's a little more fun. Bryan and Marie-France seem to have quite a romantic chemistry between them, that is something that I can use. So, I try to find things where it's more of a male-female role-playing kind of thing, that helps to set the choreography and lets you have a hook to work from."
Understanding the skaters' strengths and weaknesses includes knowing when they prefer the choreographer to take charge and pick the music, and when to work with them to determine music choice. For instance, Seibert says that "Bryan Berard is a very musical guy. He listens to what I find quite interesting music, so he has a point of view that's really fun." It was Bryan who suggested the music for Seibert's favorite program of the season, Avril Lavigne's Sk8er Boi.
It also extends to deciding how to best showcase their skills over the course of a season. "You do have a bit of a strategy because you know, the really hard tricks that you might start in September, are not the tricks I'm going to put in week 1. You need to keep some of those in reserve, because like I just said, you can't actually learn them in week 8," Seibert explained. "So you sort of have to have kept them in your back pocket, and then depending on the talent, you have to know which week actually you need to be putting in the extra stuff just to keep them a part of the game. Because if you've held all the good tricks to the end then you got voted off the island because you weren't doing anything good enough in the front, then what's the use of that?"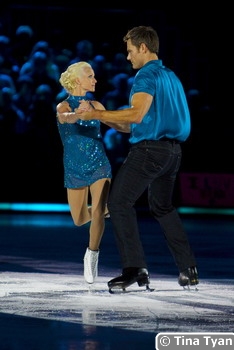 Overall, despite the challenges, both Seibert and Roca find the experience of working with the hockey players on Battle of the Blades extremely rewarding, and praise the players highly. Roca enjoys watching the light bulb come on as the hockey players learn, and listening to their conversations as they commiserate about the things they are learning and struggling to do. She laughs fondly when describing watching them walk down the halls when they think they're unobserved, working on the arm gestures and movements. "It's been a really good group. These guys are really fun. They really really are. There's a really good camaraderie with this group."
Seibert concurs. "I mean these hockey guys I think are just fantastic. And they're really fun, because they are really skilled athletes and they come here as skilled athletes and competitors, and they are just switching mediums, and it's really exciting to watch these guys want to challenge themselves, understand what the challenge is, and go about conquering it."