Questions and intrigues to be answered at the 2011 Nebelhorn Trophy
September 21, 2011
By Reut Golinsky
Photos © Absolute Skating, Vicky Azhoychik, Reut Golinsky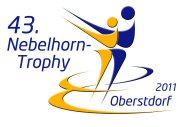 The Nebelhorn Trophy, one of the oldest still existing international figure skating competitions and one of those marking the much anticipated start of the season, is about to begin. Many skaters have decided to use this opportunity to check how well their new programs impress the judges, as well as earn points for their World Standing. Thus the roster of this Senior B event looks very impressive and raises many questions and intrigues to discuss before the Trophy kicks off.
How will the "newly-baked" North American teams do at their first international competition?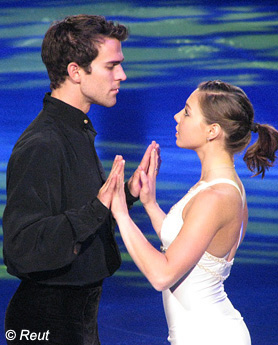 There has been a turbulent and soap opera-like off season for the American and Canadian teams in pairs and ice dance: break ups, one of the partners retired, coming out of retirement a few days after a break up, coming out of injuries right after that break up, mixes and creations of new pairs from the remaining "halves" and so on.
Some of those new combinations of familiar faces will be present in Oberstdorf.
Among them are 2008 World bronze medallist Jessica Dubé and Sébastien Wolfe (2011 Canadian junior silver medal with Tara Hancherow), a new Canadian pair which teamed up during the spring, just month after Dubé announced the end of her partnership with Bryce Davison. Training less than three months together, this pair made their competitive debut at the Liberty Summer competition in July, winning the long program with 90.82 points. In mid-August they competed at the Quebec Summer Championships where they earned 50.01 and 79.90 points for their short and long programs respectively. The pair is said to have good potential, but Sébastien still needs to gain more experience (he has only skated pairs for three years), while Jessica has to work on her consistency in the jumps and throws.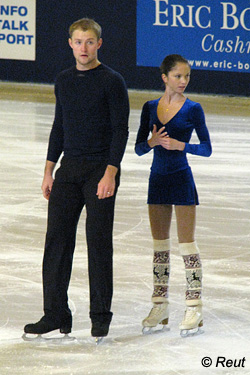 Another new pair we are all curious about is John Coughlin and Caydee Denney. If two recent US National champions (Denney with Barrett in season 2009/10, Coughlin with Yankowskas last season) team up, will that total the future US National champions? Coughlin and Denney are determined to prove this equation and their plans don't stop there. They showed their short program at the Liberty, which they won with 58 points and an 8 points lead to second place. They improved this result to 63.14 points at the Indy Challenge a few weeks later and received impressive 116.02 points for their long program. With such solid performances and thanks to the high standings Coughlin had reached with his previous partner, they are now scheduled for two Grand Prix events - the NHK and Skate America.
Will Caydee and John skate well enough to medal at this, their first, international ISU event? Will they be the ones to share the podium with the two Russian pairs, Volosozhar/Trankov (2nd at Worlds 2011) and Bazarova/Larionov (3rd at Euros 2011, 5th at Worlds 2011), who most likely will grab the gold and silver?
What's up in ice dance?
In Oberstdorf, the audience will also be introduced to a recently created team in ice dance. Americans Madison Hubbell and Zach Donohue started working together under the tutelage of Pasquale Camerlengo and his wife, Anjelika Krylova, after Madison's partner and brother, Keiffer, decided to quit skating. During the off season they have worked hard in the Detroit Skating Club with their coaches, and with additional help from Massimo Scali and Jason Dungjen (the latter helped with spins and lifts). Both Madison and Zach are tall and their height and different techniques, which had to be matched, might become an obstacle.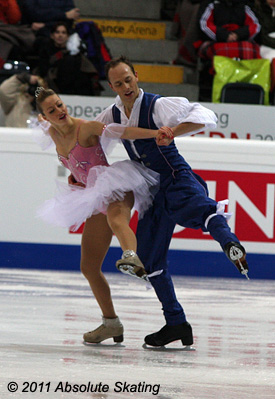 But they are positive about overcoming it and finding advantages in their situation. Especially Madison, who, while skating with her brother, was limited in the variety of themes and characters she could portray. They tried out their programs at Skate Detroit (49.27 for short dance, 60.23 for free dance) and in Lake Placid (50.24 for SD, 76.11 for FD) at the end of July.
Staying with ice dance, let's move to some other teams. It was safe to predict that the "nationality" of the gold in this discipline would have been Russian as Ekaterina Riazanova and Ilia Tkachenko (3rd at Nebelhorn last year, 6th at Europeans) were definite leaders. Unfortunately problems with Ilia's passport got in their way of coming to Oberstdorf.
Now, with Riazanova/Tkachenko missing, Nelli Zhiganshina/Alexander Gazsi have a good chance to win this competition. They had a very successful last season claiming 7th place at Europeans and 11th at Worlds. They received well deserved attention from their federation and are already nominated to go to Euros 2012. They had a fruitful summer working on new programs with two-time ice dance World Champion Maxim Staviski. And they will compete at their home rink, which might relieve some stress.
Who will win in the ladies?
The gold of this discipline will most likely go to Mirai Nagasu, USA or to Russia through Ksenia Makarova. The Swedish Helgesson sisters as well as Elene Gedevanishvili have a good shot at the podium, but are unlikely contenders for the gold. And the only other lady who could have competed with a top spot aim, Laura Lepisto, unfortunately withdrew earlier this month.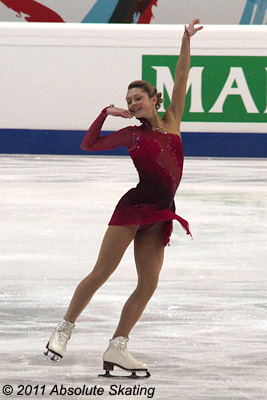 Ksenia Makarova starts her second season with her new coach, Evgeni Rukavitsin. According to one of his last interviews she worked hard during the off season perfecting her Lutz, and on a new triple-triple combination: flip-toe loop (she performed the toe loop-toe loop before). Her programs were choreographed by Olga Glinka and Ilia Averbuch, and during summer camp she also worked with Alexander Zhulin and Oleg Volkov. All this sounds promising, and the Nebelhorn Trophy will show if she's really taken this big step in her skating, both technically and artistically.
Mirai Nagasu on the other hand has far better personal (190.15 vs 171.91) and season bests (189.46 vs 167.22), and based on what she said during the Champs Camp, feels more ready this season than last, when an injury delayed her preparations. In addition her coach, Frank Carroll, mentioned that Mirai is landing triple Axels at practices (although his pupil says she likes working on them but is still not landing them). Maybe she will even try one at this event where she doesn't have much competition?
Who will stand on the men's podium?
The field in men's competition is so deep this year that it's hard to predict not only the winner but even the medallists. Michal Brezina from the Czech Republic, Japanese Yuzuru Hanyu and Tatsuki Machida, Denis Ten from Kazakhstan, Russian Konstantin Menshov, rising Spanish star Javier Fernandez and Stephen Carriere from the US will vie for the medals. Some of them are more decorated and experienced than others, but the early start of the season might mix up any prediction.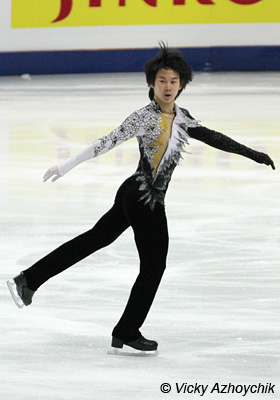 Tomas Verner, who could have made this competition even more intense, to our regret was forced to withdraw due to back injury.
Almost each of the men above brings about a separate question.
How well will Javier Fernandez be prepared, and what will his programs look like after he and Morozov parted ways this past summer?
Will he and Michal Brezina attempt two different quads, like they successfully did at Worlds in Moscow?
Will Konstantin Menshov finally be able to show two strong performances in a row, both in the short and long? As of now it's been a challenge for him.
At summer shows in Japan, Yuzuru Hanyu has shown a very impressive arsenal of jumps, including two different quadruples - toe loop and Salchow, triple Axel-triple Axel and even quadruple toe loop-triple Axel sequences. Will we see some of these landed at the competition where the atmosphere, no doubt, is much more stressful? Or will he play it safe to win his first senior competition?
Will Tatsuki Machida be able to defend last year's title in such a tough field? And even more interesting to me personally: what will his new long program, choreographed by Stéphane Lambiel, look like? Lambiel choreographed two programs last season (or more precisely one and a half, as Denis Ten's short program was later reworked to fit the updated rules) and it was rather early to draw any conclusions about what kind of choreographer he's become. Will he convince the picky skating community with this new work, that he is able to add his touch without "cloning" himself and his own programs? Will this program be similar? Or different?
And the most important question of all:
Will the Nebelhorn Trophy be an interesting competition?
No doubt. Even in disciplines where the leaders are pretty much predefined, there are younger skaters to meet and surprises to be expected. A start of a new season and ice as slippery as ever, will add uncertainty to any prediction.
Follow the starting orders and results at the homepage of the event here.