"Sous le ciel de Paris..."
December 3, 2012
By Reut Golinsky
Photos © Eva Maria Jangbro (EMJO), Reut Golinsky
Each autumn, during the Trophée Eric Bompard, skaters, journalists and fans face an uneasy challenge while trying to combine the competition with the huge amount of temptations this gorgeous city offers. To go to the morning practice or to take a walk on the picturesque Seine bank covered with red and golden fallen leaves? Or maybe to miss the gala and pay a visit to the Musée d'Orsay? Or how to squeeze some shopping into this tight schedule if the only relatively free day is Sunday when all the boutiques are closed?
"Who is a hero?" a famous Jewish saying teaches, "The one who conquers his inclination." As you can see, those who came to the competition in Bercy were heroes indeed.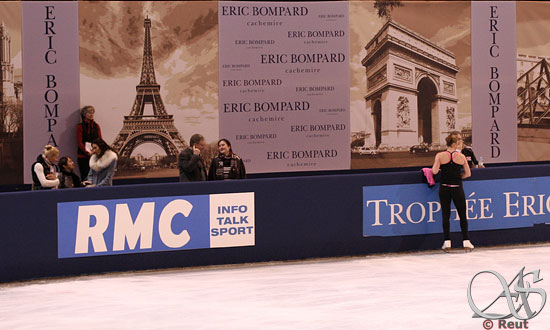 Pairs
A few skaters I talked to agreed that this was probably one of the hardest Grand Prix events in pairs. While, with the withdrawal of the Germans Aljona Savchenko/Robin Szolkowy, gold and silver could be predicted ahead, four pairs had almost equal chances to finish on the podium. Two were left behind after less than successful short programs (Vanessa James/ Morgan Ciprès - 51.44, Ksenia Stolbova/Fedor Klimov - 53.64) and the destiny of the bronze medal was decided during the "battle of flamencos" in the free skate. Chinese Peng Cheng/Zhang Hao had some mistakes - they singled the Axel and she fell on the throw loop.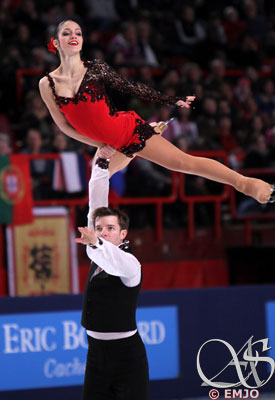 Also according to the judges (and I agree with them), the Italian "Poeta" was better in performance, choreography and interpretation. That's why, though being only fifth in this segment, Stefania Berton/Ondřej Hotárek rose to third place with 112.19 points and 169.49 overall.
"So what do you think about two 'Poeta's in a row?", the colleague who knows my special sentiment to this piece by Vicente Amigo asked. Stéphane Lambiel wasn't the only one to use it, he wasn't the first one either, but still it is mainly associated with his masterpiece free program skated during the 2006-07 and 2007-08 seasons. And actually the more this music is chosen by other skaters, the more you understand that music alone won't do the trick, but exquisite choreography, brilliant performance and genuine passion must be included in the package (stunning looks and authentic costume might add as well). When asked about the high usage rate of "Poeta" this season, Stéphane diplomatically answered that he sees it as an honour that he could inspire other skaters. And joked that he doesn't own this music to claim any rights to it anyway. He might not own the music but he definitely set the bar very high. And I believe that Stefania and Ondřej have all of the above listed requirements to get there too.
Though we all laughed at Eric Radford's remarks about two third places in Grand Prix events last season, two second places this season and probably two firsts in the next one, there is a grain of truth in every joke. This Canadian pair is clearly aiming high and has already joined the Chinese-German-Russian crème de la crème of pair skating. Having a nice choreography, their programs are also very technically challenging. This is exhausting, Meagan Duhamel admitted, but worth it: for example, their triple-double-double combination, performed with positive GOE in the second half of the program, brought them almost 8 points. They also master one of the hardest triple jumps, the Lutz, while other pairs have the Salchow as their maximum (base value 6.00 versus 4.20).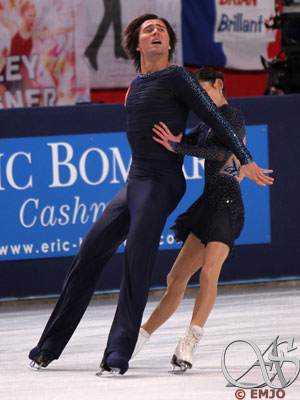 In second place after the short, Meagan and Eric were 3 points ahead of Russia's Yuko Kavaguti/Alexander Smirnov in the free. Had it not been for Meagan's fall on the throw triple loop, the gap might have been even bigger. But as we know, the "what if" and "if not" don't work in sports, so they claimed only silver with 186.71 points in total. And they qualified for the Grand Prix Final which is what counted the most at this point. That and what Meagan wrote in her blog a month ago: "Eric and I are on an unbelievable journey and everyday we get to live our dream. I can't imagine life being any better." It was pure joy to watch them at the practice sessions enjoying every single moment of being on the ice.
Tamara Moskvina's students Yuko Kavaguti/Alexander Smirnov initially had another short program prepared for this season, but eventually they decided not to show it to the public and towards open skates in September it was already changed to a Strauss' waltz, the very same piece they used in their free program during the season 2009-10. Though the current version is more refined and interesting, I still wonder if their "Cats" program would have been more original and fresh. It's hard to guess without seeing it, of course. I still hope we will some day, if not in competition maybe as an exhibition piece.
Fluid and poetic, thought not flawless technically, the free program's mood and style resembled their "Clair de Lune", one of the most beautiful programs in their career. The music for it, by contemporary Russian composer Leonid Levashkevich, was proposed to Moskvina by the Ukrainian consul. You never know where the inspiration and ideas may come from. Yuko and Alexander won this event with 187.99 points and got their pass to the Final in Sochi.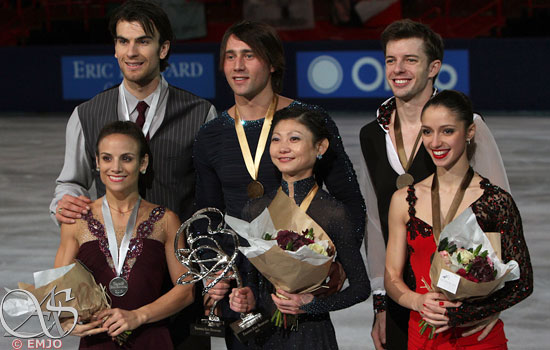 Men
Jorik Hendrickx of Belgium was off to a great start in his first senior Grand Prix ever. He nailed his short program to music by Michael Buble and placed 4th. It was therefore very disappointing to learn that he withdrew before the free skate because of an injury sustained in off-ice practice that morning. Sad, but hopefully he will be back on the ice soon.
Since 2006 Brian Joubert hasn't been on the podium of his home Grand Prix event. Unfortunately he didn't succeed in breaking the jinx this time either: he was third after the short program but dropped to fourth overall. Considering the background of disrupted off season preparations due to his move to Paris, and his illness during the Cup of China,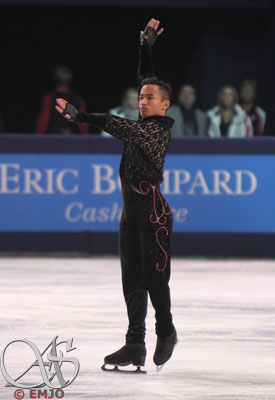 such result can be counted as not bad after all.
In general Brian sounded content with his new free program choreographed by Albena Denkova and Maxim Staviski, and with the training arrangement he has now. Apart from the regular practices on and off the ice, he also works on his skating skills with the former ice dancer (Catherine Glaize): "It helps not only to improve the artistic side of my skating, but the technical side as well. Pity I only now understood it, and not when I was younger. But better late than never".
Brian received a very warm welcome from the crowd which manifested itself in numerous flowers, toys and presents he couldn't carry away by himself from the K&C, and in the very long line of people wanting photos and autographs. Significant "traffic jam" was created because of that near the stairs, which made it not so easy to get through to the press room.
Brian's team mate, Florent Amodio, received his share of the French public's love as well: after his free program he got the biggest standing ovation of the day and perhaps of the whole competition. At the press conference on Thursday he emphasized how important it is for him to perform well in France, in front of his home crowd. So his poor skate in the short program was probably even more devastating because it happened in Paris. On the other hand it gave him additional motivation to fight back in the free. The program, which included a quad Salchow, two triple Axels and a triple Salchow-triple toe combination, wasn't technically perfect, but certainly captivating and passionate. It earned Florent the highest score and pulled him up to third place with 214.25 points overall.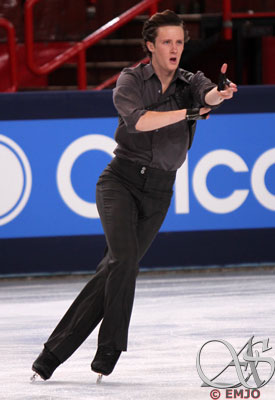 Florent's free program looked especially intricate, but I wasn't able to decipher what or whom he was trying to portray in the program. When I asked him about it, it emerged that there is no story: "I understand people who put a story inside [their programs]. But me, I just dance, have some fun and share my emotions with the public. It's more important for me to show my personality and not to portray some character and be bound by some story. I'm free. It's me, my style, the music I love, the movements I love."
The one who always invests a lot in the story behind his programs is Jeremy Abbott, USA. His entertaining "Spy" was full of little details and movements which combined with a clean performance created a complete illusion of watching a spy movie on the ice. Jeremy decided to be on the safe side and didn't include a quad. It was a wise choice which brought him to first place after the short program.
Jeremy's first Grand Prix event, Skate America, was disastrous and though he had no chance to make the Grand Prix Final, he really wanted to rehabilitate himself. As his problems in Seattle came as a result of some health issues which they were trying to solve before Paris, it was also important for him to see that they were heading in the right direction. That's why, even with his free far from being perfect, he said he was happy. Just from the fact he didn't feel the pain, but could skate his program to the end and "finish it in one piece". He was third in the free and finished with silver and 227.63 points overall.
Jeremy is one of the most artistic skaters currently competing, and many commented during and after the competition that his skating and his programs were pleasing to the eye. If gaining more consistency and staying healthy, he will hopefully shine in the second part of this season, and defend his national title among other things.
Surprisingly, but well deserved, the gold went to Takahito Mura of Japan, the first Grand Prix medal in his senior career. Takahito included a quadruple toe in both his programs, his Axels and triple Lutz-triple toe got high GOE. His technical score was the highest of both days. He finished second both in the short and in the free, but his total score of 230.68 points was enough to win.
Japanese men did exceptionally well in the Grand Prix, and we will see four of them at the Final! Japanese Nationals are going to be a "bloodbath" with only three slots allowed for Four Continents and Worlds (one of the clear examples why this rule is so unfair). Takahito reckons that his gold medal can help him: "I think it gave me the possibility to get closer to the top. I was used to being pretty settled where I was before. The judges looked at me as the skater at a certain level. But now they will look at me as a Grand Prix [event's] winner and, I think, that will probably give me a better chance."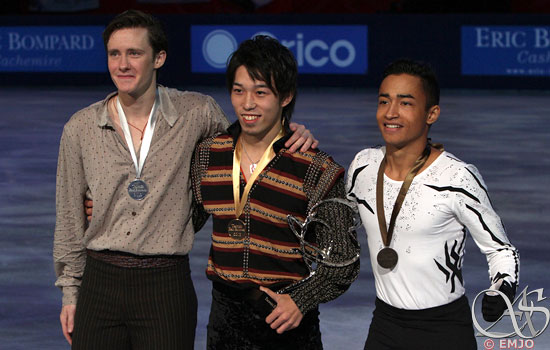 Ladies
She was one of the biggest surprises at Skate America winning silver in a pretty deep field, but in Paris USA's Christina Gao was only seventh after the short. She moved up to fourth with 164.71 points overall after a solid free skate which included six triples. This was enough to become the first alternate for the Grand Prix Final and to go to Sochi now, after Julia Lipnitskaia's withdrawal.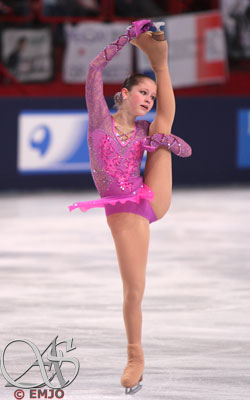 Christina shows a very feminine and mature skating this season which makes me think that the juniorish "duckling" finally became a true swan during the last summer. She also looks more confident on the ice and, whatever place she reaches in the Final, just the fact of being there with the very top should add her even more confidence towards the tough competition she will face at Nationals.
The army of Russian wonder girls continues attacking. Another Russian prodigy ("I don't like this wonder baby label," her coach Eteri Tutberidze remarked, "let's just say - a girl with talent") became age-eligible for some senior events and stormed this season with gold at Finlandia Trophy and silver at Cup of China. To tell the truth, watching Julia Lipnitskaia on screen was frightening, she looked like a robot, a cute looking and super flexible machine programmed to win no matter what. No wonder one Russian journalist even called her "an armour in lace". My live impression of her was much milder. And when I learned about her injury I felt sincere empathy for this serious child. After all, with all her medals and technical brilliance, with all her preciseness and lack of childish ingenuousness at press conferences, she is only 14.
The main problem with her injury - she sprained her right ankle - was that the (kinesio) "taping" should have been carefully adjusted to the tight skating boots so that the feeling in her feet would stay the same. Julia made a few tries during her morning practice and decided to compete.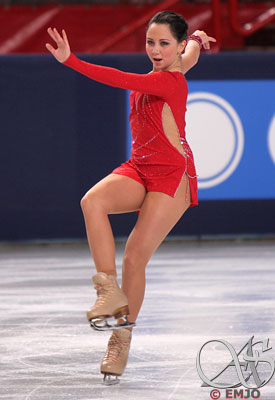 The music for her program - Khachaturian's "Sabre Dance" performed by Vanessa-Mae - was chosen by Julia herself, and I think it suits her slightly cold and introverted style of performance and her fighting spirit well. This young warriorness showed an almost perfect program which included a triple Lutz-triple toe combination and two level 4 spins. She was first after the short program, but after a few mistakes in the free - she singled the toe, doubled the Salchow and had an edge call on her Lutzes - she dropped to third place with 179.31 points in total. Julia qualified for the Grand Prix Final, but unfortunately was forced to withdraw. During one of her recent practices she fell and suffered a concussion, she was advised not to compete in this state.
It was the second time for Liza Tuktamysheva in Paris, and this time she was no longer the youngest to compete. She wasn't the strongest either. She is struggling with puberty's growth spurts and this fight is not easy. She also had a rather long break from competitions; her last one was in January at the Youth Olympic Games and then Skate Canada almost 9 months later. She was only third after the short, although she showed much better skating than at her previous Grand Prix event.
Her "comeback" during the free program was amazing; she got the highest technical score of the night with two triple Lutzes and a double Axel-triple toe combination. "It was a big victory over myself," she said.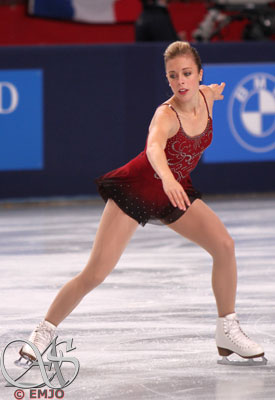 "I even succeeded with the triple-triple combination (Lutz-toe). I aspired for such performance but didn't expect it. At the end of my program I overflowed with emotions." With 179.62 points for both programs Liza got silver and a very good chance to make the Final, which was confirmed a week later, after the last Grand Prix event.
The last time I saw Ashley Wagner of the USA skating live was two years ago in Moscow, at the Rostelecom Cup 2010. The change in her in these two years, the confidence she radiates now and the way she owns the ice, amazed me in Paris. Ashley "Swagner" got her recent nickname for a reason indeed. Her transformation started last season, when she moved to work with John Nicks, through her first National title, gold at Four Continents and very solid fourth place at Worlds. She continues to grow this season, winning both of her Grand Prix events. "My goal for the Grand Prix Final is to get the spins levels up. And depending on how it goes at practices I would like to be able to do a triple-triple for the first time this season. All depends on if I have consistency at practices. But for the most part I'm very satisfied with my scores this season," Ashley commented at a press conference.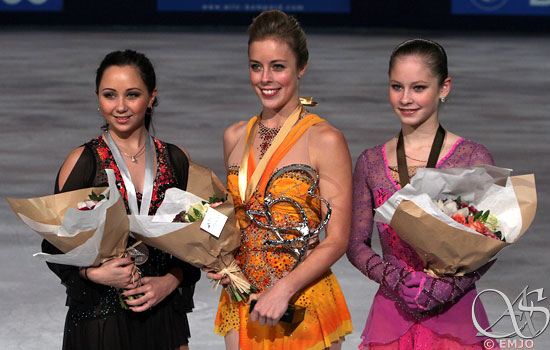 Ice dance
Russians Ekaterina Riazanova/Ilia Tkachenko performed a light and entertaining short dance to a "My Fair Lady" medley (and finally put some colours in their costumes!). They got level four for twizzles, but their Polka patterns only reached level two. "It's my first season with polka," Ilia said during the press conference. "It's really hard for me. We have to work on it more." They were back to black-and-white and classical in the free dance to the "Godfather". With level four lifts and level three spins they earned their season's best with 87.80 points, getting bronze and 146.03 in total.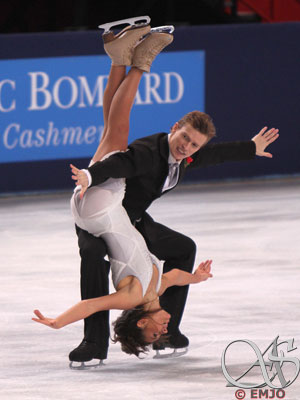 Both the bronze and silver medallists started working with Igor Shpilband during the off season, and both praised him a lot. "For us it's really an honour," Anna Cappellini of Italy commented. "He is a great coach and we are learning so much from him, from basic skating things to the attitude at the competition. He teaches us how to work together every day, to support each other in the partnership. We couldn't be any happier with our work with him so far." And Ilia added: "I agree with Anna, it's really a great pleasure to work in this team."
Anna Cappellini/Luca Lanotte had a very expressive performance to "Carmen" for their free dance. They chose a classical approach to the story, with lots of passion and the almost "compulsory" red dress. Luca's fall at the beginning got extra attention during the press conference. "I was really focused on doing my twizzles," Anna recalled, "I heard a noise, so I turned and... I thought that it was early in the program so we really needed to pull it together. I tried to smile at him so that he'd know that I wasn't mad. It was a lesson really; that you need to regroup whatever happens and be ready, not for the performance that you have in your mind, but for the one you're skating at the moment. With such a big mistake at the very beginning of the program, I was very proud of how we skated. Everything else after that was very smooth, without the fall it really could have been a good performance. It's definitely an experience, it wasn't too costly today, but not something we want to see again in the future."
The mistake was painful (they were only fourth in this segment), but didn't cost them their silver medal. They still finished ahead of the Russian couple accumulating 153.26 points overall. At their next competition, which is the Grand Prix Final, Anna promised to show better performances: "With the event being at the Olympic site it is very exciting. We were in the Final once before but this time we feel we belong there more, so we want to bring two really strong programs."
Nathalie Péchalat/Fabian Bourzat won the last event of the Troph√©e Eric Bompard with the total score of 168.90 and "La Marseillaise" playing for their home crowd.
For their free dance to "Rolling Stones" medley they chose a different approach, putting more emphasis on the music and not on some specific story. "I think that you might listen to the music just for the pleasure, it is something that brings memories, good or bad, something that gives emotions. For us the music is the basis for the dance, so we tried to represent the music and the dance for the sake of dancing," Fabian explained. "We've told many stories already and will probably do it again in future, but there is time to change, to look for something different," said Nathalie.
Some voiced the opinion that in ice dance especially, this choice might be risky, it might hurt the perception of the program, and consequently the points. "I don't think that it's something that hurts our program," Fabian answered. "To dance for the sake of dancing worked great for the short dance last year: in our samba there was no story, just two people who danced. This music also makes you want to dance. But we could, to please everyone, find some story, something about 'they love each other, they love each other even more', because most of the programs are indeed about this - 'they loved each other, they loved... and then at the end they were all dead'."
Before the Grand Prix Final Nathalie and Fabian planned to go back to Detroit. "We will have time to work with Anjelika (Krylova), and I know that she will make us work really hard," said Fabian.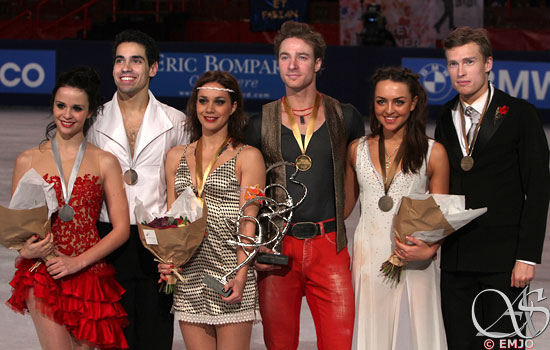 Gala
This year the organizers decided not to put the final cast of the gala in the lap of fortune, but picked those they wanted to perform regardless of their placement in the competition (plus the medallists, of course). This decision proved to be a right one, finally there was a good balance between funny, energetic numbers and "I love you, but you don't love me" à la Adele songs. Note: golden underpants and Gangnam Style are the trends right now.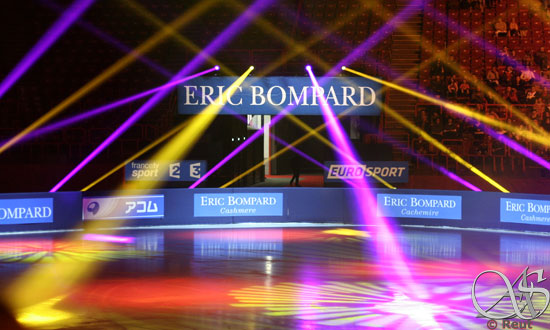 As to combining the impossible I mentioned in the beginning of this article, a few tips:
- The Musée d'Orsay is open late on Thursdays, until 21:45 (for those who come on Thursday but spend almost all day at the rink for practices and press conferences);
- A pleasant half hour walk from Palais Omnisports to the Jardin des Plantes on the left bank perfectly fills the pause between practices and the competition/gala;
- Most of the shops located on Champs Elysees are open on Sundays. Starting mid-November, there is also a large Christmas market which stretches from the Place de la Concorde;
- Closer to the rink, right across from the Bercy Park, is the "Bercy Village" shopping centre, open 7 days a week from 11:00 to 21:00;
- A huge underground shopping mall "Le Forum des Halles" is not open on Sundays, but is only two stops away from Bercy (line 14).
- And my personal annual shopping tradition - "Mariage Frères" gourmet tea. Most of their tea houses are open on Sundays till 19:30-20:00.