Worlds 2012 - Day 1 & 2: Staying focused under the palm trees
March 28, 2012
By Titanilla Bőd
Photos © Absolute Skating
"Marriage of the sun and the ice" - that's how Didier Gailhaguet, the president of the French Skating Federation, described the World Championships in Nice. At such a wonderful location it's a bit hard to concentrate on the preliminaries. If you are a spectator, you can skip them, but if you are a skater, you can't go to the beach instead. Many competitors confessed that it's mentally very hard to get focused at the right moment.
Amazing audience
In pairs, junior world champions Wenjing Sui and Cong Han won the preliminary round, though they weren't flawless. "We were a little nervous because we are competing in our first World Championship. This is a big senior event. Maybe nerves played a role there," Sui said about her fall on the side by side triple toe. "It was a little hard, as we had one training yesterday and competition today, it is only our second day here," Han added.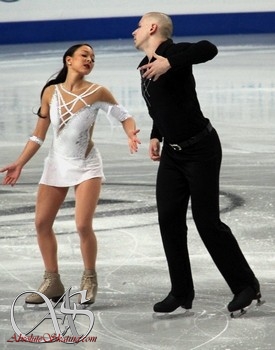 Vanessa James and Morgan Cipres placed second in the qualification round. Cipres used to be a singles skater. "It was difficult in the beginning to learn pair lifts and to skate together. It was a goal to compete at Europeans and Worlds and I'm so happy to be here. The audience was amazing," he commented on their performance.
Mari Vartmann and Aaron van Cleave of Germany placed third, but they weren't as clean as at the successful European Championships. "We watched Europeans on YouTube a lot and focused on training the throw jump. After Europeans, we were concentrating on our technique. Here, we want to skate as well as we did at Europeans, simply show what we can do in practice. Unfortunately, we didn't do that now. It's kind of stupid we have to do the preliminary round, but we see it as a kind of training," Mari Vartmann explained.
Useful qualification
It must have felt stupid to compete in the preliminaries also for the European bronze medalist ice dancing team, Russians Elena Ilynikh and Nikita Katsalapov. But they didn't let themselves get distracted and won the preliminary round by an almost 13-point margin. "We skated quite well, but it was just the qualifying round. It was more like a practice run-through for us. We put the accent on the elements. We found out after Europeans that we have to do the qualifying round, but I think it is useful for us. We prepared in practice for it. Obviously we'll give more in the real competition. This is the last competition of the season and we really want to finish on a high note and show what we are capable of," Katsalapov said.
They earned 92.40 points, while the second couple, Xintong Huang and Xun Zheng, got 79.69 points. "It is a little tiring to compete in the preliminaries, but on the other hand it helps us in the next parts of the competition," Zheng said.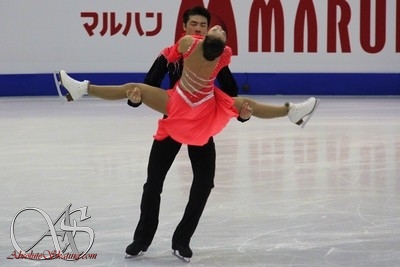 Irina Shtork and Taavi Rand from Estonia were in third place. "And now the competition begins," Rand noted. "It's been a really hard season for us. I figured out we've done eight competitions. It's really difficult to compete both at the junior and senior level, especially now when the programs are so different. We practically had three programs this season; one long and two shorts, because that's where most of the differences are."
A full circle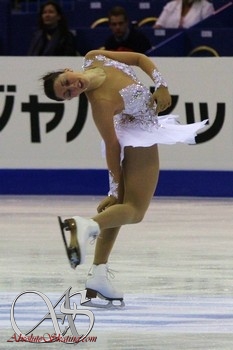 Recycling an old program can be a good idea. Jenna McCorkell of Great Britain went back to music she skated to as a little girl, "Where Have All The Flowers Gone", and she won the preliminary round in Nice. "I skated to this music when I was 11 years old in a little white dress. My choreographer was Lorna Brown and I went back to her to choreograph this program. I've come full circle choosing to skate it today. I know that Katarina Witt skated to this music and I loved it back then," Jenna said.
Elena Glebova of Estonia got second place in the qualification: "I am very satisfied. The first mark is very high, the second is not as good, but I understand that it's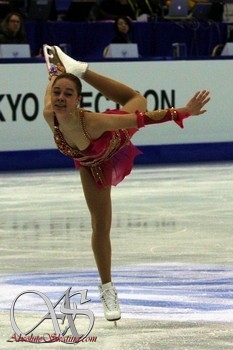 just a qualifying round; it should be higher in the final. As for my performance, it was good and I enjoyed my skating. All the trainings went smoothly for me." Elena had to pass a test-skate to be sent to Nice, because she didn't place in the top 10 at Europeans. However, she thinks it was fair as the rules were set in advance. "It's not a problem for me to come and prove that I should go to the competition one more time," she said.
Sonia Lafuente of Spain skated well in the qualification, but she doesn't want to repeat it next year: "I was very happy because it is my best free skate score of the season. Last year at Worlds I fell on the loop in the short program and didn't qualify for the free skating. This year I will try to be in the final and in the top 18, so I don't have to do the qualifying next year," she stated.
Lost passport
Nan Song of China must love France. He was the silver medalist at the Trophee Eric Bompard, and now in Nice he won men's qualifying round. "Considering my condition right now I think it was pretty good. I was sick with a fever at Four Continents and it took me a long time to recover," he said after his free skate. Sergei Voronov, who placed second in the preliminary round, was also satisfied. "I think skating in the preliminaries was a good start for me, I could try the ice here. And I enjoyed my skating. I think first of all because of the other guys who came to support me, and obviously the audience. Even the Prince of Monaco was here. The audience supports skaters very well here, it is a pleasure to skate with that kind of support," Sergei commented.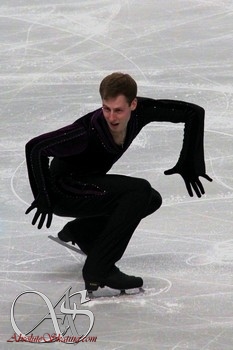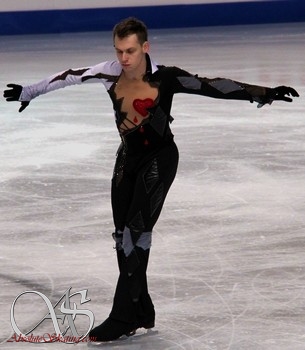 Maciej Cieplucha of Poland had some problems before this competition: he lost his passport. "I only arrived here on Monday, I still have a jetlag, but well, maybe I should always come just one day before competing considering how everything went today," he said after the preliminaries, in which he placed third.