The European Championships 2013
Day one: Russians aiming for the gold
January 24, 2013
By Titanilla Bőd
Photos © Absolute Skating
After some travel-troubles like delayed and cancelled flights and missing luggage, the European Championships finally kicked off with the short dance in the Dom sportova in Zagreb. The capital of Croatia hosts the Europeans for the second time in five years, so skaters and fans have come to a familiar place. Many of us still carry memories of the great 2008 Europeans. Some things remained the same, but many other have changed since then.
Who takes the empty throne?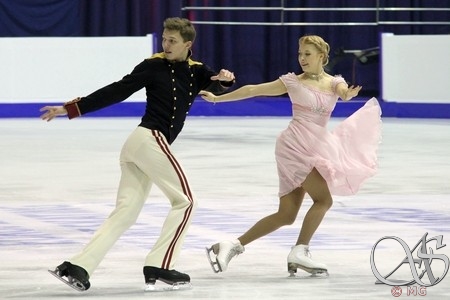 Changes like, for example, in the field of ice dancing. Because of the absence of reigning champions Nathalie Pechalat / Fabian Bourzat of France (due to Fabian's injury) it's already clear that a new champion will be crowned. But who will it be? So far the Russian team Ekaterina Bobrova / Dmitri Soloviev are in the lead, they earned 69.42 points for their short dance. "We felt excellent today. There was a little error on the twizzles, which, unfortunately, lowered the level of the twizzles," Ekaterina said. "It was one of our best performances but not the very best. I see we got a level three on the twizzles, and we are not happy about that. But we are very pleased to have a level four for both Polka sequences for the first time this season. We've worked really hard on the Polka," Dmitri added.
Somebody might think the withdrawal of the top team made the other couples happy, but this was not the case. "We were looking forward to competing against them as it is always interesting to compete with strong teams. We wish them a speedy recovery," Dmitri said.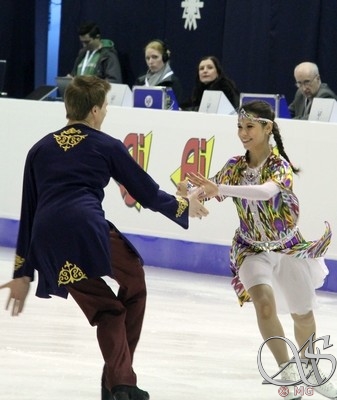 It seems that the battle for the gold will be all Russian business, as in second place there is another Russian team: Elena Ilynikh / Nikita Katsalapov. Their short dance with some interesting Uzbek patterns was well received by the audience: "We felt very good today, very powerful and full of emotion. We were ready for the competition and we did everything we could do. I think in the next program, the free dance, we will do much, much better as we usually do," Nikita said. They earned 68.98 points, and they have a shot at the gold. As Nikita emphasized: "We want to fight for the gold medal at these championships."
Many of the stands of the Dom sportova were empty, but the existing crowd was very supportive of the skaters, and they loved the atmosphere. "It seems those people missed work because of us, which is cool," Neil Brown, the partner of Czech Lucie Mysliveckova laughed. But one of the happiest couples were Turkish Alisa Agafonova / Alper Ucar. They skated to Alexander Rybak's catchy "Fairytale" (which won the Eurovision Song Contest for Norway in 2009), and they performed the skate of their lives. So far their best free program was worth 64.61 points at an international level, and now they got 50.79 for their short dance! Alper celebrated with a fist pump and the crowd awarded them long and loud applause.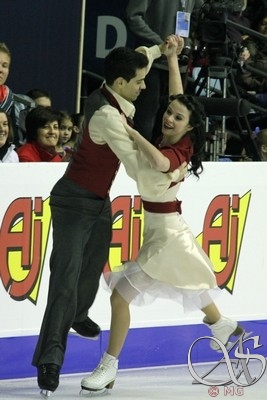 However, the audience showed they can be angry as well: after the scores of Italians Anna Capellini / Luca Lanotte – 66.53 points – appeared on the screen, they booed the judges. Still, it was the team's season's best, which made Anna happy: "I am very happy with how we skated today. We had fun. The crowd was cheering and that made it go very quickly. We got a season's best as well so we are very happy with that." Her partner Luca shared her thoughts: "We are extremely happy with our performance today. Our goal was a clean program and giving everything to the audience."
The first step to defending the title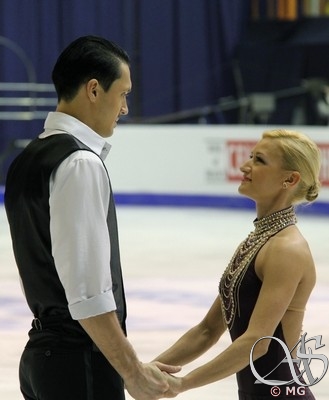 This is the first time the current two top pairs in the world challenge each other at the European Championships. Last year Aljona Savchenko / Robin Szolkowy of Germany missed the Europeans. At the Worlds they beat Tatiana Volosozhar / Maxim Trankov. After the short programs the Russian pair is now in the lead by a 3.02 point margin, so they took the first step towards defending their title.
This is a cruel competition for Maxim Trankov. His father suddenly died last Sunday, three days prior to the Europeans. In honor of his father, Maxim still decided to compete and so far he has done a very good job. Maxim and Tatiana skated to the famous love theme from "The Godfather", and they landed a side-by-side triple Salchow and a throw triple loop. This earned them 73.23 points, but no happiness on their faces. Maxim looked devastated and it was heartbreaking to even imagine what he is going through. The pair excused themselves from the mixed zone and the press conference, and it was their coach, Nina Mozer who commented on their performance. "I am happy, overall I am pleased. It was a good skate. We want a clean skate in the free program as well. They were very well prepared, but of course after the death of Maxim's father they are not quite in the right state of mind. But Maxim is coping, he is a man and he is very strong."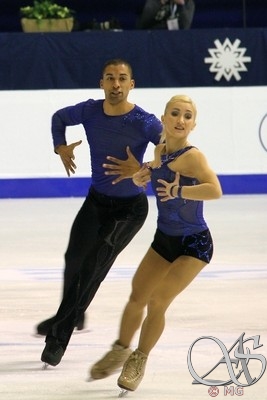 Four-time European champions Aljona Savchenko / Robin Szolkowy are currently second with 70.21 points. They landed a triple toeloop and a throw triple flip, but made an unusual mistake on a spin. "Because of our late arrival we didn't have the chance to train here in the main rink. You feel more comfortable and have better orientation, if you know the rink before," Robin explained. About the points difference he added: "You can easily catch up three points, but they can also be impossible to catch up."
The Italian pair Stefania Berton / Ondrej Hotarek has a good shot at the bronze medal. Their short program to Rolling Stones' "Paint It Black" contained a side-by-side triple toeloop and a throw triple loop, and earned them 64.28 points, which means third place. "We are ecstatic about our performance," Ondrej said, and Stefania added: "We try to do our best at every practice, when we skate one for each other. Then we try to create the same feeling of skating for each other also in the competition." They are both extra motivated to perform well in the Croatian capital. "We were here in Zagreb in 2008. I was still in singles and Ondrej skated with his former partner. We didn't have the best skate back then, so we both kind of wanted revenge," Stefania said.
Don't miss our flash updates (containing text updates and fun pics) from the European Championships 2013 on Twitter and Facebook.