Music on Ice Geneva 2013
(Geneva, Switzerland)
June 19, 2013
By Anna Bertoloni
Photos © Anna Bertoloni
After great success last winter in Bellinzona, the "Laurent Tobel Entertainment" brings its production "Music on Ice" to Geneva, with an outstanding spring premiere at the Vernets Ice Rink on April 25th.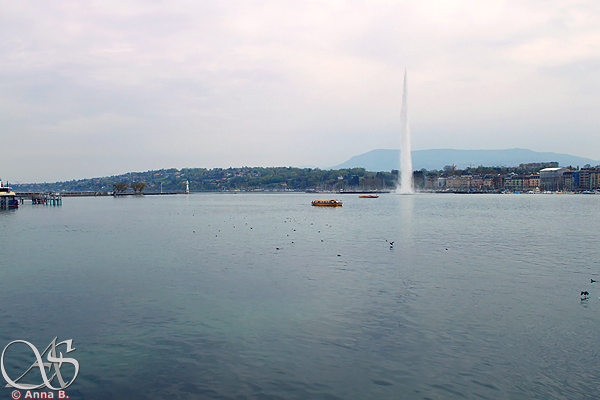 In the city of the Red Cross

Music on Ice goes back to its project of collaboration with the Swiss Red Cross, which began one year ago with the show dedicated to Japan.
"It is important for us to come to Geneva, the city where the Red Cross was born," explains Mr. Carsana, the media manager, while we watch the last practice right before the show. "We will make a donation this year too: part of the profit will go towards support of Laos."

A long time has passed since the last show was organized in Geneva.
In spite of the presence of a big skating school, it looks like skating productions have always had problems organizing events in this city.
"When we decided to come to Geneva, we accepted a difficult challenge," continues Carsana, "to be able to improve this ice rink. This place was called 'the tomb of music', because of its bad echo. That's why the old building didn't give many possibilities to create a quality product. Great attention was paid to the necessary changes to the ice rink, to the lights and sounds. For all the effects we have to thank EMME, a leading company in Ticino, that worked with us for the first time this year in Bellinzona, and here in Geneva to succeed in doing a truly wonderful job."
In addition to this, as in every show signed by Laurent Tobel Entertrainment, great attention is given to making every detail as pleasant as possible for the audience. And while the cast is working on the ice to fix the last details of the group numbers, technicians are working to remove the majority of the glass panels that divide the rink from the stands, in order to bring the public as close as possible to the ice.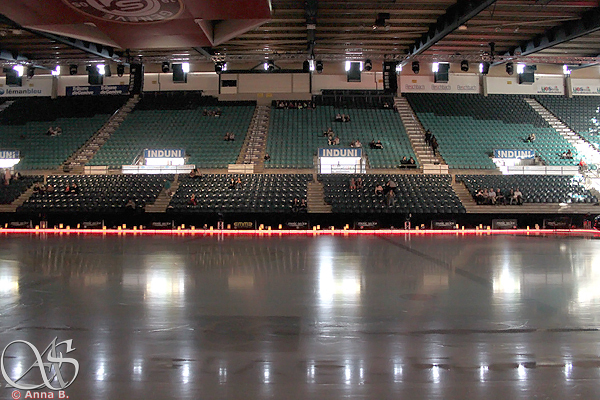 "For this show we also created something new", ends Carsana. "An idea that will hopefully be pleasing to the audience and that we would like to carry forward in future editions. We have created a book, for sale at a price of 10 francs, to help us support the Red Cross. There is detailed information and photos of the skaters, which can be autographed at the end of the show at a 'Meet&Greet' session."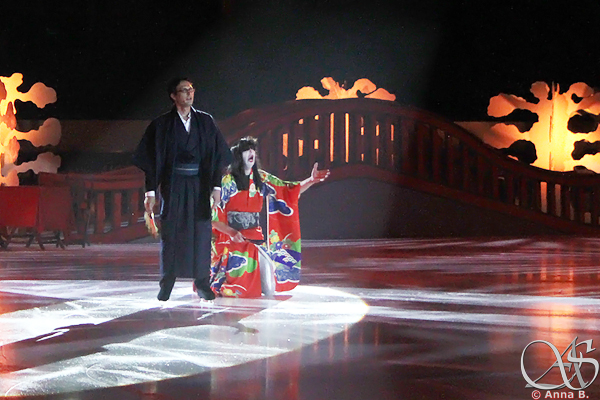 A story about Japan

After a sweet exhibition by the children of the local skating school, dressed in costumes of flowers (that, with an explosion of colors, bloom in every corner of this charming city), the show is finally ready to begin.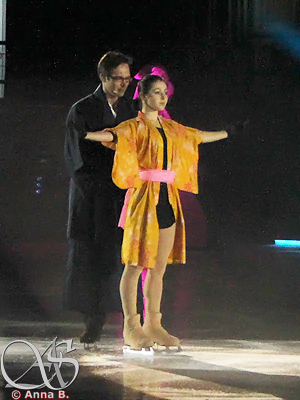 The charity proceeds are no longer tied to the tsunami that hit Japan in 2011, but the storyline is very close to the one presented one year ago in Bellinzona. From the very beginning we are immersed in a world of kimonos, geishas and katanas. The delicate scenery created by Aldo Zuliani shows us a typical Japanese house of paper and bamboo, with a red bridge, a zen garden and paper candles shining on the ice.

Maurizio Margaglio, wrapped in a dark kimono, introduces the skaters. It's interesting to see how Maurizio is completely at ease telling this story in French, although comedy, with all its complex extra-linguistic expressions, is always especially difficult to translate.

Anna Ovcharova seems not intimidated at all by being part of a show with such a great cast. The seventeen year old student of Peter Grütter performs with good speed, clean jumps and nice spins, skating her Memoirs of a Geisha beautifully. She also has fun interacting with the audience, in her second exhibition of Perhaps, Perhaps, Perhaps.

It's difficult to think about Music on Ice without Jozef Sabovčík's wild rock. He impresses the audience with his energy, his Axels and backflips. Between Heaven can wait and Lift you up, he also finds the time to play guitar, introducing Nicole Della Monica and Matteo Guarise's program.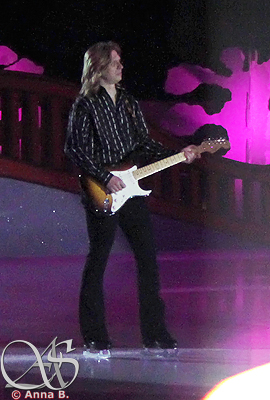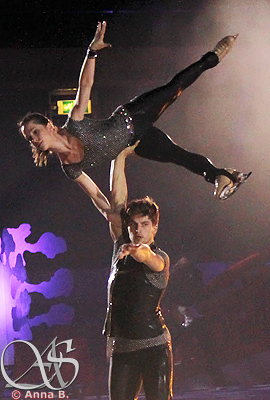 The young Italian pair skates two intense, very well interpreted programs. Romantic and dramatic, their performances of The prayer and Nothing else matters get a lot of applause.

Sarah Meier removes her kimono to skate an elegant and graceful At last. Her exquisite layback spins leave the audience breathless. Her second exhibition of Not myself tonight, on the contrary, is full of rhythm and fun.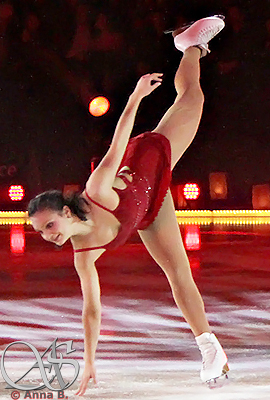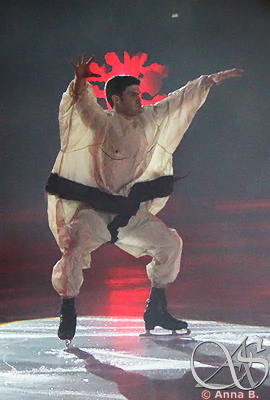 Speaking of fun, no one can beat the incredible "pair" formed by Samuel Contesti and Laurent Tobel. After his first performance in the role of a waiter, offering a drink to the public and chased by a severe Maurizio Margaglio (Mack the knife), Samuel is transformed into a sumo warrior, in love with the hilarious Geisha-Laurent (You are so beautiful).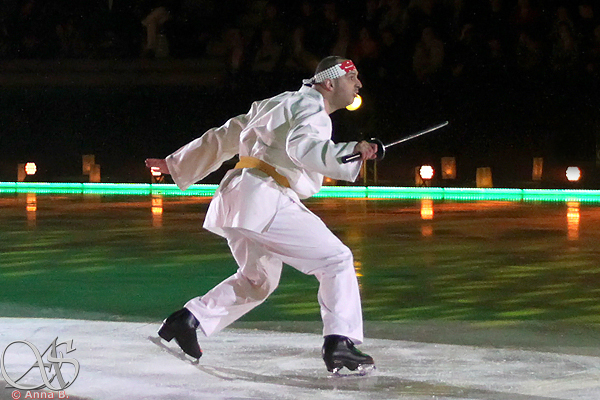 Laurent also plays the role of a Samurai, inspired by a character of traditional Japan, who commits harakiri stabbing himself with a katana - reinterpreted with the humor that has always made his performances unique.

A show created by Laurent Tobel will always have some surprising element. Here in Geneva, it is the introduction of a new character played by Brian Joubert: a man who loses and then finds again his happiness.
"For me, it's the first time that I do this kind of show, with a story," a smiling Brian tells me during the rehearsal. "In this story, at the beginning I am... the 'bad guy', you know? I like this role a lot! And I like the fact that in the end I can be happy again, because I find my lost children. I love this show, because there is a connection between everybody... it's not like a 'normal show', that usually I'm not interested to do."
Brian performs his Gladiator and I look to you, showing great physical shape and an increasingly consolidated expressive maturity, plus that great charisma that always thrills every audience.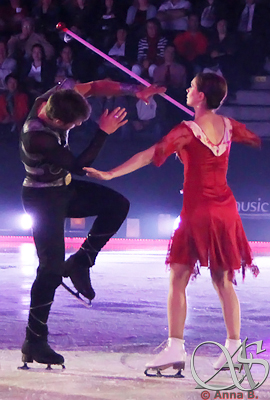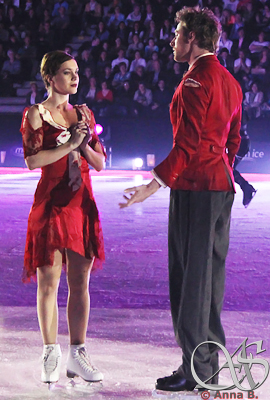 Nathalie Péchalat and Fabian Bourzat recall one of their most beloved programs, Charlie Chaplin. Interpreting the blind girl, Nathalie does not miss an opportunity to hit Brian Joubert with her stick, in a very funny group sketch. They are amusing also with their colorful Circus,
a joyful mix between skating and entertrainment.

Fumie Suguri changes from one style to another with great ease, even within the same program. In Air and Girls on the dance floor she mixes two completely different musical themes, changing from a very classical first part to a wild dance with sunglasses. Her second performance looks almost like magic, when she plays with a red ball to the notes of Quidam, Cirque du Soleil.

Stéphane Lambiel presents William Tell in front of his home audience in the full Olympic version, including an unexpected quad toe loop. This program has probably one of the most extraordinarily musical steps sequences that I've ever seen: every single detail in his movements emphasizes the musical accents with such perfection, that it's almost impossible to describe it. Stéphane closes the show with another of his masterpieces: a microcosm of theatre, innovation and incredible energy, Puttin' on the Ritz.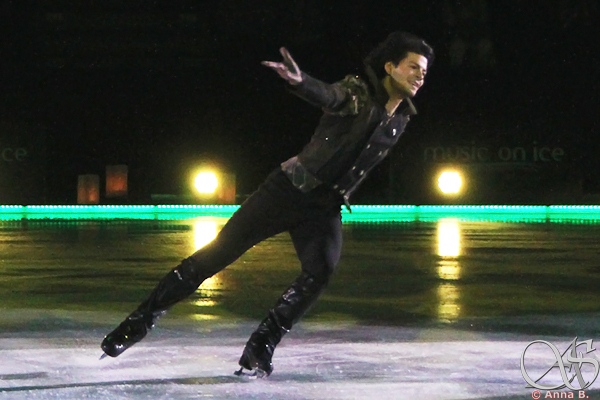 A well-deserved success

Giacomo Puccini's Nessun Dorma is the background of the moving finale: children place on the ice a huge piece of red cloth to create a Japanese flag, symbol of sun and hope, while the skaters dance solemnly around it, and the audience greets them with a much deserved standing ovation.
"I have never laughed so much seeing an ice show, it's been amazing," tells Marta, one of the many people who travelled across Europe to see Music on Ice. "All the skaters gave wonderful performances," is the enthusiastic comment of one of the Japanese figure skating fans at the end of the show, before reaching the space dedicated to the Meet&Greet, in the hope of an autograph of her favorite athlete.

See you soon with another edition of this beautiful show. Perhaps, the next time might be in Italy?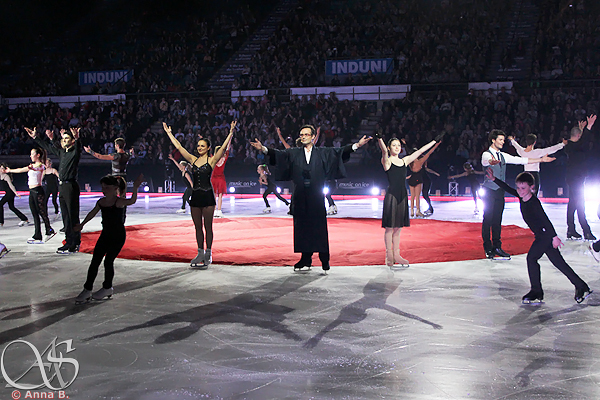 (Don't miss our gallery from the show here!)