Europeans 2018, day one: no competition for Fernandez and surprising French leaders in pairs
January 18, 2018
By Titanilla Bőd (Új Szó)
Photos © Oxana Shkrebtienko (LMDJ)
Five-time European champion Javier Fernandez has a secure lead before the free skate, but there were some massive surprises in the pairs competition. Some impressions about the first day of the Europeans in Moscow.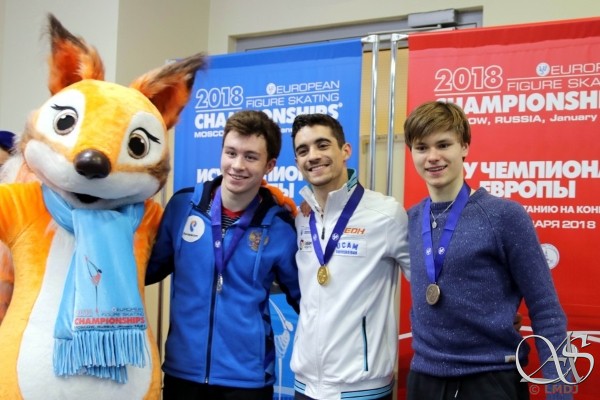 The disappointment: Samohin missed the top 24 again
Two years ago, Daniel was 7th at the Europeans, but last year he didn't qualify for the free skate. It was an understandable failure back then because his skates got lost during transport and he had to compete in his brother's skates, which didn't allow him to land his jumps properly. The 2016 Junior World champion had his own skates in Moscow, but still fell on all three jumps. He finished out of the top 24 again, even though he was one of the medal contenders...
The prince:

Deniss Vasiljevs
This guy has had huge attention ever since that legendary moment when he raised his hand after Youth Olympics ambassador Stéphane Lambiel asked if anyone wanted to skate in his show. The young Latvian skater has been considered for kind of a prince after the reign of Lambiel has ended. As a student of the Swiss master of spins he has improved a lot, and finally no injury bothered him during the preparation. The result of all this could be seen in Moscow: he skated a passionate short program to the music of Puccini, with flawless jumps. And once again, he proved the thesis that the quad is not essential for ending up on the podium, because he is third after the first segment of the competition. He landed a triple Lutz, triple toe loop combination, a triple Axel and a triple flip, and earned positive GOE for all his elements.
The feeling of the home crowd: bittersweet
Russian fans were happy to see their icon, Evgeni Plushenko, on the ice again during the opening ceremony. However, two of their three male competitors didn't really cheer them up. Mikhail Kolyada lost his chances to fight with Fernandez the moment he doubled his planned quad toe loop, Alexander Samarin buried his when he fell on both of his quads, the Lutz and the toe loop and missed the combination. So the spirit of the home crowd was lifted only by the season's best performance of Dmitri Aliev. Even though his Lutz (in combination) was only a triple, he nailed his quad toe loop and triple Axel, and is deservedly in second place. Aliev had some unusual problems before his performance: "The preparation was a little nervous, I ripped my laces while tying them. So it was tying-untying-tying together. Then I just put tape over them. Maybe that threw me a little off," he revealed after his short program.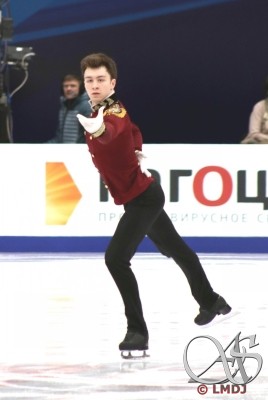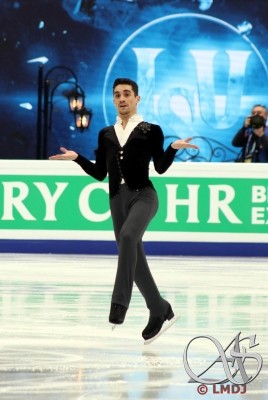 The character: Charlie Chaplin
The Olympic season is not the best time to step out of your comfort zone; that's why many skaters go back to their favourite programs. Five-time European champion Javier Fernandez, however, created a brand-new program about a character he already had portrayed years ago, Charlie Chaplin. "My previous Chaplin was more happy and romantic, this one is a bit more dramatic, but he reveals his well-known playful self in the step sequence," the Spaniard explained. As his coach, Brian Orser, pointed out before the short program, they aimed not for perfection but for a good program and that's what Javi delivered. He landed a textbook quad toe, triple toe combination, there was only a minor step out of the quad Salchow and a flawless triple Axel. He leads by more than 12 points, and it seems nothing can stop him on his way to the sixth European title. However, he was very down-to-earth in his comments: "I felt this was a good run through and practice for the Olympics. My goal for Europeans is to win, because it is important for me, important to keep writing history not only in Europe, but for Spain especially. There is still the free skating to come."
The showmen: Valentina Marchei and Ondřej Hotárek
They speak no Americano, but we don't mind at all, as they skate damn well! They offer passion, drive, fun and laughter to the audience. Valentina and Ondřej delivered a flawless performance to the tunes of the famous Neapolitan song Tu vuo fa l'Americano and its internationally known cover version Panamericano,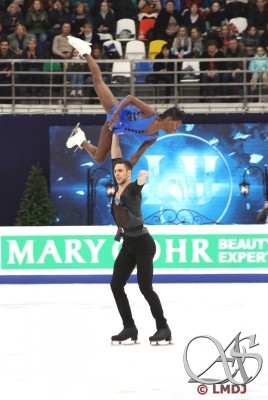 with a triple twist, a side-by-side triple Salchow, and a triple throw Lutz. The crowd loved their routine and they enjoyed it too; with a new season's best they are in the fourth place after the short program.
The surprise: the outcome of pairs competition
Now who would have predicted that? Reigning champions Evgenia Tarasova and Vladimir Morozov lay in fifth after her fall on the throw triple loop; the second Russian pair, Xenia Stolbova and Fedor Klimov are just third; the National bronze medalists Natalia Zabiiako and Alexander Enbert are currently second, and in the lead is the French duo Vanessa James and Morgan Cipres!
The comeback: Vanessa James and Morgan Cipres
Bronze medalists from last year performed to Make it Rain, and they nailed a triple twist, a side-by-side triple Salchow and a throw triple flip, along with a level 4 death spiral, step sequence, lift and combination spin. They earned massive positive GOE for all their elements. "We're happy with our performance. It wasn't our best short program, but Vanessa had an injury before the Nationals, so we haven't skated in competition since the French GP. Today it was a comeback," Morgan commented on their program. "We were practicing the quad for our long program, and there was a freak mistake, I had a bad fall and I had my shoulder dislocated. I still feel it a little bit during the death spiral, but it is much better," Vanessa explained.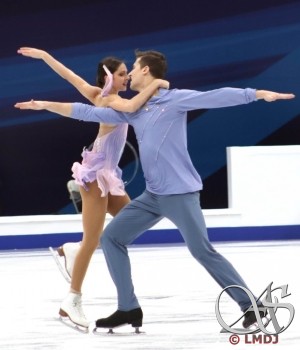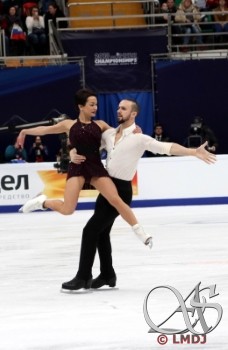 Don't miss our social media updates (containing text updates and fun pics) on Twitter and Facebook.