Europeans 2018, day three: Please rise for the national anthem of Spain!
January 20, 2018
By Titanilla Bőd (Új Szó)
Photos © Oxana Shkrebtienko (LMDJ)
Expected leaders, expected winner. Even though the first places on Friday were predicted correctly - Papadakis and Cizeron are in the lead in dance and in men's singles Javier Fernandez securely collected his sixth title - that doesn't mean that it was a boring day at the Megasport Arena.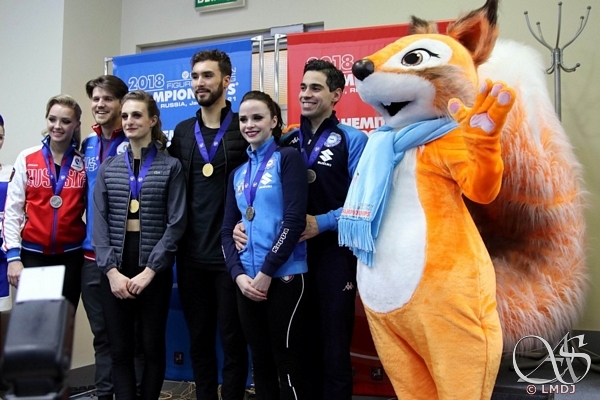 The challenge: move your body
Ed Sheeran is not a performer you would associate with the word "Latin". However, reigning ice dancing champions Gabriella Papadakis and Guillaume Cizeron managed to create a real Latin short dance to his songs.
Their smooth and seamless movements impressed the spectators and the judges, too, and even though Gabriella had a little wobble on the twizzle, the French are in the first place with a quite safe advantage of almost six points. "As for movements, it is something we've been working on obviously, because it is Latin year and moving the body is the first component of the dance. It is something we love doing and we have done a lot of work off ice with ballroom and other dance teachers. It is hard to do on ice as we have to be steady on our feet, but it is a fun challenge and I am happy we succeeded, I guess," Gabriella said. Russians Alexandra Stepanova and Ivan Bukin currently stand in second place, while Anna Capellini and Luca Lanotte are third. (pictured in press conference photo above)
The birthday couple: Alisa and Alper
If you are a figure skater or an ice dancer born in January, you probably have got used to celebrate your birthday at Europeans. This is a common situation for Alisa Agafonova and Alper Ucar of Turkey. Alisa's birthday is January 15th, while Alper's is January 19th, which was the day of the short dance in Moscow. The couple got a huge applause when the announcer mentioned it's a special day; moreover, Alper got a little cake presented at the draw. But this time joyful birthday feelings were mixed with some other emotions, as the couple plans to retire after this season. "These are our last Europeans and we want to do well. We will retire after Worlds. It will be very emotional for us," Alisa said. Alper is not concerned about the future of Turkish skating after their retirement: "Turkey will continue to be in ice dance. We have made a good beginning for the next couples, and they will have an example in front of them which we didn't have because we were the first."
The life-changing means of transport: train
Besides the big fights for medals there are multiple small fights for Olympic spots, like for Marie-Jade Lauriault and Romain Le Gac from France, national ice dancing silver medalists. After the short program they have a small advantage ahead of their compatriots Angelique Abachkina and Louis Thauron, but as they revealed, they had to overcome some obstacles off the ice as well. Marie-Jade (who was, as well as her partner, born in Montreal) got French citizenship on December 28th. "It was like a Christmas present. I had to pass several tests and did a class on history of France. Last year, in one test I had to find the car number on a TGV train ticket, but I've never travelled on a TGV, so I didn't know and just guessed. It was wrong, it was the seat number," she revealed some awkward details of the procedure. Romain added: "By the end of November we had completed only one of five steps and we thought we're never going to make it. But then my mother accidentally met the Minister of Interior Affairs, Gerard Collomb, on a train. He is the one that eventually has to sign the paper. She told him the story and he said, he'll see what he can do. And then Marie-Jade got citizenship at the end of December." That's how a train ride might change an entire career...
The confession: I'm only human
"When you are seventeen, eighteen, you want to show no weakness. Later on you realize you can make mistakes, we are all human," Michal Březina said after his powerful free skate to I'm Only Human by Rag'n'Bone Man. In the last two seasons he experienced some tough life waves, but in Moscow he showed he is back on track. He landed a quad Salchow, two triple Axels, and even though he fell on a triple Lutz, the overall impression of the program was highly positive. It had speed, power and courage. We loved the daredevil teenager Michal, but we love this matured Michal even more.
The king: Javier the Sixth
There are programs when you do not want to turn your head away from the ice to check the element's base value and GOE, not even for a millisecond, because there's something extraordinary going on there. Javier Fernandez started off his Don Quixote-themed free skate in a great style: with a quad toe loop, a quad Salchow, triple toe loop combination and a triple Axel, double toe loop combination. It didn't matter that he was taking the gold away from the Russian boys, the Moscow crowd was in love with the knight of La Mancha. Then some little flaws broke the magic a bit, but there was no doubt that the reign of Javi will continue. He's been at the top of the European podium since 2013; this was his sixth consecutive European title. "It means a lot. It is always nice to make history in figure skating for Spain and it is nice to skate well and win another title," the Spaniard commented on his result.
The man of soul: Dmitri Aliev
Hats off to Russian guys - it must have been an immense pressure on their shoulders, skating in their home country. Not all of them were flawless, but all three of them skated with heart. Alexander Samarin finished sixth, Mikhail Kolyada managed to climb from fifth place to the podium, but the real hero of the home crowd was Dmitri Aliev, the silver medalist, who delivered a magnificent long program. To Build a Home, that was the title of his free skate. Technically it was almost perfect; if he hadn't doubled the flip, he would have had a higher technical score than the winner. And it was very emotional and deep, you could feel there is something more behind that. Dmitri explained at the press conference that the free skate portrays his own way, how he left his home town and his parents, then how he finds them again and how he can be his own self after that. "I prefer to speak with my soul, not with my head," Dmitri said and those who saw his performance Friday night can't agree more.
Don't miss our social media updates (containing text updates and fun pics) on Twitter and Facebook.