Stéphane Lambiel moves to Latvia, opens school in Riga
April 1, 2018
By Reut Golinsky
Photos © Reut Golinsky
During the Olympic Games in PyeongChang, he was wearing Latvian uniform and sitting in the K&C with his two Latvian students. But it looks like his association with this Baltic country will go much further than that very soon.
"After the Latvian Nationals last December the President of Latvia, Raimonds Vējonis, bestowed upon me a status of honorary citizen of the Republic of Latvia as a recognition for all the work I did for the Latvian figure skating," Stéphane Lambiel told. "I was proposed to open a skating school and was promised a maximum support from the state. Latvian skating association's representatives, their president Mrs Marika Nugumanova, they all were fully cooperative and proposed me a few leading coaches to choose my staff from.
I asked to take some time to think about it and promised to give a final answer after the season is finished. But deep in my heart I already knew what this answer will be. You don't say 'no' to offers like this, it's once-in-a-lifetime opportunity and I definitely wanted to take it. Yesterday I flew to Riga and we signed all the needed paperwork.
This situation will also benefit my Latvian students, Diana Nikitina and Deniss Vasiljevs, who both were recently feeling quite homesick. Also, Deniss graduates this summer and plans to continue his studies at the University of Latvia, at the Faculty of History and Philosophy.
The Skating School of Switzerland will continue to function. Both Anna (Bernauer-Dierking) and Robert (Dierking) will be running it, with the help from Salome (Brunner) and Peter (Grütter) when needed, and I plan to visit at least 2-3 times a month. Of course, it won't be easy. The whole situation is quite challenging, and among all the other things I need to plan and arrange, I am also required to learn Latvian and to pass, in a year time, oral and written exams for level B2. But I was never afraid of hard work. And overall I'm very, very excited to open this new page of my coaching career!"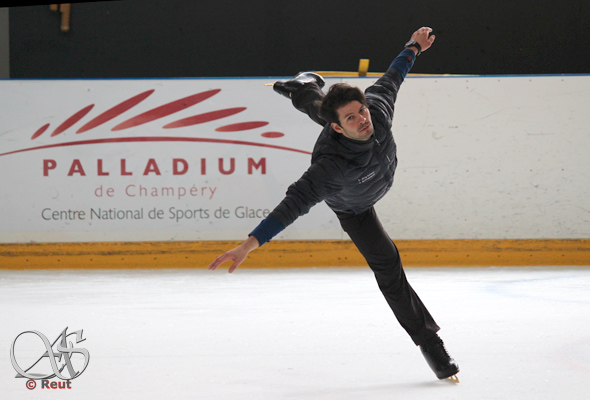 Happy April Fools' Day!!! :)