Worlds 2018, day three: A night full of drama; Osmond is the new champion
March 24, 2018
By Titanilla Bőd (Új Szó)
Photos © Natasha Ponarina
There were no surprises in the short dances, but the ladies' free skating offered a lot of twists. Here are some impressions of day three at the World championships in Milan.
The problem that is now fixed: Gabriella's dress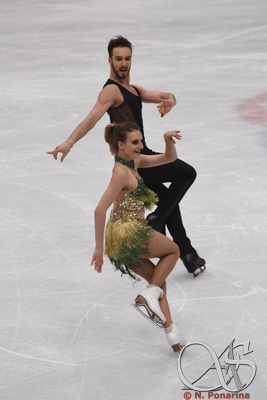 In ice dancing, two-time World champions Gabriella Papadakis and Guillaume Cizeron are in the lead ahead of Madison Hubbell and Zachary Donohue and Kaitlyn Weaver and Andrew Poje.
The French duo had an unfortunate "wardrobe malfunction" at the Olympics, when Gabriella's dress opened at the beginning of the program and they skated with a risk that the dress could fall off entirely. It was an embarrassing moment that no skater wants to experience again. "We worked on the dress and fixed a few things to make sure that such an incident won't happen again," Gabriella stated.
Guillaume added: "Of course there is a moment of relief now at the end of the season. We never had so many competitions as much as we had this season. For sure there are less expectations at a World Championships after the Olympics than usually. Our goal was to please ourselves here, skating this short dance in competition one last time. We have actually been here in Milan five days ago for the Junior World Championships and it's great to come back."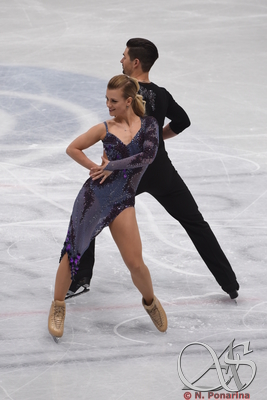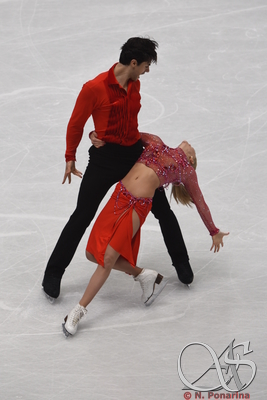 The surprise: Zagitova is not a machine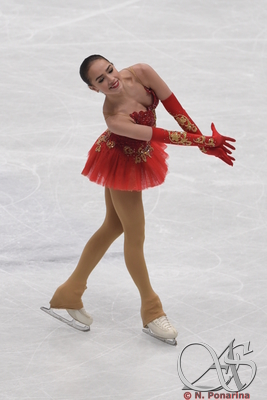 It seemed easy mathematics. Alina Zagitova has the strongest free skate and she never fails. So she will be the new world champion and the other girls will fight for the silver. However, every forecast had to be changed when the 15-year-old Olympic champion took the ice in the Medolanium Forum.
To maximize the possible score, Alina has all the jumps in the second half of her free skate. The first is a triple Lutz - and something unexpected happens: she falls. The next is a double Axel, triple toe combination and the drama continues: she falls again. She recovers for the the triple flip, double toe, double loop combination, but there is a fall again on the triple Lutz, triple loop combination and the triple Salchow is downgraded. The reigning Olympic champion is totally out of control. She has a compulsory smile on her face when she finishes her program, but this immediately changes when the "official" moment is over. Alina looks scared and devastated, maybe it is the first time when she herself realized she is not a machine.
128,21 points for the free skate, almost thirty points less than her personal best - this can't be enough for the podium. Alina Zagitova places only fifth.
The feeling of the home crowd: bitterness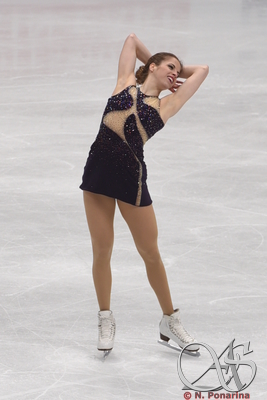 Skating last is always a mental challenge, especially at home. Before the Worlds, nobody could take into consideration the option that Carolina Kostner might become a World champion, but after Caro's great short program and Alina's mistakes in the free, the happy ending scenario is quite likely.
Until the very first jump. Carolina doubles the Lutz and overall her skating seems slow and tense. This is not magic. This is probably a fight with the fear of failure and with the pressure and Carolina doesn't seem to win this fight. She lands only one combination, a triple flip, double toe, she has no triple Lutz at all and singles her Axel.
The crowd is supportive and Carolina is smiling graciously at the end of her program, but you can feel the bitterness in the air. It could have been a victorious moment, but Carolina doesn't make it to the podium. Fourth place is definitely not what she longed for before this event.
However, this doesn't necessarily have to be the end. "You never take big decisions in a hot spot. In the summer I need to come down, take a break and then I'll take all the big decisions," she said about her future.
The winner: Kaetlyn Osmond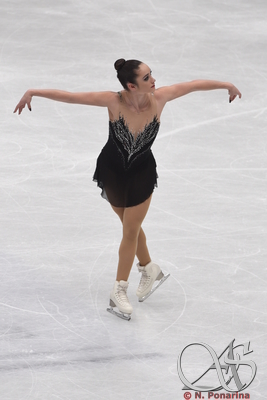 Now who would have predicted this? Not even Kaetlyn Osmond herself. "It never crossed my mind until it actually happened. My goal here was to skate clean and I was able to do that. To make the podium was my ultimate goal but I never thought that being champion was possible," Kaetlyn said. She was fourth after the short program, so she was fighting for that above-mentioned medal. In her "Black Swan" free skate she landed seven triples, and made only a small mistake, a step-out on the double Axel, triple toe combination. "That was probably the hardest long program I've done all year. It was a great mental focus for me to be able to do that and I'm just really happy that I was able to end my year with two clean long programs," the new world champion commented on her performance. At the end of the day, it turned out that it was a gold medal performance. Canada has a new ladies world champion 45 years after Karen Magnussen's victory in 1973.
The Bond girl: Wakaba Higuchi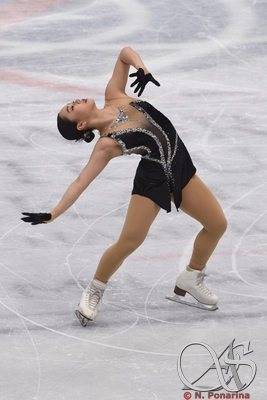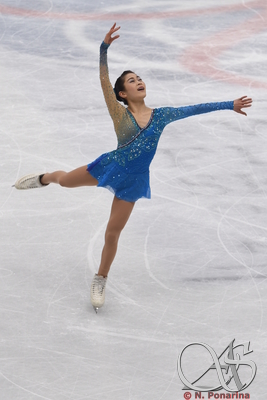 Brave, tough and determined to get up after any setback - these are the characteristics of a Bond girl. These are also the characteristics of Wakaba Higuchi, who has had a rollercoaster season which she crowned with a silver medal at Worlds. After the short program she was only 8th, but there was still the free... And what a free skate it was! Skating to famous James Bond music pieces, including Adele's majestic Skyfall, Wakaba gave her all, landed seven triples, and when the last tune of music was over, she could yell into the world: Yessss! Her great performance meant that she climbed up to second position. It was such a reward for her in a season in which she struggled with injury and was left off the Olympic team. "At most of my other competitions, I have cried at the end, but this time there was no need to cry from sadness," the Japanese skater stated after her skate. This time she cried from joy and many who witnessed the moment cried with her.
Japan earned three berths for the next Worlds again, because Satoko Miyahara also delivered a strong free skate and placed third. "Since this is the last competition, I really tried to do my very best and to show all my feelings. Next season, Japan will have three spots in the ladies' event again. I hope that the younger skaters will come out and be able to perform," she said.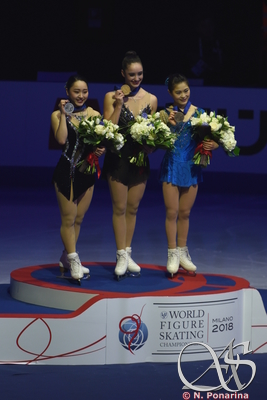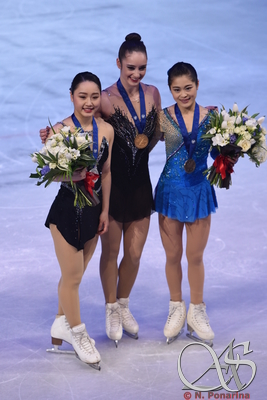 Don't miss our social media updates (containing text updates and fun pics) on Twitter and Facebook.