Lombardia Trophy 2021 - first Challenger event of the Olympic season and a sweet taste of normality
November 4, 2021
By Judith Dombrowski
Photos © Judith Dombrowski
Bergamo, Italy. A city that prior to March 2020 was mainly known for its airport, suddenly gained worldwide attention by being one of the areas hit the hardest by the COVID-19 pandemic. Attending the Lombardia Trophy in September 2021, was my first visit to the city, and remembering the pictures I had seen on the news 1 1/2 years ago, I was really happy to find a very lively and sunny place, with cozy and beautiful spots in the old town.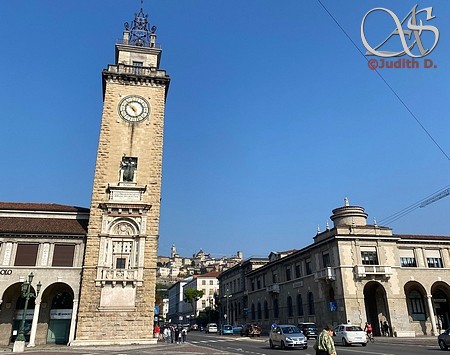 From the outside perspective the city seems to have recovered fairly well. I am sure though, that had I dug a little deeper, the scares of the pandemic, which is not completely over yet, could still have been found. A symbolic picture that relates pretty well to the figure skating world: frustration, sadness and long months of doubts and difficulties. That's how I, many figure skating fans, supporters and most of all the athletes and coaches, would describe the 2020/21 season. It was tough and many uncertainties and restrictions haven't been overcome yet. Still: September 2021 came and brought us a fresh new start, a fresh new season, and a fresh new Challenger Series and its first event, Lombardia Trophy in Bergamo.
Lombardia was the first opportunity for many athletes to present their new programs, a test event to gain experience for the Olympic qualifier two weeks later, the Nebelhorn Trophy in Oberstdorf, Germany. And a big difference to most events of last season: this happened in front of a live audience, which was highly appreciated by all the athletes I talked to. There were many good reasons for skaters to participate in Lombardia Trophy, so the rosters of all disciplines were long.
Alysa Liu - new confidence after a difficult season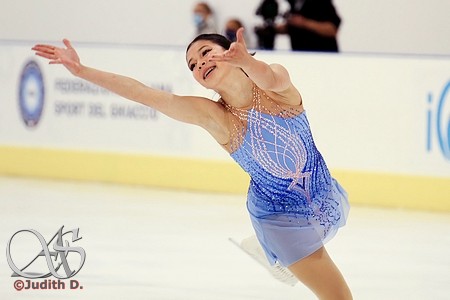 The first medals of the event were awarded to the women on Saturday. Alysa Liu, age 16, USA, was one of the few skaters who had already opened her season in August when she participated in the Cranberry Cup in Boston. She was then chosen to fight for the third Olympic spot in Oberstdorf. In Bergamo she experienced her first international senior competition and surely gained a lot of confidence for the upcoming Nebelhorn Trophy. Not only did she win, but she had a more than 30 point margin to the runner-up, her temporary training mate Ekaterina Kurakova of Poland. Alysa and her new coaching team, Massimo Scali and Jeremy Abbott, had settled in Enga, Italy, training with Lorenzo Magri's team preparing for the important European competitions.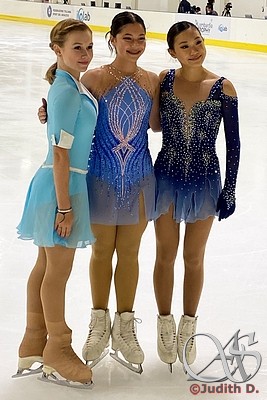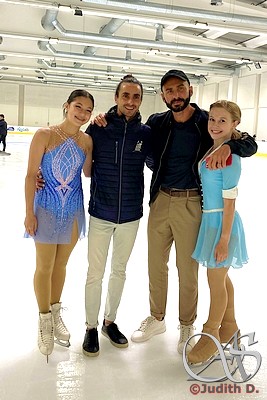 Left: The top 3 ladies, Ekaterina Kurakova, Alysa Liu, Audrey Shin. Right: Alysa & Ekaterina and their coaching team.
"Competing again is still a little weird, but I am definitely getting back into it and I feel really good about my two performances here. Being chosen to fight for the third Olympic spot is a little bit nerve-racking, but I feel really honored," Alysa stated after her victory, with a big smile on her face. After struggling with the jump last year, she included the triple Axel in her free skate again and landed it, even though it wasn't fully rotated. Many positive attempts during the practice sessions showed that the jump is definitely back in her arsenal. Asked about the quadruple Lutz, that she successfully landed in competitions in the past, Alysa said she definitely plans to bring it back this season and hopes it might happen already during the Grand Prix series. Two weeks later, Alysa had absolutely no problem securing that Olympic spot for the US at the Nebelhorn Trophy. She won that event as well, and her good friend, Ekaterina Kurakova, finished second again.
Commonly known as "Katja", Ekaterina also trains in Italy with Lorenzo Magri. Together they had created a solid foundation for a successful qualification in Bergamo with a really convincing free skate to a Charlie Chaplin medley. After her successful skate, Katja bowed down and full of joy kissed the ice.
"It's my way to thank the ice," she explained afterwards. "The ice is like a good friend to me, it brings me so much joy." After placing only 32nd at Worlds in Stockholm last year, she now felt that "the old Katja is finally back."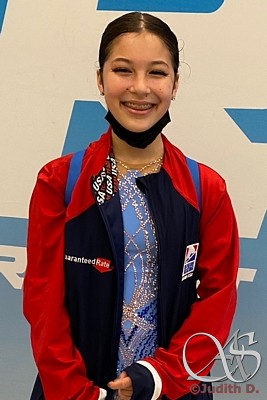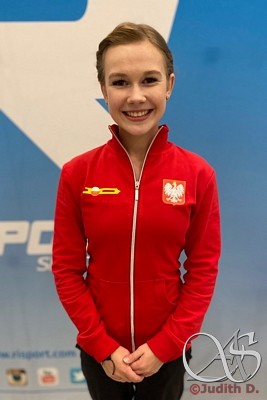 Another very young American, 17 year old Audrey Shin, who had burst onto the scene last year with a sensational third place at Skate America 2020, also won the bronze medal in Bergamo, her first senior competition outside the US. She still wasn't completely satisfied with her performances: "I panicked a little bit during the second half of the long program, as I was falling behind the music. I really want to work more on my run-throughs to avoid this in order to skate totally clean," she stated. Her next big goal is Skate America where she was given the host spot by her federation. (Update on Skate America: Audrey was in 9th place after the short program but finished 12th overall.)
Lara Naki Gutmann from Italy missed the podium, but her phenomenal clean performance in the free skate deserves an additional shout out. Coming from 18th place after the short program, she delivered the third best free, moving up to 5th overall.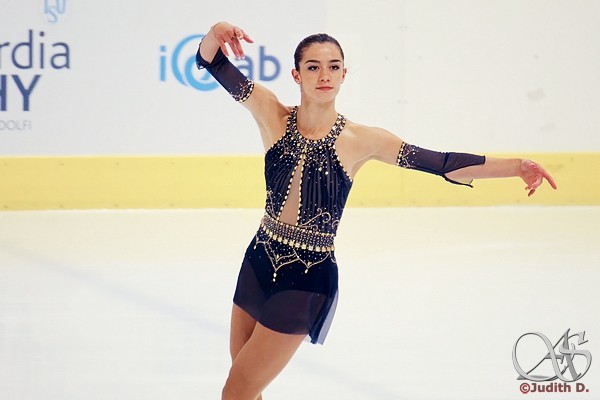 Daniel Grassl: "The audience was amazing!"
Another American hope participated in Bergamo in the men's event: Yaroslav Paniot, who was also awarded the host spot for Skate America. Unfortunately his quest for a medal was abruptly stopped as his boot broke during the short program, forcing him to withdraw. Yaroslav still took the time for a long, fun and interesting talk. Watch out for that interview coming up on Absolute Skating!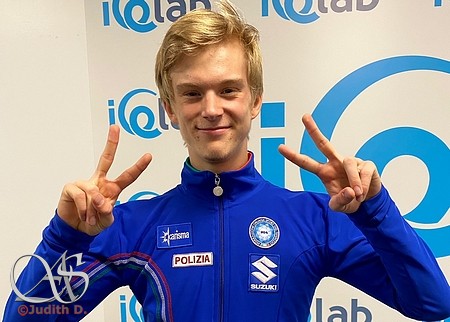 The event ended much more successfully for local favorite Daniel Grassl from Italy, even though it didn't look that way after the short program. Falling on his quad flip and popping the combination into a triple-double, he sat only in 5th place going into the free. But Daniel managed to skate an absolutely clean program, landing three quads and three triple-triple combinations. He awarded himself not only with the victory in Bergamo, but also with a new personal best score in the free skate and overall.
"I really wanted to skate clean today and I am really happy I did", a very happy Daniel told us after his skate and also explained why the crowd helped him get through his performance:
"The audience was amazing. After the step sequence I was a little bit tired, but I really felt that the people were with me, so I could totally give everything I had!". Watch our full winner-interview with Daniel here.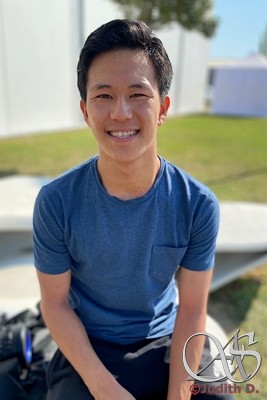 Daniel didn't need to secure another Olympic spot in Oberstdorf, but silver medal winner Adam Siao Him Fa from France had that task, and he also managed to carry the confidence gained in Bergamo to Germany.
"Last season was so complicated and weird, so this competition feels like the first normal one in a long, long time," he said and added: "I am so happy to be here and I am really pleased with my performance. I know there is much room for improvement, but it was a good start".
Adam proved his words. He scored a respectable 237.39 in Bergamo, and then improved to 243.78 in Oberstdorf and even topped that result at the Masters of France in Epinal the following week, scoring an amazing total of 256.25 points. We are excited to see what the season will still bring for Adam!
Georgia's Moris Kvitelashvili faced the challenge of coming to Italy all by himself, without his famous coaching Team Tutberidze, which was very busy at the Russian test skates that same weekend. Moris took the situation well and stated that he already had some experience, and he proved it by winning the bronze medal. "I really wanted to go to this competition and skate, so they let me go by myself and I'd say it went okay. I could have skated better of course, there were a lot of little mistakes here and there, so I know what to work on for future competitions."
Vladimir Litvintsev, Azerbaijan, was in the lead after the short program but his nerves failed him during the free skate. Luckily he held it together two weeks later in Oberstdorf, where he also qualified for an Olympic spot for Beijing 2022.
Ice dance and pairs - Italian top teams dominate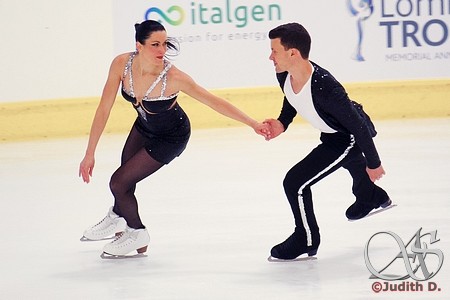 Unfortunately I needed to leave for the airport before the ice dancers and pairs finished their competitions, but the top couples were dominating already during the rhythm dance and short program. The very modern rhythm requirements in the dance category - many chose hip hop, blues and funk - created the feeling of being in a club instead of an ice rink. Most of the teams really seemed to enjoy their very modern dances and watching them was great fun. Italy's Charlene Guignard and Marco Fabbri won the ice dance event convincingly, ahead of Canada's Laurence Fournier Beaudry and Nikolaj Sørensen and Spain's Sara Hurtado and Kirill Khaliavin, who still showed a few insecurities during their rhythm dance, but even more presence and charisma.
The two teams using Lombardia Trophy as a successful preparation for their Olympic spot qualification were Natalie Taschlerova and brother Filip Taschler from the Czech Republic and Juulia Turkkila and Matthias Versluis from Finland. The Finish pair even topped their result in Oberstdorf by almost 9 points, taking the title.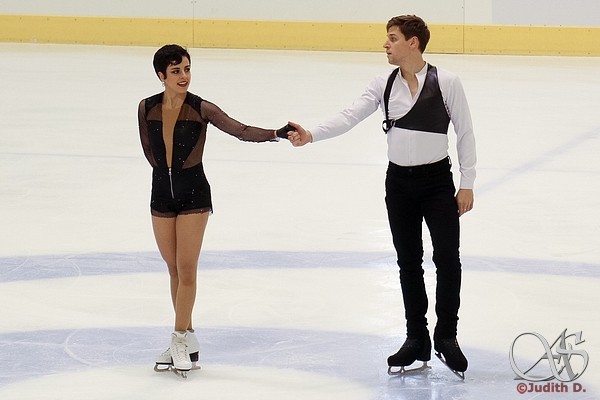 The pairs event wasn't included in the ISU Challenger Series, but 10 teams still opened their season in Bergamo. Italy's very experienced Nicole della Monica and Matteo Guarise skated a very clean and convincing short program, that secured them the overall victory. They were beaten in the free skate by the newly formed Spanish pair Laura Barquero and Marco Zandron (pictured below). They showed that they harmonize very well in their two very emotional and touching programs, and they also repeated their good performances at Nebelhorn Trophy two weeks later. We can totally stay excited over what the future will bring for this new, young team. Bronze in the pairs' event at Lombardia Trophy went to Italy's Rebecca Ghilardi and Filippo Ambrosini.
On behalf of the athletes I spoke to, fans, and those involved in figure skating, I extend a heartfelt thank you to the organizers of this year's Lombardia Trophy. Event was held safely and professionally during a still difficult time. Competitions like this give us a taste of normality and it tastes extremely good. Let's hope we can all enjoy this sweet taste again very soon.