Euros 2022 → Beijing 2022
February 1, 2022
By Reut Golinsky
Photos © Iana Saveleva, Reut Golinsky, International Skating Union (ISU)
Special thanks to Maria Tairova for the help with the mixed zone intreviews used in this article.
The ISU European Championships were back after the cancellation in 2021 due to the COVID-19 pandemic. Europe's best figure skaters gathered in Tallinn, Estonia, using this event as their last opportunity to test themselves at a major stage before the Olympic Winter Games in Beijing.
In addition to our daily reports, here is a little bit extra: some of the event's highlights, old acquaintances or new faces to know better - them and the stories behind their programs - before they head to the most important competition of their lives.
Team Georgia's successful debuts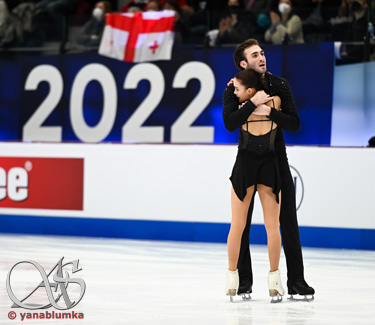 Karina Safina and Luka Berulava had an eventful first season together. They won silver and bronze at Junior Grand Prix, becoming the first Georgian pair to do so. Then they made their senior debut at the Nebelhorn Trophy, placing third and obtaining the Olympic spot for Georgia. Their Golden Spin was less successful, and they finished behind another Georgian pair, Anastasiia Metelkina / Daniil Parkman, who were chosen to go to the Europeans in Tallinn.
But then they got a last-minute call. "We have not practised since before the New Year because of an injury, trying to heal. On January 9th we got a phone call that we have to replace the other team, so we did. My partner is a real fighter, and I am so grateful to her, I hope she is not sad because everything was great," Luka said after their not very successful short program.
Their free skate was much better, surprisingly better even for them (they finished 4th with 184.05 points overall). "We are overwhelmed!" Karina said. "I was so scared! So scared that I won't be able to do what I should! Even the things that didn't work at all during the practices and the warmup worked, the triple Salchow I was failing every time I tried, I landed it! I proved that I could land it!"
Maxim Trankov is consulting this pair and was with them at the boards. "He helped us with the overall skating, with lifts, and taught me the death spiral. We're grateful, he did a lot of work for us," Luka said.
What's next for them? The Georgian Figure Skating Federation just recently confirmed that Karina and Luka will represent Georgia in Beijing. And then Junior Worlds, for sure. Next season they plan to combine Junior Grand Prix events with senior Challengers and ISU championships, like they did this season.
Senior free skate is half a minute longer (4 vs 3.5 minutes), but it doesn't create any confusion. "It works fine," Karina explained. "We always train towards specific competition with the respective programs. "Personally, I love senior competitions more," Luka added. "The difference is the audience - there are so many more people here and it's a great thing."
Luka has Olympic experience already. With his former partner, Alina Butaeva, he won two medals at the 2020 Winter Youth Olympics - bronze in pairs and gold in the team event. "Most of the audience in Lausanne were children," he recalled. "And we could feel this young energy so strongly, you needed to be there to understand it, this was the most memorable experience. Also, I really loved the food, they had different foods from all over the world!"
Another Europeans' debutant representing Georgia and heading to the Games is Anastasia Gubanova. Two-time Junior Grand Prix champion in 2016 for Russia, she felt her career was stuck when she moved to seniors. Showing gracious balletic skating she didn't have the technical content required for the high placements at the internal competitions which led to almost no international events for her. In August of 2021, it was announced that she would continue her career competing for Georgia. She finished fifth at the Finlandia Trophy, her first international assignment since 2018. And, while still not fully recovered from COVID, she won the Golden Spin of Zagreb in December. Making her debut in Tallinn, she had a clean short program which let her appear in the last warm-up group for the free skate, but after several errors she dropped to seventh place overall. Still a great result for Georgia which can now send two women to the Europeans next season.
The 2012 World silver medalist Alena Leonova - they shared a coach, Evgeni Rukavicin - choreographed both of Nastya's programs. "We're really good friends. So, both my coaches and Alena proposed for her to choreograph my programs. I agreed to that straight away, because it always helps when there is a connection between the student and the coach/choreographer, especially when it's such a warm one. The work was comfortable and fruitful."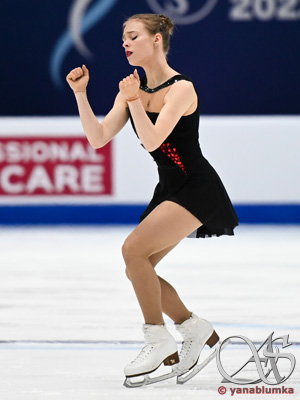 Her short program doesn't have any specific storyline, it mostly conveys the mood and the feeling, she explained. "I wanted to skate to that music for many years and I have been listening to it. When you go through a certain life experience it's easy to depict it in the program. I show some of my own feelings about being in love - whether it was a good or a bad experience."
Her free skate, on the other hand, has an elaborate libretto about a girl who meets a young man but then she wakes up and understands that it was just a dream, she starts looking for him and - happy end! - eventually they reunite. She shared with us that she had some prophetic dreams too. "I am quite a superstitious person. And in general, when something like this happens, I totally believe in it."
Overall, Anastasia was very pleased with her experience in Tallinn. "Of course, I am not happy with my free skate, for now I don't know what the reason was, I have to think and analyse. The impressions after this event, however, are amazing; it's a huge experience for me and for my future career. It was incredible! I wasn't too nervous, actually the opposite - it was a new and kind of great feeling."
Josefin "strikes again"
Josefin TaljegĂĄrd caught our attention during her home Worlds in Stockholm where her bright personality and her "Jocker" program didn't go unnoticed. By finishing 15th at Worlds - her debut senior ISU event - she formally obtained the Olympic berth for Sweden. But to use it she had to gain points equal to the 8th place at Worlds (198,77) at some competition during this season, these were the rules of the Swedish Olympic Committee. Although in the end she couldn't accomplish this goal, she was selected by SOC based on a so-called "future criterion".
In Tallinn Josefin finished 18th after her short, was 15th in the free, and 14th overall. "There were some things I felt I did well, like the toe loops and the step sequences, especially the choreographic step sequence. I had some mistakes on the jumps and I know I can do so much better. But I had a great time with the audience. I was really in the moment and between all the jumps I could catch the audience's eyes and I did have fun," she summarised her experience.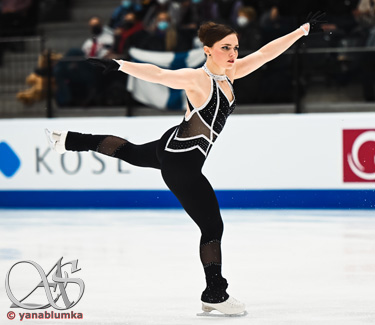 Step sequences are indeed her strong suit, the one from her new short program to "Ready or Not" is probably one of the best step sequences of this season!
How did the idea of this short program come about?
We talked with Nikolai (Morozov) about doing something like a modern dance or a street dance. I found the music and trained with the dance coach. I learned it mostly on the floor, before starting working on the ice. And I also watched a lot of YouTube videos.
With this program, especially with the step sequence from it, you could totally participate in the rhythm dance this season. I'm joking, of course, but did you see any of the rhythm dances, was there any favourite?
I haven't watched that many. But I trained with Annabelle Morozov and Andrei Bagin this summer. We share the same choreographer, and they went in the similar direction with their rhythm dance - street dance and a bit of hip-hop.
Can you tell us a bit more about your short program costume?
I wanted to have something that makes me feel strong and confident. And I really like having a one-piece costume. I also think that black colour suits this program well. I work with Kim Zandvoort, she designed it and Galina Loutkova made it. We made some changes, and these pants are actually from another costume, changed the net and the white additions as well.
Sunshine of the championships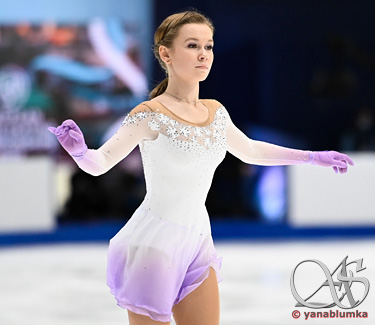 If we are to name "awards" of these championships, we will definitely hand out the title of "Sunshine of Euros" to Ekaterina Kurakova. Her programs are so lovely and full of joy and her K&C reactions, we told her, should be compiled to a clip and used as a "cure" when you're having a bad day.
In 2021/22 Katya is having the season of her life. She started it with a silver medal at the Lombardia Trophy and another one at the Nebelhorn Trophy where she qualified an Olympic berth for Poland.
"It was really important for me to skate clean here," she said at the Skate America one month later, "because I had a really good performance at the Nebelhorn [Trophy] and I wanted to continue like this. I wanted to show that it wasn't a one-time thing, that I'm working and improving."
With decent performances at her Grand Prix events, bronze at Warsaw Cup and top five finish at the Europeans she proved that Nebelhorn Trophy's success was not just a fluke. "Well, you can never relax," she said in the mixed zone in Tallinn, still bubbling with excitement. "But actually, it's good that I don't need to say to myself 'Katya, show them! bring it on!', but instead - 'Katya, skate and try to bring joy'".
And she sure did, with both her free skate to Charlie Chaplin's medley - "I am not trying to portray Chaplin, but I want to bring happiness and joy to people just like Chaplin did" - and her new short program she changed before the event.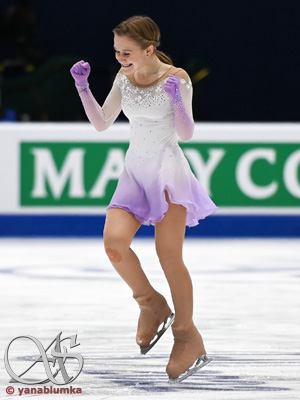 "I decided to change my short program because I didn't feel it," she explained. "I was not sure about what I was doing and who I was during that program, although we were trying again and again. The new choreography was finished pretty fast. And I think this new program is really good. At least I hope so!
I love this music (Valse Sentimentale by Tchaikovsky) so much, I love this program so much. I felt that we really created something amazing, and I wanted to show it! I knew that I really had to do all my jumps clean to not 'spoil' the impression.
And I'm happy with this dress. To tell the truth, the first time I tried it on was already here, it was made in Russia - in less than a week! - while I was training in Italy. I'm really grateful for it, it's beautiful."
Katya got her new personal best in free skate and total scores (137.26, 204.73). And she was especially happy that she finally hit the 200 points overall, with her previous competition, the 2022 Four National Championships, bringing her almost there (190.06).
Bidding farewell to Michal
The 2013 European bronze medalist Michal Březina was the most experienced skater of this event, competing in his 14th consecutive European Championships.
When asked to compare Tallinn 2010 and Tallinn 2022, both were pre-Olympic Europeans he participated in, he answered: "The main difference is that back then I was right before my first Olympics. I was super motivated and adrenaline-driven that entire season. The feeling of the competition right before the Games is very different, especially because I already know I'm going.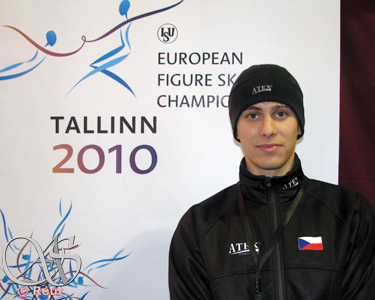 Twelve years ago, I did not know that, I had to have results, and had to prove that I was able to compete at the Olympics. And having all that adrenaline definitely helped me a lot."
"I just wish today went a little bit better," he added, "as this was my last time skating at the Europeans. I'm trying to collect good memories for my last season and my last competitions. Today was not one of those that I would like to remember, I think it was most likely the worst short program of my career."
The tactical decision to not include a quad in his free skate proved to be right and Michal finished the last Europeans of his career on a positive note. "This morning, I decided I would just go for the triple-triple combination which is the same number of points as a quad Salchow. It was an easy choice over going for a quad and not making it. The rest of the program felt great. Everything I wanted to show was there, and in the end, I felt very satisfied. It was a good final performance for all the fourteen European Championships. I am happy with the way I presented the program, the way everything went. I tried to take the atmosphere in, all the emotions in, I even felt a little bit teary."
Kévin Aymoz getting a closure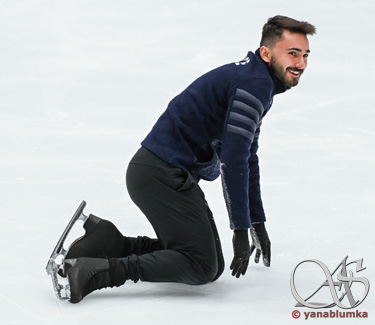 The five-time French national champion had some unfinished business with the Europeans. Two years ago, heading to Graz 2020 as one of the favourites, he contrived to fail in all three jumping passes in his short program, placed twenty-sixth, and didn't qualify for the free. His "road to redemption" was not easy, with COVID forcing him to stay away from his coaching team for over 19 months, and a nasty injury which led to three months' stay off the ice.
"I've got a chronic groin lesion (pubalgia)," he explained earlier this season. "It probably happened because I was working on two quads and in general doing a lot of jumps and run-throughs. At first, I thought: 'It's OK, the pain is not that strong, just like you have in your knee or shoulder or back.' I didn't really pay attention and went to Nationals (in December 2020). It took me a whole week to recover, and it still wasn't enough. For two months I continued with the pain, then got an MRI, had to get the injection because the inflammation was serious. And then I completely stopped skating for three months. Let's say I was not a happy, positive person at that time. I felt it wasn't fair for me to get injured now [in the Olympic season], I was really sad all this summer.
But I'm happy I had a good team around me, there were physio specialists working with me almost every day. Twice a week I met with a psychologist and had additional mental preparation with someone else, too. So, we've built a team around me to recover as well as possible."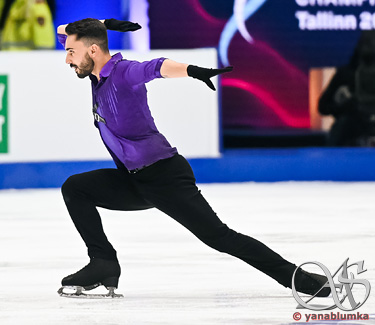 For his short program this season Kévin went back to "The Question of U" by Prince (from season 2019/20). "I was a bit sad about [this decision]. Well, not that sad because it's a great program, I really like it, but each season I always love to bring new stuff. Unfortunately, with the injury I didn't have time to work on new figures, jumps, slides. So, getting back to it was part of the strategy for this season, because I knew the value of this program, I know it perfectly well because I skated it many times. I know what this program can bring me."
For his new free skate to "Outro" by M83 KĂ©vin collaborated with a contemporary dancer and choreographer Mehdi Kerkouche. "I have known him for almost 15 years," Kévin told, "he was on TV a lot, he is working with the Paris Opera, and was in the musical 'Le Roi Soleil'. During COVID he did a lot of dance classes in Zoom, I found them on Instagram once and followed them a bit. And so, when my federation proposed to pay for some dance classes for me and asked for my ideas on which classes I want to take, I said: 'Oh, maybe I have someone in mind!' And that's how we started working together.
I'm really happy I worked with him, he is a nice person, and I discovered a lot of new things with him. He brought a lot of new movements I never tried before. I feel more comfortable in my movements now, in inventing new movements. Because he is not coming from figure skating, I choreographed the steps and the 'plan' of the program for the ice, showed him this 'plan' and explained the mood I wanted to have in this program, and he helped me build it from there.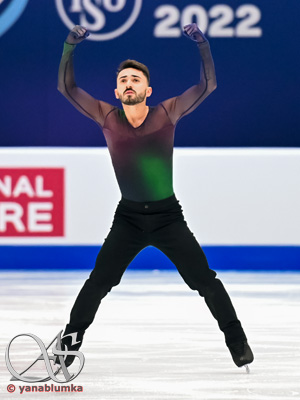 Unfortunately, for this program I didn't have enough time to add a lot of new stuff. The mood and style are similar to the 'Lighthouse' (program from seasons 2019/20 and 2020/21), this is the way I like to skate contemporary things. It's easy for me to share something when I'm skating, I feel really comfortable with that. Maybe for the next season I would like to try something completely new, a new style of music. But this time it was important for me to bring emotions, share them with the audience."
The short program in Tallinn was far from perfect, with multiple mistakes, including both quad attempts, and brought him to tenth place only, but it was still better than two years ago. "For sure, I took revenge on the European Championships 2020," he said in the mixed zone half-jokingly. "This time I am doing the free skate!"
"Today was very stressful and I was very stressed," he added. "I'm a bit sad, because I missed nothing [in practice] on Monday, Tuesday, and this morning, the quality was 99% on quad toes and Salchows. But that's OK, it is only my second real competition of the season, so I'm really proud of myself."
His strong free skate, apart from a stumble going into the second triple Axel, raised him to fourth place in this segment and seventh overall. "I enjoyed being on the ice. It was a pleasure to skate. I love my music and my costume, and I was just being myself."
Historical medal for Latvia
Deniss Vasiļjevs is on the rise this season, beating his personal bests each competition he enters. From the very first practices in Tallinn, he looked ready and content. Even the quads, his biggest impediment, looked good, both toe loop and Salchow.
"During practices I'm, of course, training quads," he explained in the mixed zone. "And I succeed to land them as I've proven. The hardest thing is to find the confidence to go for it on a regular basis and implement it in skating. So, although I can do quads, it's still a lot of work to show them in my programs while keeping everything intact.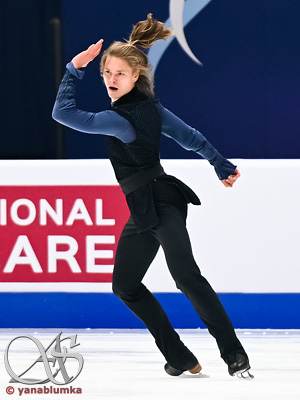 Right now, I'm focusing on adding them but also keeping overall consistency in the artistic side of my performance, so that there is still movement and wholeness."
Philosopher as always, he sees more in a quad than just a jump with a higher value that can get him to the top. In a way it's an ultimate symbol of uncertainty and doubts he has to overcome, to "just go for it, jumping into the cold water."
"I seek to push my boundaries, to get over whatever blocks me inside or outside. To start, to go for it, to commit to it, to really find the flow without stress, to manage to harvest the energy of the stress - all these are a part of facing the quad. And there is a feeling of deep satisfaction of committing to it, basically throwing yourself into the fire and getting comfortable with the uncomfortable."
At the night of his free skate everything matched up: the program as a whole and the clean quad Salchow at the beginning of it, the artistic side, the expression, and that "crispness" of the jumps he mentioned at the press conference afterwards. It was hands down the best performance of his entire career and, finishing fourth this whole season, he finally landed the bronze medal.
"I feel proud," he said. "My biggest joy is that I was able to overcome myself, despite the huge pressure, I succeeded to go forward, was able to eventually go out there and do my best performance; joy to experience such adrenaline but to manage to isolate it, go through it while still being present for the crowd.
When you're inside this competitive atmosphere, of course you want a good placement, a medal. But to tell the truth I value much more that I was able to show today - and a day before yesterday with my short program - a 100% of what I could do. My biggest satisfaction is from the fact that I know I can do this."
"[This result] is a milestone in my journey that I don't know where it leads. I see my career and my figure skating life as a journey. I push myself daily, I commit my heart to that, and this result today is a reinforcement that I made the right choices."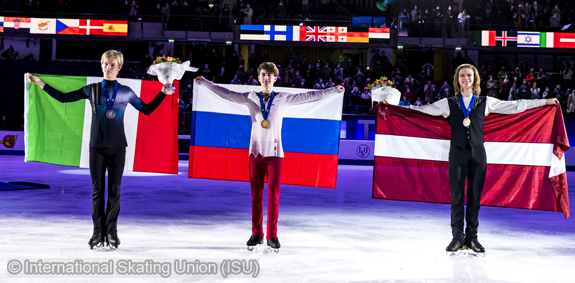 Next stop for Deniss - Beijing 2022, with two goals in mind: "avoiding the 'friendship' with COVID" and "keeping improving, shining, impressing, bringing the positive energy on ice and confidence in my heart."
Avoiding COVID these last days before the Games is indeed the main goal for all the Olympians. We just wish them all to stay safe and we can't wait to see them on the Olympic ice.