Interview with Ivana Dlhopolceková and Hynek Bílek
by Helga Dobor
Photos © Helga Dobor
| | |
| --- | --- |
| | These promising ice-dancers started to skate together two years ago. Ivana skated singles before, in Slovakia, and Hynek had another partner in ice dance, in his country, the Czech Republic. During the first two years they couldn't compete, because Hynek had switched nations. They debuted in competitions this year with their enchanting free program to the music of Romeo and Juliet, which the audience really enjoyed. How and why did they start to skate together? What are their goals and dreams? Who are these two talented, "heart on ice" skaters? You will find all the answers in this interview. |

When did you start skating and why? Was there a skater in your families?
I: Yes, there were skaters in my family. My cousins' skating inspired me so much to start this sport at age 5. My best friend skated, too, and he also took me to the ice rink for practise for the first time.
H: I was four when I started skating. I was a very sickly child and doctors recommended me to try this sport.

How do you remember your first time on ice?
I: Oh, I remember well. I was maybe four years old. I was sitting on the board and watched my elder cousin skating. My mother also remembers that day well and now she says: "When you came back home you told me that you wanted to be a figure skater."
H: I was very small, so unfortunately I don't remember my first time on the ice.

How long have you skated together?
We have been skating for two years together and this year is our first competitive year.

Ivana, you have skated alone. Why have you switched to ice-dance? How did you meet each other?
I: I always wanted to be an ice dancer, but it was very hard to find a partner. Then I heard that Hynek left his former partner. I wrote him an SMS immediately. In fact I didn't believe that he would write back to me. But he did! So I have teamed up with him and now we skate together. In Slovakia there are only two ice dance couples so we have bigger chance to go to international competitions.

How would you describe each other?
I: Hynek is a very talented skater, and off-ice he is very well-natured. He is very friendly and during the practises he is so calm and patient. I really, really like him. I like to work with him!
H: Ivana is a very ambitious and hardworking person. Everything she does has its reason, she works for her aims. I like working with her very much.

Why is it easy to skate together?
I: First of all we are very good friends, so it is easy to work together. Another very important fact is that we have a great coach. It is a fantastic feeling - to see all our hard work result in success. However we can still improve.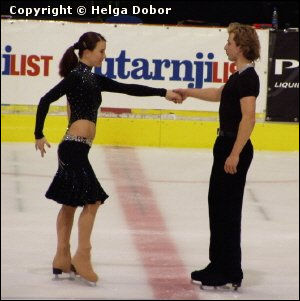 And why is it hard?
I: We don't get enough ice, so we have to commute a lot to other ice-rinks around the country and it is very exhausting. Sometimes we travel so much by train, we spend too much time together, and it is easy to drive each other crazy.

So you skate in Slovakia, but practice in the Czech Republic and Germany too. Where do you live then?
I: We live in Olomouc, Czech Republic, and we train mainly in the rink of our home town.

And where are your families? Where are you from originally?
H: My family lives in Olomouc, so I am really at home. We have lived here since my childhood.
I: I was born in Banská Bystrica, Slovakia, and my parents live there.
This is your first competitive season together. Last year you debuted with The Addams Family. How do you evaluate your work now? And what are your expectations in this season?
The last two years were very hard. We had to train, but we couldn't compete, because Hynek switched country. He skated in the Czech Republic before. Now that we can compete, everything seems better. This fascinating sport is more important to us now.
Of course, we would like to qualify for the European and World Championships and next season we are going to fight to get a place in the Olympics.
So these are your short and long term goals?
Yes. We want to improve our techniques and programs. There is still a lot to do and of course, we want to show our best performances in the European and World Championships. To be sure, our main goal is to get to the Olympics both in 2006 and 2010. After that, to skate in shows, like Holiday on Ice, would be a great possibility.

And in which competitions are you going to skate in this season?
We are going to go to a competition in Kosice and after that to the National Championship, and of course we would like to go to the European and World Championships.

You placed in 3rd in Ondrej Nepela Memorial, in your country. Did the home audience encourage you? Are you satisfied with this result?
The audience was great, but the audience in Zagreb, Golden Spin was better. We are satisfied with the third place - this was our aim before the competition and we fulfilled it.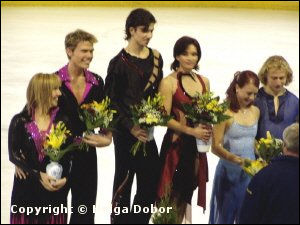 We liked your program with the music of Romeo & Juliet very much. How important is to find the right music? Who chose this music? Have you got a favourite program of your own?
We like our programs very much, the music and the choreography too. Most of all we like our free dance program, to Romeo and Juliet. We chose this music, and our coach agreed with us so we started to prepare our performance. Now we think that it was a good choice to skate to this music. We think that the most important part of ice dance is to choose very impressive music.
If it is the most important part of the ice dance, what is the most pleasant part of it? What is the best thing about it?
I: I like wearing beautiful costumes, I like the process of preparing our programs, choosing the right music. I like the feeling when I can see how much we have improved, to know that we are getting better and better.
H: I like the adrenaline. I like competing. It is a great feeling.
How much support do you get from your federation? What is the life of a skater like in Slovakia?
It is not easy to be a figure skater in Slovakia. This sport is not so popular, so we don't get enough money for training from our federation or from sponsors. Everything is up to our parents.
I would like to say thank you to them, for all their support and help.
Is there much rivalry between the ice-hockey and figure skating? We have seen that ice-hockey gets priority and is more popular in Slovakia. Is it true?
Yes, it is true. Figure skating is really not a popular sport in Slovakia. Ice hockey is the more popular here. Therefore we have to train late or night, or we have to commute to other ice-rinks, because everywhere hockey-players get priority for free ice.
Who is your favourite ice-dance team and why? Have you ever met them?
H: My favourite couples are Marina Anissina and Gwendal Peizerat and Albena Denkova and Maxim Staviski.
I: My favourites are Tanith Belbin and Benjamin Agosto, they are so wonderful. Then I also like the Bulgarian couple, Albena and Maxim, and of course Marina and Gwendal. We like them, but I have to say that we don't want to have the same image so I am going to change my hairstyle and haircolour.
And yes, I have met them in an European Championship, and they are really so sweet.
We got inspiration from our favourites, but we want to work up our own style and we don't want to follow theirs. We want to be original and build up our career.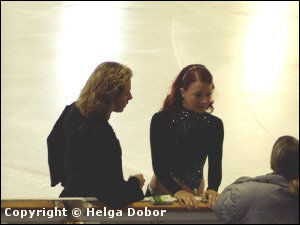 And who are your other favourite skaters?
H: I like Alexei Yagudin and Philippe Candelero - they are very talented skaters!
I: I adore Alexei Yagudin! :)) And Zuzana Paurova – Babiakova. I trained with her for some years and I admire how she manages not only her practices but her children too. I respect and admire her ability to return to skating following her pregnancy, and she can harmonize her private life with skating.
What are your dreams?
I: All my dreams are about figure skating. The biggest aim or dream is to have my own skating club and work as coach and choreographer. And of course I really want to go to the Olympics.
H: My dream is to go to the Olympics. It is my biggest dream!

Where are your favourite countries where you have visited and where is the place you'd like to visit?
H: I really like Norway, the people there, their lifestyle. I want to go to this country once again.
I: My favourite place is Israel. I spent a few months there and I really loved that place. And where do I want to go once? To Fiji Islands. It is the place of my dreams!
What are your hobbies?
H: I like computers, music and good films.
I: I also like films and music and going out with my friends.

Have you got a pet?
I: No, unfortunately I don't have a pet.
H: I have a dog. She is a staghound but she is really really cute! Her name is Satin.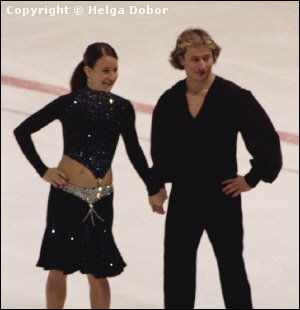 Do you work or study?
I: I study in a high school. After the graduation I would like to go to university and study sport management there.
H: I study in a pedagogic university, and I skate with an ice-show.

Thank your for taking time to answer our questions. Is there anything you would like to share with your fans or to tell something to them?
Yes! We want to thank everyone who cheer for us and keep their fingers crossed. It is a really nice feeling to know that people like us, and our perfomances and follow our work.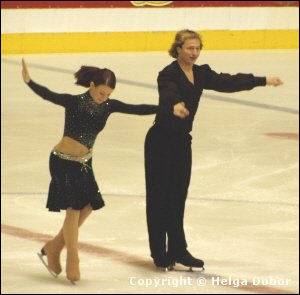 Copyright © 2004 - 2021, Absolute Skating
All rights reserved.