Interview with Ken Rose
by Helga Dobor
Photos © Kimberley Stickel


Ken with brother Jamie

Ken Rose is the 2003 Junior Mens Champion of Canada. A skater, whose performance in the Junior Grand Prix of Budapest captured the Hungarian audience. He placed 6th there.
He still competes in the Junior field, however this season will be his last there. He has competed since 2001 in the Junior Grand Prix series.
The 19 years old boy has plenty of titles and awards. Ken skated with Elvis Stojko, and won the Elvis Stojko Bursary Award two times (2000, 2001). Last year he also won the Brian Orser Merit Award. Off the ice he is a very friendly and natural boy, meeting him gave me a lifelong memory.
I asked him some questions on the occasion of the Junior GP, Budapest.
When and why did you start skating?
I started skating when I was five years old. Originally, my parents thought I would play hockey, like most Canadian boys, so they enrolled me in the CanSkate program in the Newmarket Figure Skating Club. After performing as a Pinocchio in the carnival when I was six, I told my mom that I wanted to be a figure skater. I drove my parents crazy until they bought me a pair of figure skates. I started in figure skates when I was seven and a half.
Does anyone else in your family skate?
My great aunt Vera was a professional figure skater and my great aunt June was a provincial champion in speed skating.

How do your parents support your skating?
Both my parents have been extremely supportive right from the beginning. They have, and continue to, help me every step of the way, both financially and emotionally. My mom beads my outfits and drove me to the rink everyday for many years. My younger brother, Jamie, is my best fan! He has to work very hard at every thing he does, because he has Down Syndrome. He is an amazing kid. He always reminds me what is really important in life.

Was there any skater in particular who had a style that inspired you?
Both Kurt Browning and Elvis Stojko have inspired me throughout my career. Kurt is the ultimate entertainer. He is so versatile, he can skate to just about every piece of music imaginable. Elvis has power and strength. He's always shown great determination and focus. I have had the honor of skating in ice shows with both Kurt and Elvis.
And if you have to name your real idol in skating?
Elvis Stojko is my idol, mentor and friend. I have had the opportunity of training with him over the past few years and I have learned so much from him. He taught me how to be a champion. He's taught me about perseverance and determination.
What kind of conditions do you train under?
I train at the Richmond Training Centre in Richmond Hill, Ontario. The rink is heated and we have ice time from 7 am to 8 pm Monday to Friday. The competitive skaters normally train during the afternoon. There is a great, positive atmosphere and lots of energy on the ice. I am training with other skaters on the Junior National Team and who are on the JGP circuit.
How many hours do you train on-ice and off-ice a week?
I train 15 hours on-ice and 5 - 7 hours off-ice.

What does your typical day look like?
My day starts at 8 am. I get to the rink for 9:30 am to warm up and I step on the ice at 10 am. I'm at the rink until 2 pm and then I go to the gym from 3 pm until about 4 pm. I also coach some days after I am done my skating. Saturdays are spent coaching at the rink. My youngest student is a 3 year old boy.
Who is your coach, choreographer? Since when do you work together?
My coach and choreographer is Linda Bridge. Linda and I have been working together since the beginning. I met her in December, 1993 and she's been my only coach.

What are your strengths as a skater?
I believe that I am an all around skater. I think my main strengths are my spins and my transitions between the big elements. I feel my music, and can skate to a wide variety of music styles.
What do you need to work on the most?
That would definitely be the triple axel and quads.
What is your favourite element?
My favorite element is a double axel. When I do a good double axel, there's no feeling like it. I'm sure when I get my triple axel consistent, that will end up being my favorite element.
What do you like most in skating?
Competition. I love the adrenalin rush I get when I step onto the ice to perform. Looking around and knowing that everyone in the audience is watching you and only you for the next 5 minutes is an unbelievable feeling. I love performing and I like to feed off the energy of the crowd.

What keeps you motivated?
The desire to succeed and acquire new skills. I find the learning process very interesting and I like the challenge of trying things I can't do perfectly yet.
What was your first competition?
Keswick Invitational. I was 8 and I skated to the soundtrack of Oklahoma. Linda asked me if I was nervous and had butterflies in my stomach. Of course, I denied it. Later on I admitted that maybe I had one big butterfly in my stomach.

How do you choose your music?
Linda and I listen to a bunch of things and try to find something we both like. If we're really stuck, we go into Lenore Kay's office and we listen to her suggestions. We're normally there for at least 2 hours at a time. Once we find something we both agree on, we have Lenore cut the music.
What was your most important competition?
To me, Nationals is always the most important competition of the year.

You won the Jr Canadian title in 2003. What was it like? Has anything changed after it?
Winning the Junior Canadian title was a huge accomplishment for me. It was the greatest feeling I've ever had in relation to skating. I skated to my first standing ovation in my long program. All those hours I spent in the rink finally paid off. Things have definitely changed since I've won that title. People expect you to skate well, so there is more pressure involved in my skating now. But it's all good - I feed off the pressure. And, I'll always be the junior champion, regardless of what else I do in skating.
What are your plans for this new season?
My plans for this year are to place top 6 at Nationals and earn a spot on the Junior World team.
There is big different between the audiences in Canada and in Europe. How does it feel for you to be competing in Europe?
Unfortunately I have never been to a competition in Europe with a big crowd. In Canada, even our local competitions tend to attract a large audience, especially for the junior and senior events. The people in Europe have always been very nice to me and they know their skating.
For the Junior Grand Prix you have been in my country in september. Did you like the audience of Budapest?
Actually, the crowd in Budapest was one of the larger crowds I've seen in Europe. There was a lot of energy in the building and the crowd was great and supported all the skaters. It makes it easier to compete that way.
What is your opinion of Budapest? Did you like the city?
I actually didn't get to see a lot of Budapest due to the competition. I went downtown one day and it was gorgeous. I wish I could have spent more time there.
Have you been in Europe before that competition? Do you have friends here?
I've been to Courchevel, France, Val Gardena, Italy, Malmo, Sweden and Ostrava, Czech Republic. All of the trips have been to compete in skating. I have met many skating friends from different countries.
Do people recognize you? Do you like this? Do you like to give autographs?
People recognize me at local competitions and at Nationals, especially since I won the junior title. It makes me feel special when someone comes up and asks me for an autograph. Canada has had such a history of men's skating champions and it's an honour that people would want my autograph.

Do you study? If yes, where?
Actually, I am done high school and I am taking a year off and then deciding what to do about university. I have been completing my level 1 certification in coaching, which has taken a lot of time.
What do you do in your spare time? What is your hobby?
In the summers I like to golf. It's my place to get away from everything and just relax. I also have this habit of buying DVD's. My DVD collection is up to about 60 movies. I also go to the movies, listen to music and hang out with friends.

What kind of music do you like?
I listen to a wide variety of music. Everything from hip-hop, rock, dance and even oldies.

Where would you like to travel?
I'd like to go to Australia sometime and I'd also really like to go to California, USA. I wantto visit LA and Hollywood. It would also be nice to travel Europe and actually get to see it, not just the inside of an ice rink.
Do you use a computer? What for?
Chatting on MSN Messenger and playing games mostly. I also keep my coaching business on my computer. When I was going to school, I did my entire high school education through the internet.

Do you like reading? If yes, what is your favourite book?
Actually, I have a hard time reading because I don't like to sit still for very long. I am a ery active person and I like to keep moving. I read magazines and mystery novels on occasion.
Extra; Question of Megi: Will you compete at Sectionals in Midland, this year?
Yes, I will be at Sectionals in Midland. Have I met Megi?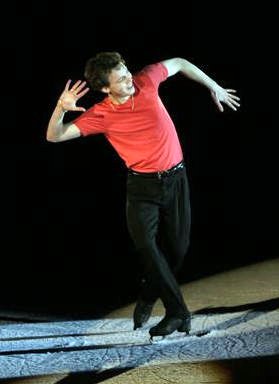 *** Previously published by Europe on Ice

Copyright © 2004 - 2021, Absolute Skating
All rights reserved.