Interview with Kristoffer Berntsson
By Magdalena Osborne
Photos by Magdalena Osborne & Carl-Gustaf Ringdahl (carl-gustaf@ringdahl.nu)
He's been around for years skating in many competitions. He was the first Swede ever to land a triple axel and has made some headlines at times but none as big as after his amazing short program at Europeans in Budapest. Technical skill, intricate choreography and charming artistic ability all came together in a performance that rocked the world of figure skating making people gasp for air asking "Who is this guy?" Magdalena met with him and got some answers.



Photo © Magdalena Osborne

Kristoffer Berntsson
Age 21
Lives and trains in Landvetter, Sweden
Coach: Andrea Dohony
National and Nordic champion 2004
You started skating at age 5, why did you choose figure skating?
It wasn't really my choice. My parents put me in a skating class and there was a bunch of us guys goofing around having a good time, it was fun! I played hockey as well but didn't like it as much.
Have you ever regretted going into figure skating?
Not because I wanted to do something else instead. But sure, I've been through some rough times but that was a while ago. Right now skating gets more fun every day and I think it's really right for me.
How do people react when you tell them you're a figure skater?
"Oh, really? Cool!"
What was your first competition like?
It was a long time ago, and I didn't skate a program, it was more just elements. To be honest I don't remember that much about it. But my coach Andrea Dohany also coaches "Team Surprise" (reigning world champions in synchronized skating) and I have competed in team skating as well. That wasn't for me though; it was way too hard to keep track of all the other team members.
You have won several national titles.
I won a few times as a junior and have three senior titles so far. One year I didn't compete because of an injury and another time the national championships were at the same time as Europeans and I competed there.
And you just won another Nordic title!
Well, there were only three of us competing and my main competitors were either sick or injured. Still, standing on the top podium listening to the Swedish national anthem is always a thrill although the Nordic title meant more to me last year when I had to fight for it.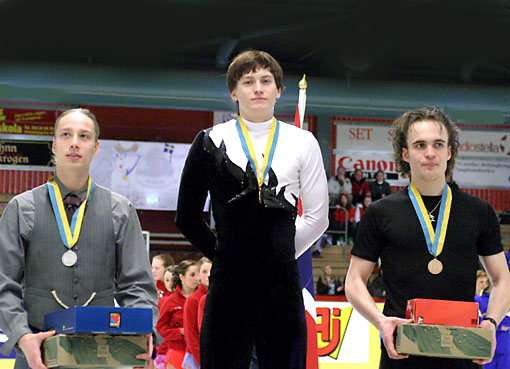 Kristoffer with silver medalist Antti Aalto from Finland (left) and bronze medalist Duran O`Hara Lindblom of Sweden (right)
Photo © Carl-Gustaf Ringdahl
You were the first Swede ever to land a triple axel.
My axel is solid now, I first landed it at nationals in Vallentuna back in 2000.It was great, the win from that competition is still my best and it was my first gold at nationals as a senior.
And now you're working on becoming the first Swede with a quad?
Yeah, and I was very close at Nordics! I have been close in practice too and when I didn't have so much competition I decided to try it in my programs. Now we'll see about worlds, a lot can happen until then.
Your short program at Europeans in Budapest was amazing, what went through your head during those 2 ½ minutes?
I was too focused on what to do next to think about what would happen if I made it. I put a lot of energy into the program and I was so concentrated during the skate but afterwards all the tension disappeared and it felt so good, it was pure bliss!
It was probably your best skate ever, did you surprise yourself?
No, not really, I knew I could skate the program clean and I had landed all the jumps in competition before but it was great that everything came together!
The newspapers in Sweden wrote a lot about you and you even made the sports news on TV. What was it like in Budapest?
There were no Swedish journalists in Budapest but some called me and asked for comments. The biggest treat was that I got to skate in the last warm-up group with Plushenko and the others, that was awesome!
You finished 13th, your best result at any Europeans so far. Were you happy with that?
No, I was actually very sad that I didn't make the top ten. If I had, Sweden would have earned a second spot for Europeans next year and Filip Stiller and I could have both gone. We're friends and train in the same city and I wanted badly to earn another spot so we could go together. I'm still disappointed.
Do you get nervous at competitions?
Sure, I get nervous like anyone else but I try hard to focus on what I do and not care about anything else.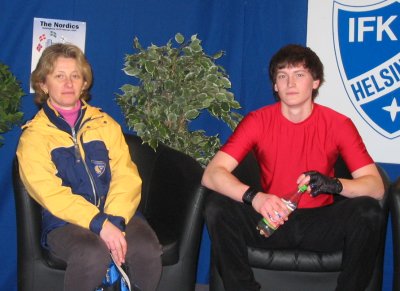 Kristoffer with Ela Magnusson (coach of Lina Johansson) in the Kiss and Cry at Nordics
Photo © Magdalena Osborne
At Europeans in Malmö 2003 you skated for an enthusiastic home crowd. What was it like?
Wonderful, it was just great, Malmö was the best! The audience help so much and I felt no pressure, only support and a cheering crowd makes it so much better to skate! I went to a competition last fall where our only audience were the judges. It was during the day and it was so...dead! Needless to say competing there wasn't much fun...
You've had a very good season, have you done anything differently in your training?
I've had a season with virtually no illness or injuries so the training has gone well. I think I'm also more aware of my skating, especially about the presentation. Earlier my skating was all about being an athlete and expressing myself was embarrassing, but now I enjoy that part too, I've grown into it.
What does a regular day look like?
I have no regular days since I have to work around my classes in school. But besides skating I have gym sessions and I lift weights. I used to do ballet but I didn't care much for it... Skating is the fun part; all these other things are just to make me a better skater!

Photo © Magdalena Osborne
Besides your home club you train some in Flims in Switzerland and in Russia with Viktor Kudriavtsev.
I've been to his training camps many times. His English is limited and I don't speak Russian so we don't talk all that much, I just do what he shows me, but it's good training.
Where will you train this summer?
Nothing has been decided yet.
If you weren't a skater, what other sport do you think you would be involved in?
I don't have the slightest idea!
What's your favorite move on the ice?
Foot work, I like to go out there and play!
The music to your short program is very modern (Justin Timberlake, Linkin Park) Who chose the music?
I did! I'm the one who has to skate to it so I have to like it! My ears are always listening for good skating music but I don't want music someone else has skated to already so it gets harder and harder to find something good. The short program was choreographed by Zerjon Abede, he's a dancer from Gothenburg. Some girls in my club started taking dance lessons from him and I wanted to do something really different. Igor Bobrin did my free program (to "The Time Machine" by Klaus Badelt.). I got in touch with him through Viktor Kudriavtsev.
Compared to other male skaters your costumes are quite conservative, who makes them?
A lady named Galina Lautkova; she's from Russia but works as a coach and choreographer in Gothenburg. I don't like a lot of glittery stuff or ruffles on my costumes, I don't design them myself but I do have some input.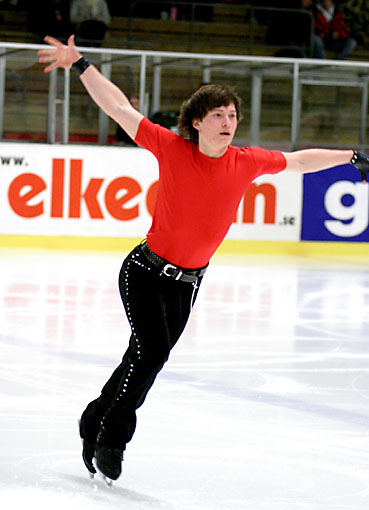 Photo © Carl-Gustaf Ringdahl
You competed at the Bofrost Cup on Ice last fall where there was a jumping competition.
It was very cool, instead of a short program we jumped and then had the free skate the next day. It was great to compete that way, and to watch, I think everyone had a blast! I loved it even though I didn't do so well. The first competition of the season was a disaster for me and I wondered if I was ready for the next one, the Finlandia Trophy. But I got bronze there so I was ready!
You have a nice collection of medals, where do you keep them?
I have a special cabinet with glass doors in my room and I keep all the medals in there, it looks very nice.
At Europeans and Worlds this season, the interim judging system is used, but some competitions have applied the Code of Points. Which system do you prefer?
I'm not for the idea of randomly counting only certain judge's marks. And at Euros the ordinals for some skaters ranged from 5 to 25 which made me wonder if the judges were watching the same competition! The off the wall marks are the ones that shouldn't be counted!
I understand the Code of Points and will of course design my programs for the maximum level threes. Whether the system will stop judges from cheating is hard to say, but with so many sets of points given it should be more fair. But I think it was too early to start using the system this season.
Do you have a favorite skater?
When I was younger I never watched skating so I had no favourites. But I think Evgeni Plushenko is in a class of his own, when he takes the ice he owns it! You probably don't feel that presence watching him on TV, but live it's an incredible feeling!
You will compete in Dortmund, what are your expectations there?
To skate three good programs! I managed two in Budapest but at Worlds I want to do all three.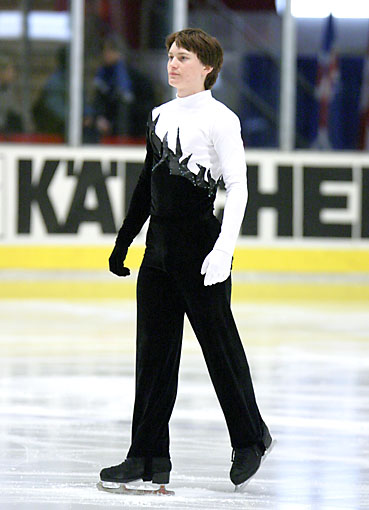 Photo © Carl-Gustaf Ringdahl
Worlds pretty much ends this season, what are your plans for next year?
I have none yet, but of course I'd like a Grand prix assignment. The Swedish Figure Skating Association will decide which competitions I'll go to but there really aren't that many, I pretty much did them all this year...
Going to Worlds means being away for a week, staying in a hotel, limited ice time etc. How do you pass the time?
I can't train as much as I do at home which is fine, I wouldn't want to anyway, but there's a lot of waiting. I can't say I hang out a lot with other skaters; we might eat together and watch the other disciplines. I watch the ladies and the pairs but in Budapest we had practice during the pair's free skate so I didn't get to see much of them. I don't have a lot of interest in the dance. The singles and the pairs have a lot in common but the dance is so different I can't really tell if they're good or not and I don't know the dancers. But competitions are fun!
Could you consider skating in pairs?
No thanks! I've never tried it but I don't think it'd suit me at all!
You're a student at the Chalmers Institute of Technology, what is your major?
I'm in the electrical engineering program, but it'll take me a while to graduate. I can't combine my training with a full load of classes and I miss a lot when I'm away at competitions. But I'm not in a hurry since I won't quit skating anytime soon, but at some point in the future I could consider working in the field of environmental technology.
What do you do during your time off?
I rest as much as I can. I have no hobby since school and training takes all my time, but someday I'd like to try parachuting again!
What is your celebrity status at home?
Absolutely none and when I'm with my friends we never discuss figure skating. Some of them might watch some competitions on TV is all.
Do people recognize you?
At competitions, sure, and I might do a few interviews and sign some autographs, but other than that, no.
What are your plans for the future?
I want to continue competing for a while longer. Right now I love skating and I won't quit while things keep getting better. Maybe later I might do some shows, I don't know. I can't see myself as a coach or a judge but shows are fun. At camp in Switzerland last summer the whole group went to Italy and put on a show, it was great! Or I'll have a job in environmental technology.
What is your figure skating dream?
To win the Olympics! I have never skated in any Olympic games and Turin is only two years away. The Swedish Olympic committee is financing part of the training for Lina Johansson and me and we both want to go!
Do you have any other sponsors?
My hair stylist! My hair has been brown, blonde and red because I wanted to try something new. But last time it was blonde I didn't like it much so I didn't keep it that way for very long.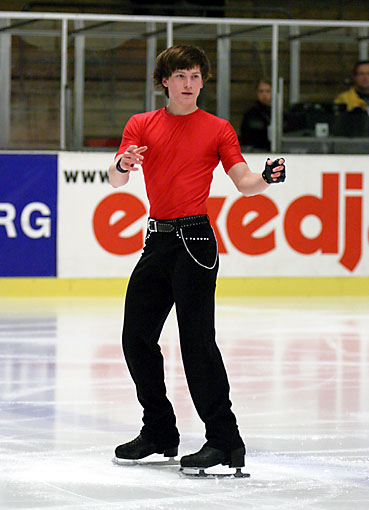 Photo © Carl-Gustaf Ringdahl
*** Previously published by Europe on Ice