Interview with Julia Golovina and Oleg Voiko
by Helga Dobor
Photos © K. "bird" N.
| | |
| --- | --- |
| | Representing Russia or the Ukraine at international competitions is a proof of a skater's talent – all the more if you talk about ice dancing. Julia Golovina and Oleg Voiko are a young team, yet they already have many European and World Championships behind them. They most recently competed at Skate America and Cup of China. They have come a long way since they teamed up in 1999. Back then, Julia skated for Russia and Oleg for the Ukraine. |
In a country where figure skating is popular and known for its champions, like in the Ukraine, it's not unusual for a child to start skating. How did you get started?
Julia: I started when I was 7 years old, because my grandmother loved to watch figure skating and she took me to the rink. She was hoping that I would enjoy this sport too, and I did.
Oleg: When I was four, my parents brought me to a rink during the summer and I loved it!
What are your memories from the early years on the ice?
Julia: I skated with my younger brother and he did a good job on the ice, but I didn't. After that he never skated again, but I continued.
Oleg: Oh, I only remember how cold it was in the rink, especially in the summer when it was so hot outside! I also have a funny memory of the Junior Grand Prix where my former partner lost her skate on the ice.
How did you feel when you went to your first competition?
Julia: I was very excited! And later too, because I always won.
Oleg: And I was very scared!
What was the best decision you ever made?
Julia: I think I have made many good, small decisions in my life, that have resulted in who I am now and where I will go in my life. On the whole I think my life is wonderful because of all these small decisions.
You both started as single skaters, but later switched to ice dancing, right?
Oleg: Yes, I switched when I was 9. I took some time off from skating, and when I picked up again, I went to ice dancing.
Julia: I switched later, at age 14. My parents moved and I couldn't skate for a long time. Then I started ice dancing, because I wasn't interested in jumps any longer and also because I admired Oksana Grischuk and Evgeni Platov. My coach in Moscow was Elena Tchaikovskaya and I will always be grateful for everything she has taught me. She has laid a wonderful skating foundation for me and I will be always thankful to her!
How did you two team up?
Oleg: We teamed up in 1999. We were both looking for new partners and a friend advised me to contact Julia.
Julia: We had a tryout to see if we could work together, and as we fit well both mentally and physically, we decided to give it a try. Since that moment, we've never felt like giving up, even if our first year together was very hard, because we couldn't compete. Dreams and results have always kept us motivated. The Olympics in Salt Lake City are our best skating memory, so our goal this season is to skate well at the 2006 Olympics in Italy. Our goal is to be at least in the top 5 at the 2010 Olympics.
What are your strengths and weaknesses as a team?
Julia: We understand each other well and we know when and where the other moves. Moreover, Oleg leads me very well.
Oleg: Time and experience will help us in the areas we have to work most on.
And how is it to skate together?
Julia: It is fun to be with Oleg; he is a very funny guy and very inspirational as partner. He handles things hand over fist while he pushes both of us to do our best!
Oleg: Julia is a very kind and sweet girl. She is also very beautiful! When you add all this to her skating abilities, I feel I am very lucky to skate with her!
Julia: We are very close friends. We always support each other, but we keep our private lives separate.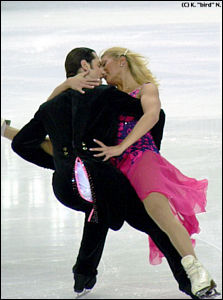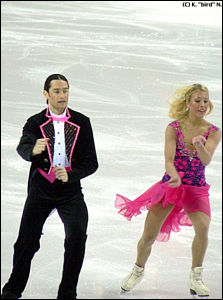 This Olympic season will be tough for you, like for all skaters, but that doesn't mean previous seasons were any easier…
We were very happy with our Grand Prix results last season, so we'll try to keep it up and we are very focused on this season. We started to work on our new programs after a short vacation in April. When we came back refreshed and ready to get back on the ice, we started to work on the compulsory dances – we really like the Tango Romantica! That also gave us time to listen to various kinds of music and to get an idea of what we wanted to skate our free dance to.
Since 2003 you work with Rinat Farkhootdinov, who was a competitive skater and then coached a friend of Oleg's. Can you tell us more about him and about your training?
Rinat Farkhootdinov is a young talented coach who improves from year to year, just like us. We don't train in the Ukraine, but in Euless, Texas. We are not allowed to work in the USA, so we stay busy learning English and getting to know more about the American culture. Sometimes we skate in shows which benefit local charities, and we like that very much.
Julia: We love traveling and I'm very excited about going to Paris soon.
Oleg: I prefer to compete in the Ukraine. We don't see the other members of the national team very often, but we have good relationships with them and we often call each other. So it's nice when we can meet at competitions.
Do you ever watch yourselves on TV?
Yes, we like to criticize ourselves.
What do you like to do in your free time?
Oleg: I love sports.
Julia: I love driving and swimming.
Thank you Julia and Oleg, we wish you a lot of success during the season!
Let's finish up with some fun:
How would you live without…
- your skates?
Oleg: They are my life, it would be hard to live without them.
Julia: It would be good and bad at the same time.

- music?
Oleg: I would kill myself.
Julia: I would feel depressed.

- a credit card?
Oleg: It would be ok.
Julia: I don't know.

- friends?
Oleg: Awful.
Julia: I have to have them!

- dreams?
Oleg: I would feel bad.
Julia: I would be uninspired.

Copyright © 2004 - 2021, Absolute Skating
All rights reserved.