On msn with Leonie Krail & Oscar Peter
By Helga Dobor & Mireille Geurts
Photos by Bernhard Schwall
Sometimes all it takes to get to know a young icedancecouple is a set of computers with msn-messenger installed. Swissies Oscar and Leonie sat down with us, to talk about their skate-lifes. As far as we could tell there were no real fights over the keyboard, Oscar controlled it but "allowed" Leonie to answer a lot of questions as well.


When did you start to skate?
Leonie started with 5 years and me with 9 years.

What are your first memories on the ice?
Leonie: I remember that I once forgot a jump my coach taught me a few days before, then I realized that jumping was not really my thing. *smiles*
Oscar: Once I forgot my program and I did it completely different and with this program I won the novice Swiss-Nationals. This was very funny.
Leonie, you have skated with someone else before you paired up with Oscar, how was that different from skating with him?
My former partner, Marc Fausch, was not really a "sportsman", he started ice skating with twelve and did it "just for fun", he realized this when the training started to get harder and harder.. that's why he decided to quit skating. Oscar is very different; he gives everything for skating and he wants to learn more and more, same as I do.
And Oscar you skated singles, what made you make the switch to icedance? Can you compare the 2 disciplines?
One day I got an email from Leonie's mother and she asked me if I would like to do ice dancing with Leonie. Because I had an injury before which lasted for a long time. I thought about it and decided to try it... I liked it at once.. and changed immediately.
You already knew each other?
Just a little from competitions in Switzerland.

When was it? When did you team up?
In January 2004.

What are your goals in skating?
We want to reach the best possible results at Europeans, Worlds and Olympics. We want to reach that the people keep us in their mind. We want to be special and a little bit other than the others... *smile* We try to.

You work(ed) with more coaches, among others also with Natalia Linichuk. She trains with more icedancers, is she coaching you full time?
She trains us about 2 months in summer and a few in wintertime.
How is is to work with her?
It's hard but very good. We love the programs she does and we want to work with her as much as we can.
Is she strict? What is her coaching 'style'?
Yes she is strict, but without this you can't get anywhere, we think. But when there is a physical problem she tries to help you, she knows where the limit is. And with her you learn to give more than you think you can.
Where does she train with you?
We train with her in Newark Delaware, USA, at the University of Delaware. Where she trains all her couples.
Are you in good connection with her other skaters?
We like the other couples and we are happy to train with them because we can learn a lot from them. They are all very nice and we enjoy the time with the skaters when we train there. Off ice we sometimes meet for lunch or dinner.
Only icedancers or also others who train also with Natalia Linichuk?
We know the skaters who train there, but not everybody very well. We know Shaun Rogers. we met him at the Nebelhorn-Trophy in Oberstdorf. It was nice to see people from Delaware. We also know some other single and pair skaters, like Albena Denkova/Maxim Stavisky, Kimmy Meissner, Tiffany Scott and her partner, Lindsay, Sasha Cohen and Evan Lysacek, Julia and Phillip Rey (quit skating last season).
Can there be friendship in skating? Are any of them your friends?
I think we don't know the most of them enough to say we are friends, except Julia and Philip Rey. We lived at their home and did a lot of things together. We had a lot of fun and we are happy to know people over there which speak our language. *smile*
...and we almost forgot to mention the Israelian team that quit (Natalia Gudina and Alexej Beletsky) and the Japanese team Nazomi Watanabe and Akido Kido.
And at home?
At home we know the Hugentoblers, Sarah Meier, Stephane Lambiel, Jamal Othman and Victor Pfeiffer from Austria very well.
And who is your coach in Switzerland?
Our coach is Cornelia Grisiger-Diener.

Is she very different to work with compared to Linichuk?
Yes it's very different to work with her. Its difficult to compare Cornelia to Natalia. They're just different persons. *smile*

Can you tell us how your 'team' works ?
We work with a ballroom coach for the rhythms of the original and the compulsory dances. We also have a choreographer in Switzerland. Tanja Polak and for the basic training we also work with Eliane Hugentobler sometimes. Leonie goes to a modern dance course and we do other off ice training training for muscles, condition and coordination (for the force and so on, we don't know the word for it) with Patrick Meier.
Where do you train exactly?
In Frauenfeld. its a half an hour from Zurich.
Ok, lets skip from training to competitions. What is your most memorable competition and why?
Our first Europeans together. Because it was very good experience. It pushed us.
Were you satisfied with the result?
No, we want to do a lot better next time
Did you like the atmosphere in Lyon?
Yes we liked it a lot. There were also a lot of fans. That was pretty cool. The French people know how to show how they feel. (Also if they don't like how the judges decide, *smile* but it was fun).
Your first result on the Swiss Nationals was the 3rd place in 2005. Next year, at your second Nationals you were first. It shows a fast advancement, how do you feel about it?
We felt good about the result at the Nationals. We weren't sure how the other couple skated and we tried to do our best. We're very happy and we want to win again this season!
And what would be the most important result so far, to you?
Again the Swiss Nationals, because its the key to go to Europeans. Our goal for the new season is to qualify for the Worlds.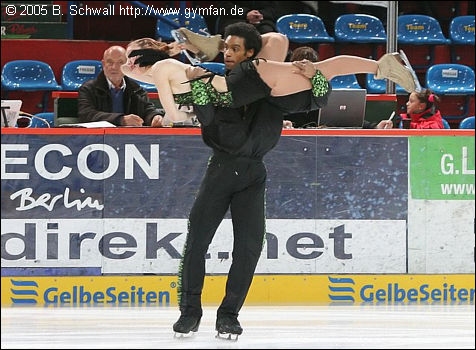 You also skated at the German Nationals. Was that about getting new experiences?
Yes, we didn't have enough international competitions and it was a good chance to get more experience.
Did you follow the Olympics? Who were your personal favorites and what did you think of the final outcome?
Yes, we spent every free minute on the tv for watching. In ice dancing our favorite was the Bulgarian team, because we train with them the summer before and loved their programs. In single skating men Stephane Lambiel was our favorite of course. We were very happy for him that he got the silver medal. At the single ladies we didn't really have a favorite, but wished Sarah all the best. It was very cool that Arakawa won. In pairs our favorite was the German-team Aliona and Robin. We are happy about the final outcome.
Also in icedance? (as the Bulgarians were your favorites)
We thought from the beginning that Navka/Kostomarov would win and we hoped for the Bulgarian team that they would get a medal. We were not so happy, that the American team were on the second place, because we liked other teams (Dobriazko/Vanagas for example) more.
Some pairs have been criticized for following the rules strict enough to get high marks, but lose all originality and innovation. (e.g. Navka/Kostomarov, Grushina/Goncharov). What is your perspective on this?
It's difficult to say because we don't really like when everybody does the same, but its a good chance to get points. We think Navka/Kostomarov for example could have done more original and new things because they're good enough to bring new things without loosing a lot... but its always a risk of course.

Did the Code of Points change icedance much for you personally?
Yes it's more interesting we think. The steps, the lifts...it's more difficult but in a good way. And it's more fair.
We learned that at the Nebelhorn Trophy you were handed some rattles from fans sitting behind you during the ladies LP, so you could cheer for Sarah (Meier), were you very surprised by that?
Yes it was a surprise and very nice of them. We cheered as loud as we could for Sarah.
Leonie, how would you describe Oscar as skater?
Leonie: He's a very good skater and i can learn a lot from him. He can do good moves.
And as a person?
Leonie: *smiles* He's a very nice person and tries to help wherever he can. He has his own goals and knows what he wants.
Oscar, how would you describe Leonie as skater?
Oscar: She has a lot of goals on ice. She works really hard for reach them. She has many ideas for things we can use on the ice.
And as a person?
Oscar: I can talk very good with her. She is a creative and open person.
How important is the support of the audience for you?
Its very important. You feel much more strong when the people on the tribunes support you when you're skating.
Do you work or study next to skating?
Both, we go to a sport school. We go to school once a week and work a few hours the other days (Leonie in the secretariat of the 'UNITED school of sports' and me in the secretariat of the dance school our ballroom teacher works named 'TZU')

Oscar, you work as DJ too. Is it a job or a hobby?
I do that since 1997, but it's only a hobby.
If you should choose between skating and music, what would you choose?
SKATING OF COURSE, its my life!!!
!And last but not least, can you both answer, why is it easy to work with your partner and why is it hard?
Leonie: With Oscar its easy to work on steps, movements and special things because he's very good in that. There's nothing really hard to work with him, there are just the usual things that we sometimes don't have the same opinion, but I really like to work with him.
Oscar: It's easy to work with Leonie on the free programs (original and free dance) because she know the movements at once. She likes to do it every time and she gives that feeling to me. It's sometimes hard when we try some difficult lifts(like upside-down) she is a little scared in the beginning.

Thanks for answering our questions Oscar and Leonie!
You can find more information about them on their official website: leonie-oscar.com