Albena Denkova: "Now we enjoy every single practice!"
by Asli Motchane
Photos © Susanne Kempf & Vanessa Noethel
After a rough beginning in the Olympic season and a disappointing fifth place at the Olympics, Bulgarian ice dancers Albena Denkova and Maxim Staviyski's finished last season with their first World Championship title. It was supposed to be their last season, but after a coaching change they were enjoying their skating more than ever, so their federation and their coaches were able to persuade them to stay on for another year.

Albena and Maxim have always been crowd favorites in Paris. In this year's Trophée Eric Bompard, the usually nationalistic French crowd warmly applauded their close win over the wonderful French team Delobel and Schoenfelder. I talked to Albena right after the free dance.
Q : First of all, is this the last time we see you in competition in Paris ?

Albena: So far, yes, but you never know, we'll see. (Laughs.)

Q. You are still improving.

Albena: Yes, if you ask our coaches they will surely say that we should skate four more years, that we are the best, that we have much more room for improvement, more potential... But we are a bit tired, so I don't know.
Q. Is it easier for you to compete now because you plan it to be your final year?
Albena: No, we thought that last year would be our final year, but it was very hard. When we announced that we were staying in the beginning of June we weren't very sure about it, because there was no obligation, it was our own wish so .. We came back to America, we thought we would give it a try, see how the programs worked. The first week it was very hard to start again, but then we did the tango, we found this wonderful idea for the free dance, and now we just enjoy every single practice with our coaches!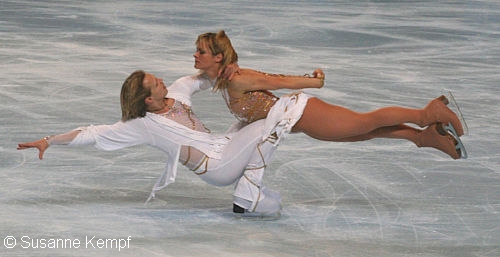 Q. Assuming you are about to end your competitive career, what would you like your legacy to be? How would you like fans to remember you?
Albena: I hope they will remember us because we were always innovative, had technically difficult routines, with difficult and different lifts... I don't know, everyone can remember whatever they saw in us. Maybe some will remember the choreography, some the difficulty, some the technique.
We are very lucky with the fans actually. Some couples who have achieved much more in terms of medals have not been so well-received by the fans and the audience. We have always had a lot of support from any crowd, even here in France competing against the French; in Russia competing against the Russian team; in Japan, the last few years in Canada and America as well. So we have nothing to complain about.
Q. Some of the elements that you were the first to perform have entered the definition of difficult elements in the Code of Points. Such as the change-of-edge spread-eagle lifts and the spins with both in low positions.

Albena: Yes, I remember the first year we skated with Maxim, he was the only one who did a lift in spread eagle – I think it was here in Paris actually. And now this is defined as a difficult position and everybody is doing it. Also the spin in low position. So I'm happy we brought something new!
Q. You said you enjoy training with your new coaches Linichuk and Karponosov very much. What has changed in your coaching situation?
Albena: It was a very tough decision first of all. We had been with our old coaches since the beginning of our career. With them we almost reached the top and then came down to a very disappointing fifth in Russia. It was a very difficult decision but we are not sorry at all. We are very happy with Linichuk and Karponosov! I think they are wonderful coaches and we improved a lot. Some people say: you had nothing to improve, you had the technique, you were already a top couple - second, third in the world. But still they improved our skating, our performance, our feelings on the ice, the way we present ourselves and express our programmes. Maybe if we had made the change one year earlier our result at the Olympics would have been better.
For me another big difference is that before our coaches and choreographer were men. And now we're coached by a woman. She's very graceful, very feminine. ..Every time she shows me how to do a move, I'm simply amazed! When she shows an upper-body movement even in the compulsories where you think there's not much to dance, she shows it in a way that makes it look like a dance - and not just a required sequence of steps that you have to do.
Besides, during practices we are happy to feel that our coaches really like what we do. Maybe our former coaches had gotten too used to us.
Q. How did you decide for Natalia Linichuk and Gennadi Karponosov? Surely other top coaches who would like to work with you too?

Albena: Yes, some coaches wanted to work with us, and there were other coaches with whom we wanted to work. But Linichuk/Karponosov are very experienced both as skaters and as coaches, which is definitely a big plus. Besides all the other coaches already had a top team fighting for a medal at the Worlds and the Olympics. We didn't want to be again the second team somewhere.
Q. So what did you feel when your coaches took on Fusar-Poli and Margaglio before the Olympics? They had always placed above you before retiring. Were you disappointed?
Albena: They were not working all the time with Barbara and Maurizio, all the season, every day. They worked a lot with them during the summer and before the Olympics. I was very happy with the situation actually. It was so much easier for us to practice together and to improve together during these periods. When we had this month before the Olympics, I believe both teams improved a lot because there was a competitive atmosphere in the practices. We were used to this in the group we skated in before, so it was a bit harder for us to practice alone in the US.
We enjoyed the company of Barbara and Maurizio a lot. They are very nice skaters and Barbara is very expressive and always full of power. She's like on fire all the time! It was a very nice experience for us to skate with them.
Q. Your dances are quite different from what we've seen from other couples of L/K. Do you participate in the choreography?

Albena: Yes, we participate in everything we do. Every movement, every lift etc. goes through us. Even when she shows the same moves to us and to other teams, they end up differently because we approach these movements differently. We like to do a lot of things alone on the ice and invent some lifts, or positions, or just some elements. Sometimes we have the idea, we show it and our coach polishes it. Sometimes she gives the idea and we find how to make it more comfortable for ourselves. I think it's a team work. Of course I don't want to underestimate her work and the work of Gennadi Karponosov, because they are really great, great coaches.
Q. Do you intend to do choreography for other couples later on then?
Albena: We'll see, why not? I think that we can do this, so probably we'll give it a try.
Q. One aspect of your style has changed since you have left Mr. Gorshkov's group: you used to have programs that had many difficult holds and hold changes, programs that looked like a single move with one move directly flowing into the other. Now your programs are more open, with fewer closed holds. Why did you decide to change your approach?
Albena: Well, if you look at all the top teams in the past, Marina and Gwendal for instance, they are more open, they have more air in the skating and in the positions, which is difficult to have when you are always in close holds. We tried to have more air, more flow in some places and more difficult steps and close positions in-between. I believe compared to the other top teams competing now, we still have more difficult transitions, holds and positions, but we needed to have more air. I like it this way.
In the tango we have more closed holds, not only during the elements but in-between as well, because it's that kind of dance. You cannot have hand-in-hand positions in a tango. But in the free dance the music requires wider movements and more flow.
Q. Your tango is more a street dance than a social ballroom tango. Do you tell a story in it?

Albena: It's just a small story. We always like to have a story even in the original dance because it is easier to skate if you know what you're doing and why you are doing a particular movement. So for the tango we decided Maxim is this macho guy who goes to a bar and sees this nice lady. She's maybe rich, maybe lonely, maybe involved with somebody else. He is trying to make her notice him, trying to attract her attention.
We actually don't like ballroom tango. We love Argentine tango, the passion, the power, the atmosphere, the tension... The ballroom dance is not for us.
Q. Albena, you are one of the very few ice dancers who has been on both extremes of the standings: when you were very young and skating with your former partner your goal was to be able to make the cut for the free dance. Then with Maxim you climbed the standings and competed for the top spot. What is the difference between the two kinds of competition?
Albena: For me competition is competition. It doesn't matter if it's small or big, if it's a national competition or a World Championships, we always approach it very seriously. It's the same now as then: you are sometimes more nervous, sometimes less, you always try to do your best. And this is the most important; trying to do your best. It doesn't matter if you are fighting for the gold medal, if you are fighting for the top ten. For us, the moment was very important: when you are eleventh you want to reach the top ten, and when you are second you want to reach the first place.
It requires a lot of hard work and dedication, but everything is possible. You see we represent Bulgaria, a very small country in the world and in figure skating, and we still managed to be on the top of ice dancing . Sometimes first, sometimes not, but around the top, together with couples from countries like Russia, France, USA with great traditions in figure skating. Everything is possible if you work and if you want it really passionately.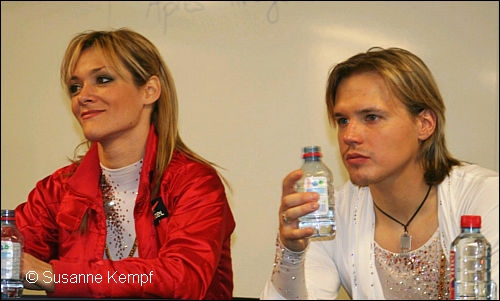 Q. Talking about Bulgaria, you have been elected president of the figure skating federation there. What is your new role?
Albena: So far it is not much, because I told them that while I'm competing – which is for now until March – I won't be able to do everything in full power. So other people are working there and doing the everyday tasks. This is a big honour for me, I didn't expect to be elected president. They had asked if I was willing to be in the board of the federation which is 5-7 people who just meet about once a month to make some decisions, give advice on important issues. But then all of a sudden the members said I should be president and elected me unanimously. Of course it is a big responsibility, but I hope I can help develop figure skating in Bulgaria.
| | |
| --- | --- |
| | I think the members voted for me also because at the moment Maxim and I are very popular in Bulgaria and every door is open for us. We have very good relations with the president of Bulgaria, the government, the Ministry of Sport, the Olympic Committee. I think this will help to develop our sport. For the moment we are left almost without any skaters – that's why everyone was begging us to stay longer. We are the last Mohicans (as they say in Bulgaria) in figure skating. We just have one lady, one pair and probably one man, and just a few children. Our sport is dying, if I can say so, because there's no money and no ice rinks. I really want to help develop the base with schools for young children from where we can have the great sportsmen of the future. |
Q. Finally, whom do you like among the up-and-coming couples?
Albena: My and Maxim's favorites are the Italians Faiella and Scali, the Kerrs and we really like the young French team Pechalat and Bourzat. These teams are trying to do something different and pushing the limits.
Q. What about your former training partners Domnina and Shabalin?
Albena: We like them of course, they are very good skaters. For me they are a little bit more classical, they skate wonderfully foxtrot and quickstep and everything else. They have very good technique, very wide skating and they're very soft. They're not really an up-and-coming couple any more, they are competing with the top couples.
Q. Thank you very much, and good luck!