Kamila Hajkova & David Vincour - The promising skaters of Czech Republic
By: Helga Dobor
Photos: @ K. "Bird" N., Helga Dobor
There is a young ice-dance team in the Czech Republic, Kamila Hajkova and David Vincour. You could see them at first in the season 2004-2005 as junior skaters; they finished on the Junior Worlds on 10th place. He was always among the top skaters during the Junior Grand Prix competitions, hopefully we can tell it soon about their senior career too ;) Anyway, we will be always there to support them on that way!
When did you start skating?
Kamila: I began at the age of six. None of my family members did figure skating before. I started skating thanks to a friend of mine.
David: I began too late, at the age of twelve. There weren't anybody in my family who skated before. My father is a ballet master and my mother teaches guitar playing at a school of arts
Do you have any funny stories from the very first years?
David: It was already ten years ago, so I can't remember any funny stories, except that I went on the ice with blade protectors – but it cannot happen again nowadays – smiles.
What was it like on the ice when you first started to skate?
Kamila: I began in a skating course, where there were a lot of children and I enjoyed it very much, as much as today. At first, I skated single, but I was not good enough with the jumps. And skating in pair is more interesting for me.

David: I started in a skating course as well, but I stayed only for a year. They said I was too naughty :-). Moreover, the ice rink was a long way from my school; so I had to finish the skating. I started skating again at the age of twelve, right away with ice dance. It was fantastic, I liked it very much and it is the same now.
David, you skated for Austria from 1999 to 2001, and then you returned to the Czech Republic. Why did you switch countries?
David: I did not like to be there any longer. I had troubles with the federation, with my coach, and there was nothing better than being in the Czech Republic, where my family lives. And I have my friends and also the school at home. I think this change was rather positive.
What was the skating like in Austria?
David: This is where I started skating, so it gave me so much and I liked it – really. I have to say that starting is always the most difficult and Austria was a great experience for my life in the future; not only in skating, but in all the aspects of life too.
What is the skating like at home, in the Czech Republic?
David: I can't see any big difference between skating at home or in Austria. My family and friends support me here. I also go to school at home, and therefore it is convenient for me to be here; although I know it won't be the same in the future. We are different from the Czech senior ice dancers, because we don't train only at home, but we travel often to Oberstdorf.
Would you tell us about your former partners, Sabine and Barbara?
David: I started with Sabine. She was looking for a partner, so we tried to skate together. Sabine taught me a lot about skating and ice dance. She had already skated at a high level before – she is two years older than me. She helped me with everything and I have to thank her for this and also her grandparents, where I stayed when I skated with her. Barbara was the opposite. It was me who was searching for a partner. She skated under my coach and was not very good with jumps, so we teamed up. At the time, I had already skated in pair for two years and she had only skated single, so it was me who tried to help.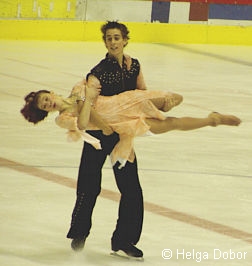 What is your connection like with your coaches?
David: I really respect them, but we have a kind of friendly relationship which allows an excellent atmosphere when practising.
You mentioned that your father, Jindrich Vincour is a ballet master. Does he work with you too?
David: Yes, he helps us with ballet preparation and stretching.
What are your best skating memories?
Kamila: In the season 2004-2005, we skated as juniors and the high point of that season was the Junior World Championships in Kitchener. It was our first "big" competition and, in my opinion, it was completely successful, just like we imagined. I like to recollect that competition.
David: Yes, the Junior World Championships, undoubtedly, that was perfect. We were well prepared and I like recalling it very much. The 4th place at the Junior Grand Prix in Belgrade is also a good memory. Going into the competition, we were hoping to be approximately in 7th place. We were also near the medals after the compulsory dance, so it was very nice.
What was the most important competition?
Kamila: Every competition is important to me. I want to skate the best I can at every competition, and then, I always have a good feeling after the competition.
David: Each of them is important. I do not divide them into a "quality" and "non-quality" category. I respect all of them. We just have to do our best. Every competition teaches us something.
Do you have any favourite place where you skated?
Kamila: Yes, I have. I like skating in Oberstdorf; we go there to train with Martin SkotnickĂ˝.
David: I also like Oberstdorf the best, because we get a very good feeling when we practice and Martin SkotnickĂ˝ is there as well.
How important is the support of the audience for you?
Kamila: It is very important. If the audience supports us, it is very easy to skate.
David: It is the most important for me; I cannot really ease without it. Every time that the rink is full and the audience supports us, I can give the maximum and show that everything is possible. On the contrary, when the hall is empty, it is sad.
You placed on the podium in Zagreb, last year. Did you feel that it could have been better? What did you think of the competition?
David: We felt absolutely wonderful when we skated there. We both like Zagreb very much and if everything goes well, we will participate in this competition again next season. Our goal was to be on the podium, which we managed to do. To place better or worse depended on the judges. Nevertheless, we were satisfied with our performance at that competition. The couples who competed there were not bad at all.
What did you expect from the previous season?
Kamila: There were the World Championships, where I wanted to place 23rd or better.
David: I was also waiting for the final competition; the World Championships. Unfortunately, we ended up in 27th place; but we gained experience. In the new season, we would like to participate in at least one Grand Prix event. We also want to make a good impression on the judges in the course of the year; the placements then depend on them. And, of course, we want to get closer and closer to our long term goal.
Do you have any idols in skating?
Kamile: Yes. My idols are the Winkler-Lohse pair; and I met them in Oberstdorf.
David: Kati and René as well. But after this season, I like the Tatiana Navka-Roman Kostomarov and Margarita Drobiazko-Povilas Vanagas pairs too. I met all of them at the European Championships and they are not only very good skaters but also nice people.
What music would you like to skate to?
David: I do not know, there is a lot of interesting music; but we have to choose something according to our skating. For example, we couldn't skate to a hard classical music right now; but perhaps when we get in our thirties.
You also skate in shows. Do you prefer the shows or competitions?
Kamila: We did not skate in too many shows, but those were wonderful. Of course, I would like to skate in more shows sometimes, but for the moment, I would like to achieve something in competitive skating and compete for several years.
David: When the time comes, shows will be nice. I like the stress and waiting for the results! However, I also like to skate in shows; during our competitive career and later as well.
In what kind of shows did you participate?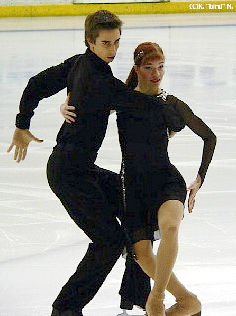 David: Once, for example, we skated at the opening of a stadium in Austria and amongst the hosts were Laurent Tobel and Radka KovařĂ­ková with RenĂ© NovotnĂ˝. That was so nice! And we both would like to participate in the New Year's Gala Show in Oberstdorf.
Talking about Oberstdorf, what is the training like there?
Kamila: In Brno, we are on the ice together with single skaters, while in Oberstdorf, we have practices only with ice dancers. Therefore the practices are longer and we manage to work more.
David: Yes, there are different conditions in Brno. We skate two hours in the morning and the whole afternoon in Oberstdorf. We practice much more there.
Why is it easy to work with David? Why is it hard?
Kamila: I do not think I have a problem with David. We have some quarrels, but we always find a solution. We particularly skate according to the coaches´ instructions. We both have the same goal and we work towards achieving it.
Why is it easy to work with Kamila? Why is it hard?
David: We both are different, but we try to respect and tolerate each other. So far, I think it goes well. We really have the same goal.
Kamila, how would you describe David as skater?
Kamila: We both have to work on our skating career. I think he is a good skater.
And as person?
Kamila: He is funny, when he is in a good mood and the practices are then pleasurable.
David, how would you describe Kamila as skater?
David: When I came back to the Czech Republic, a coach (Ivan Rezek) suggested to me to skate with Kamila. She skated single at that time. She did not enjoy it too much and wanted to skate in a dance pair. I think she has done great work and she skates well. However we both still have a long way to go.
And as person?
David: When she comes wearily from school, then I am in a mood to strangle her – smiles. Otherwise, she is a cheerful, easy-going girl.
Are you friends off-ice?
Kamila: Yes, we are.
David: Yes, we are. We couldn't work if we were not. I could not skate with someone I do not speak with at all and who is not my friend. We argue sometimes, but then we laugh again.
What are your hobbies?
Kamila: I used to do orienteering in the summers. But in the last three years, we have had such intensive summer preparations that there is no time for orienteering anymore. But, it remained my hobby as my brother competes in it.
David: I study sports at the university, so I like all the different kinds of sports, especially squash and roller-skating. I like listening to music as well.
What does your typical day look like?
Kamila and David: Morning practices - school - afternoon practices - ballet/athletics, always the same.
What is your connection like with your National Team?
Kamila: Our connection is minimal with our National Team.
David: Yes. And we do not cooperate too much with our skating federation.
Do you have friends amongst skaters?
Kamila: Yes, many of my friends are skaters or former skaters.
David: Most of my friends are also skaters because I spend a lot of time at the ice rink. But I also have some friends at school.
Do you use computers/Internet? If yes, for what use?
Kamila: The computer is one of the most important things for me. I use it every day, especially for work that is connected to school. Thanks to the Internet, I have a better knowledge of what is happening in the skating world.
David: Yes, I use computers and the Internet, mainly for school, but also for the skating.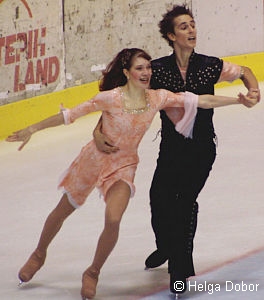 What are the biggest treasures in your lives?
Kamila: My family and my friends.
David: Trust, joy, friendship.
Please give us an association with the following words:
Figure skating is...
Kamila: ...fun
David: ...joy, happiness
Family is...
K: ...encouragement
D: ...support
Friends are
K: irreplaceable
D: important
Money is
K: the outcome of a good work
D: needed for living
Love is
K: hazard
D: joy
Peace is
Kamila: compromise
David: compromise