Sweden's Adrian Schultheiss makes a mark
By Magdalena Osborne
Photos by EMJO
| | |
| --- | --- |
| | The hair, the costumes, his interest in reptiles… There are many things that make Adrian Schultheiss stick out, and he likes it that way! But most of all he wants to be known for good skating, and he's well on his way to succeed. After an exciting battle with Kristoffer Berntsson, Adrian walked off with the National Champion title last December, and a few weeks later he won gold at the Nordics (while Kristoffer competed in Torino) and placed 16th at the 2006 Junior Worlds. |
You won Nationals twice as a junior and once as senior, what was the difference?
The competition is much tougher in the senior class! I was nervous but had decided I would just do my best. It worked well, but when the music stopped in the middle of my free program I about lost it, I didn't know what to do! The music covers three tracks on the CD and that worked just fine in practice, but for the free skate it was only set to play the first track. But I was allowed to pick up where I left off in the program, and luckily I was able to put it all behind me and give it my all. It worked out well after all.

You started skating at age three, how did that happen?
I have no idea! I think my mom just brought me to the rink to have fun. It was a public skating session and we could try hockey and bandy. But I liked figure skating and someone noticed I had talent for it so I continued. But I did all kinds of other sports as well. I played soccer, hockey, handball and I even wrestled. Then I injured my foot during a soccer game and that's when I decided to just concentrate on skating. But I'm still triying a few other things, like Kung Fu. It strengthens my muscles and helps me gain speed; and speed is of the essence in skating.
Galina and Evgeni Loutkov

You move like you've danced a lot of ballet, is that the case?
For a long time I was a very poor dancer, totally worthless actually... *His coach smilingly nods here.* But then I decided to really work on it and leave the robot stage behind. My choreographer Galina Loutkova has helped me a lot. I don't work so well in a group so I get private lessons.
Your season started with silver at the Junior Grand prix competition in Andorra, and then you won gold in Croatia and qualified for the finals in Ostrava where you fell ill.
*Sigh* Yes, that final is its own story… My throat was hurting so badly but during practice all was well with my skating. But the competitions was not good, I wanted too much, such things happen. Of course I was still haunted by it during Nationals. That's why I decided to just do my best there and put on a no-worries attitude.
What is your greatest moment in skating so far?
Hmm, well, that would be my win in Croatia. I actually skated better there than at Nationals, I did two triple Axels.

Where do you keep all your medals?
Most of them are at my parent's house. I have so many trophies and things that take up a lot of room, so I only keep the most important ones at my place in Gothenburg, from the European Youth Olympics and this past season.

What do you do before a competition to keep your nerves under control?
It's very hard. I usually don't sleep well, but then I remind myself that all the other competitors are going through the same thing and that it's part of competing. There would be something wrong with me if I didn't feel anything. And preparing gives you a kick as well.

Do you skate better under a bit of pressure?
Well, a lot of times I actually skate better during a competition than at practice. I know what's at stake although a lot can go wrong too… Like with the jumps, they can be so easy during practice and so very hard during a performance.
Are you close to getting a quad?
The toeloop and flip are within reach, I just need to land them on one foot. My goal was to have them down this season but I will of course continue working on them.

Because of Kristoffer Berntsson's 10th place at Europeans last year, you too had the opportunity to compete in Lyon. What was it like to participate in such a big competition?
It was about like I had expected it to be. I was a bit disappointed about the couple of missed jumps in my free program.

Still, you made it to the freeskate and placed 20th overall which is not bad for a rookie. What was the best part about the competition?
Well, I'll tell you this much, it wasn't the food…
In spite of winning the Swedish Nationals, you were not sent to Torino to represent Sweden, were you disappointed?
No, not really. There will be other Olympics, my time will come.

How do you get along with Evgeni Loutkov, your coach?
Just fine, we understand each other very well. We don't always agree on things but we manage to find a way to solve it. I know he has the skills to help me become the best I can.

You train with Filip Stiller, are you friends or competitors?
We are friends although right before a competition I kind of withdraw into my own little world and only think about what I have to do. So like most training pals, we're friends during practice and competitors at competitions.
| | | |
| --- | --- | --- |
| | The men's podium at Swedish nationals, Filip Stiller, bronze, Kristoffer Berntsson, silver and Adrian Schultheiss, gold | |
This season has been a sort of break through for you, have you done anything differently?
No, it's been practice as usual. It takes time to develop and things are finally beginning to happen.

Do you have a skating role model?
Alexander Abt was always a bit different and more interesting to watch than the others. He had a great quad toe and nice footwork.
What can you tell us about your free program and the costume?
The costume should have an aura of mysticism and the supernatural to catch the viewers. So many men skate in black and white, I want to be different! Galina Loutkova makes my costumes and she'll make a drawing of her idea and then I say yes or no to it. With this one we started with the blue bodysuit and then added a few things and then some more. People either hate this costume or they like it. Personally I love her work, I want to stick out and be seen; it's part of the sport.

And your hairdo?
Before Nationals I actually cut it myself… I like to try different things. When I was younger my hair was blue and black and red, but I don't want to be that extreme anymore. I want something that stands out but isn't too wild.

What is your opinion about the Code of Points?
I'm all for it, I just don't think it's quite ready yet. Like the quad, it should be worth a lot more points. Those doing it now are often robbed since those doing a triple Axel – triple toe get as much. I don't think that's fair, you can't really compare a triple Axel to a quad. The quad is the high point of a program and should give more points. But other than that, the steps and spins work well for me although one step sequence only got a level 1 at JGP when really it's level 3 steps… Maybe some things are just too fast for the caller, I don't know, it's impossible to see everything. But it would be fun to be able to compare results from one competition to another and with other skaters, but right now that's not really possible.
Do you usually watch the other disciplines at competitions?
Not really, no. I only concentrate on what I have to do and I hang out only with those I choose, the rest I ignore. I don't mean to be rude, it's just the way I am. But it's interesting to watch the pairs, especially now that Sweden has a pair. I really like the throw jumps.

You're a student, what do you study?
I'm in junior college, first year. My classes so far are pretty general, next year it gets more specialized. I'll get into marketing or something; I haven't decided what I want with my schooling yet. For now my goal is to get through school with the grades I'll need to go to college. But skating comes first since that's not something I can do for the rest of my life. I can always go to college later; learning is something you do all through your life.

You have a rather unusual hobby…
You mean my reptiles? Yeah, I have a snake; it's a boa constrictor and I have two lizards. They live in a terrarium at my parents'. When I was a kid our neighbor had reptiles and I thought it was so cool. He even had piranhas, and I had some too for a while. They are pretty easy to keep, you just feed them. The lizards are great because they move around a lot, but they don't show any emotions. My family has two dogs now and I like them better.

What are your plans for the summer?
I will keep working on the quads and make a new short program.

What will you be doing ten years from now?
My future is so open; I mean I live in a dream where anything is possible. I'm aiming for the stars; I want to do something I can make a good living off. An Olympic medal would be good…
So there he is, Adrian Schultheiss, the new Swedish shooting star, with one foot already in the sky. Many had the opportunity to see him at Europeans and of course we'll be watching him with great interest since he's another Swede making a mark. His coach, Evgeni Loutkov, gets the final word:
I come from Russia and skating is much bigger there. I am excited we have Adrian in our club; success draws interest and we're trying to make people more interested in skating. This year Sweden had two men at Europeans and maybe some day we'll have three! *Laughs* Adrian is a hard worker on the ice. He has good technique and my wife Galina and I have worked very hard with him to get him to show some feelings when he skates. He is doing much better with that now!
Watch a part of Adrians SP at Swedish Nationals 2005 here and his LP at Nordics 2006 here.
Be sure to select the smaller image for the best quality (this icon in the lower section of the player

)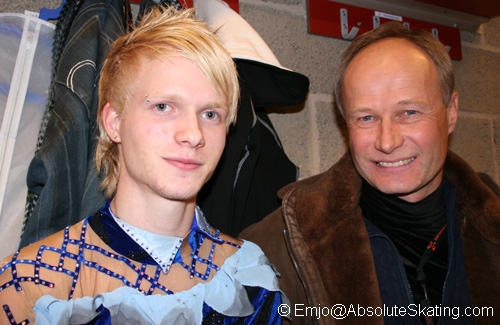 Copyright © 2004 - 2023, Absolute Skating
All rights reserved.