Tomáš Verner: "I will learn another quad"
 
By Titanilla Bőd
Photos ┬ę tomasverner.com, Caroline Paré


| | | |
| --- | --- | --- |
| | | We were talking in the hotel lobby after the mens' LP. He wasn't tired at all – with his silver medal around his neck, he was running up and down, earning applause and congratulations, taking photos with fans and chatting with friends. Tomáš Verner obviously can enjoy success. |
| | | |
How did you feel before the free programme?
I didn't sleep much during the night before the LP, there were too many things in my head, so many that I couldn't direct them into a certain stream. I've been quite nervous, not in a positive or in a negative way. I was just excited about being in first place after the SP. Today it was a fight - a fight with myself. I drew an unlucky starting number just after Brian which didn't help me. I saw that this time I couldn't compete with him. But deep in my heart something said: "Go, at least tickle him a bit!"
In the end maybe it was the reason, why I started with too much power and then my programme wasn't perfect, it wasn't the one I had imagined. So I fought hard and I was happy that after all the guys finished, the silver remained mine. I will walk with the medal for a week, or maybe for fourteen days. I will sleep with it, I will practice with it. It won't leave me. (smiles)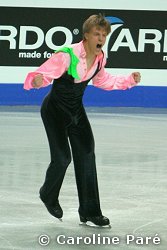 Did you expect such a result before the Europeans at all?
If I had expected such a thing, I must have been called Brian Joubert or Stephane Lambiel. But my name is Tomas Verner, so I came to Warsaw to fight for the best possible result, possibly in the top six. And in the end I am in the top six, so it must have been good! (laughs)

It was really cute how happy you were after your SP.
I achieved a new personal best which was totally unexpected for me. In the LP it was also a personal best, but it didn't made me so happy, because the SP was flawless. I gave it all, while in the LP I had mistakes.

How can you handle the stress before stepping onto ice?
I can't say exactly what I think about, as there are too many thoughts in my mind just before my programme. Mainly I try to concentrate, to be focused to do my job, to do what I am capable of at practice. To entertain the crowd is one thing, to have a performance which makes me satisfied is another. The first thing can be easily connected with the second one, but it's hard to satisfy my own ambitions. I hope the crowd liked my LP, although I was quite fed up with it.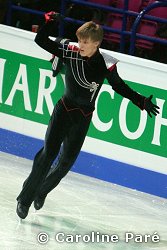 How can a skater go on if he knows he can medal, but falls on the first jump?
This is the worst thing that can happen. It doesn't rise your self-confidence, nor the energy, because it takes a lot of strength. But if I had been thinking about the medal, I could have dropped the idea of it. I was just thinking about finishing the programme in a good rhythm.

After the SP some newspapers referred to you as the nearly unknown Verner. Now everybody has to know your name and they will rank you amongst the favourites on the Worlds. What do you think about it?
In the world of figure skating, just like in gymnastics, the second mark is given also according to your name. Unfortunately, this is true. I don't want to criticize the new system. I'm just happy that I showed my qualities here in Warsaw and I hope that my name will appear somewhere "up there", so they will count me as a contender.

Your silver in Warsaw is an encouraging result – when can it turn into gold?
We've agreed with Brian that next year we'll fight again. It's going to be a fair fight, by then I'll also learn another quad, and then – we'll see who is the best.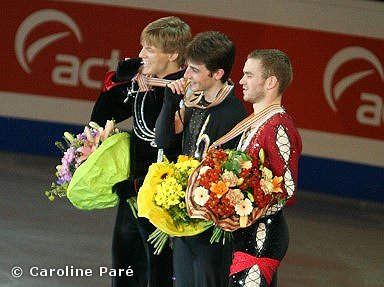 Copyright © 2004 - 2022, Absolute Skating
All rights reserved.