Talking to Tugba
 
By Helga Dobor
Photos © Absolute Skating
Tugba is 22 years old and is in the record books for being the first figure skater from Turkey to compete at the Winter Olympics. She achieves better and better results year by year, and finished top ten this year at Europeans. It took a lot of time and work to achieve this. Apart from dedicating her life to skating, Tugba studies Biotechnology and not only that, but coaches too. Thank you very much Tugba, for taking the time to answer my questions!

How did you start skating?
I started skating at the age of 5 through my kindergarten class. I don't have an exact memory of my first time on the ice but I do remember skating around really really fast and trying to dance to the music with my friends.
Do you have any funny memory from your skating career you would like to share with us?
My favourite part of skating when I first started was the end of practices where we would climb on to pylons (those little orange cones they use on roads to sometimes separate lanes) and our coaches would spin us around really fast.
You moved to Canada at the age of 12. Was it about the practice conditions?
Yes, basically I stopped improving and realized that the ice time and coaching was not enough to help me reach my goals.
What do you miss mostly from Turkey?
I miss my family and friends. It is hard to leave your culture behind not to mention the food – smiles.
Do you have role models in skating?
I love to watch certain skaters like Kurt Browning, Jamie Sale and David Pelletier and Steven Cousins but I'd have to say I started skating because I used to watch Katarina Witt compete on TV when I was a kid.

What is skating like in Turkey now? Are there lots of skaters?
It has become much more popular in the past few years. Especially after my qualification for the Olympics. All winter sports are receiving more attention. Lots more kids are starting to show interest and many new rinks are opening.
Does the skating show (Dancing on Ice) have an effect on the skating there?
Sure, I think that this show is helping make it more popular. It is bringing skating into peoples' homes on a regular basis and the more people are exposed to skating, the better for the sport's future.
How hard is getting sponsors in figure skating? Do you have more opportunity for this in Canada?
Very hard as I haven't found one yet. It is very frustrating to work for so long to achieve a goal and not be recognized. Being in Canada is really great for training but has no bearing on sponsorship for me as I represent Turkey.
You changed your long program after Vienna, why?
As you saw in the results at Vienna, the program just didn't work in competition. It wasn't about being in shape because I was skating it cleanly in practices but it was not competition oriented. In fact, after every competition this season, we changed a few things and at the next competition it was better. It is really great to have the detailed results after a competition because they are great tools to indicate what's missing.
You place higher and higher year after year at Europeans. Were you satisfied with the 10th place this year or did you expect more?
I was happy that I improved on last year's result but I did expect to place higher. C'est la vie. I made mistakes and I have to be okay with that and learn a lesson so I can improve for my upcoming competitions.

How did you like the Europeans?
I love the European Championships. It is a huge event like worlds but feels more intimate. The ice in Poland was really great and the audience was amazing. It was a smaller stadium but it was sold out so it was an amazing atmosphere to compete in.
How do you prepare for the Worlds?
I looked at the detailed results of my past competitions to see what has improved and what needs to get better and went from there. I have been working on my presentation a little bit more. Of course I did my long and short program everyday at practice and it has been going really well.
Have you ever skated in Japan?
I went to Japan for the first time earlier this year when I competed in the NHK Grand Prix competition.
What is your working relationship like with Robert Tebby? Do you work with other coaches too?
He is a very experienced coach and has planned my programs out to get the maximum amount of points I can. I have been training with him since I moved to Canada. Even though he is usually hard on me at practices, I appreciate it after a great performance in competition. (Don't tell him - winks) I have also worked with Doug Leigh on jumps since I came to Canada. We have a team of coaches who work very well with each other in order to get the best results for the skaters.
At the Mariposa Skating Club, where you practice, there are lots of great Canadian skaters too. What is it like to skate with them?
It is really great to be able to train with such elite skaters. It is very motivating and pushes me to skate better. We are a very tightly knit group of friends and we always support each other.

What are your favourite elements? And the element you don't really like?
I love skating in front of an audience. I really enjoy doing spins and spirals and my favourite jump is the triple salchow. My least favourite has to be triple flip because it has been consistent in practices but chooses to abandon me when it comes to competition.
Which is better, to skate at competitions or skate in shows?
As I said before I love doing shows because it is about the audience. You don't have to cater to the very specific interests of 12 people. You can just entertain.
What is the most beautiful thing in figure skating? And the worst?
I think when a skater interprets their music and is able to move with it, it is very beautiful. I really hate programs that have nothing to do with the music they are skated to.
You study biotechnology… It is very far from figure skating… What would you like to do for a living after retiring?
I would like to get into law after completing my degree in Biotechnology. I am also a coach at Mariposa so I would like to stay involved in skating as well.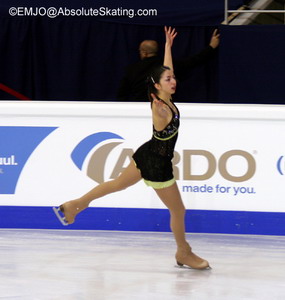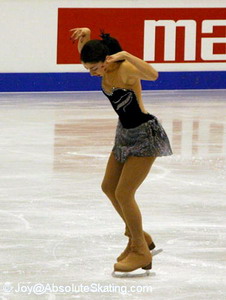 Have you ever thought about what you would do without skating?
I am sure I would be involved in some other sport. I am very competitive and athletic in nature and I don't think I could sit around for long.
What is the most important moment in your skating career?
So far my most important moment was at the Olympics. It was so amazing to be there.
What is your goal or dream in figure skating?
My dream is to medal at worlds or at the Olympics someday.
Good Luck for that, Tugba!