Brian Joubert: "I knew I wasn't ready, but I wanted to fight"
 
By Titanilla Bod
Photos © Absolute Skating
Photographers: Helga Dobor, Joy & Mireille Geurts, Titanilla Bod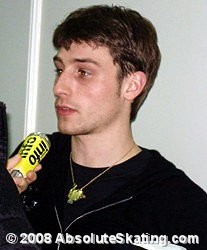 Someone else might say it is hard or difficult. Brian Joubert says this season is interesting. The bronze medallist of the European Championships 2008 in Zagreb, Croatia likes the challenge, and doesn't go to competitions in order to be third or second.
This competition didn't end as you wished. What was the problem?
The problem? I was sick, I had a virus, so I couldn't do the Trophee Eric Bompard. After that I had a small injury in my foot and one week before coming to the European's I was sick again. It's not good, because I cannot work as I would like to. When I came to this competition I knew I wasn't ready, but I wanted to fight. Now, I have 6 weeks to be ready for the World's. In some ways I think it is good for me to finish third, there is less pressure and that's great.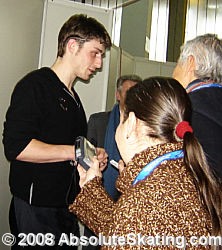 After the SP you said you were nervous. But usually you aren't nervous.
Yeah, but I like when everything is perfect. This time I knew: technically I'm okay, but physically it was not good. When I come to a competition and know that everything is perfect, I'm still nervous, but I can control it. But in the short program I couldn't control it. My legs were very soft, not strong, and that's why I did a big mistake on the triple axel.
When you drew the last number to skate you were happy. Did you watch the others?
Yeah, I watched them, but just the main elements and the scores. When I saw the score, it was not so high, it was okay, I could do better... But it was very difficult.
Were you changing your strategy as you saw what the others landed?
When I saw what they did, I said to myself: "You have to do just one quad, triple Flip-triple Toe, and everything clean." But I did not. That's life.
Were you more nervous or tired?
I was very tired, but I thought it was going to be harder. It was not so hard. But I made a mistake on Triple Loop-Double Toe-Double Toe and I lost a lot of energy on this mistake. And that's why I had another mistake on triple Lutz. Physically I was not ready...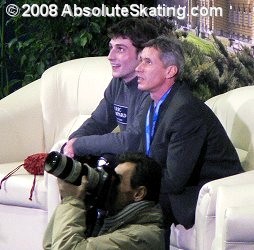 So under these circumstances it is quite a good result for you, because you weren't strong enough?
I was not strong, but... I'm still disappointed. When I come to a competition, it is not to finish third or second. Now I know what I have to work on for the world championships and I will work on it.
The illness is over already?
Yeah, it's okay.
So, you just have to regain condition?
Yes, that's all. And work a lot. It's going to be difficult, but this season is very interesting for me.
Tomáš Verner became the new European champion. What do you think about him?
He is good. Now we have to see how he is going to skate at the next competitions. This title is very good for him, but it's going to put on him a little bit of pressure. In Zagreb he was not perfect technically, had some problem on the quad, it was not so good. But physically he was better, and mentally it was also okay for him, because he had nothing to lose. But he is really a very good skater.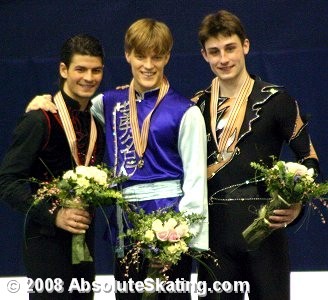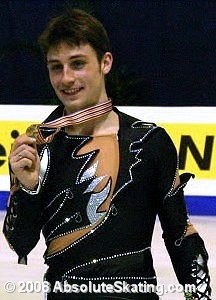 It seems that you like Verner more than Lambiel - you were laughing together during the medal ceremony.
With Stephane it's different. I started in 2000 and Stephane was like me. We have been fighting for a long time. He beat me, sometimes I beat him. We have good relationship, it's not bad... But with Tomáš it's different, because it's not such a long story.
So maybe if it becomes a longer story, ...
It might be the same, I don't know (laughing).
Let's talk about your programs a little bit. The SP is specially composed for you.
I worked with Sebastien Damiani for some shows. Then he offered to do the music for my short program. When I heard it for the first time, I enjoyed it very much! It is completely different than James Bond and for me it's good to improve. I need such a short program for the future. I don't know if I'll work with him again for my free program, but I love skating to this short programme.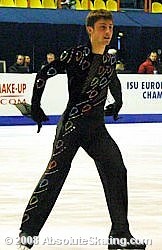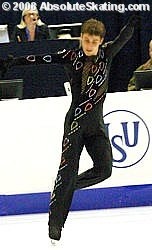 It is really a great music and it has a great flow.
It has a lot of energy and I need it. It's also a good music for the audience. The only thing that is difficult is that nobody knows this music. Sometimes when the audience knows the music, it is easier for them to clap. That's why I have to give 100 % in this program. But I feel very good with this program - I will keep it for the next season.
You kept your LP from the last season.
I don't like to change both programs. It is a lot of work. It is difficult because in the new judging system they change every time the rules for the steps, for the spins... That's why I want to change one program by one. It's enough.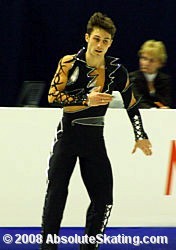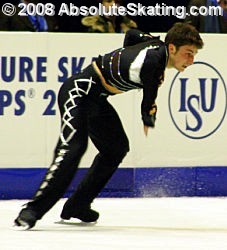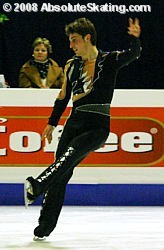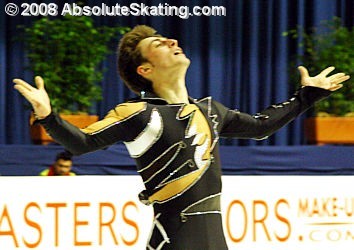 In this free program at the CoR 2006 you did three quads. Do you think that you can repeat it?
Yeah. I know I can do it again. I know I might be able to do even three different quads. Now it's more difficult, because the steps and spins take a lot of energy. But I will work on it.
So do you think it is possible even at a major competition, not only at a GP, where there is less pressure?
You can try it at the Grand Prix or Grand Prix Final. There is not such a big pressure. If you make mistakes it is not as important as at European's or World's. Grand Prix is a very good practice for the big championships.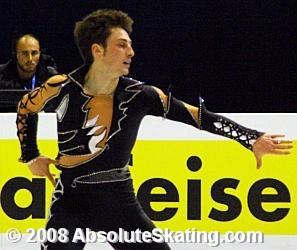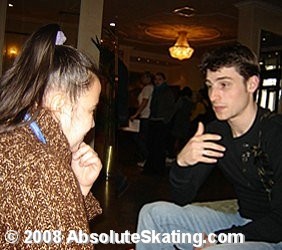 In Zagreb we saw you watching the ice dancing competitions and cheering on the French team. What do you think about the result?
I think Isabelle and Olivier could have been European champions again, but the judges decided: no. I loved the program of Khokhlova, it was great. In my opinion they should have won the free programme. But now Isabelle and Olivier are stronger for the World's and they can win. They can be World champions.
And what about you?
I also can win. And I want to win.