Summer cocktails with the Kerrs
 
By Melanie Eley
Photos © Absolute Skating & John Kerr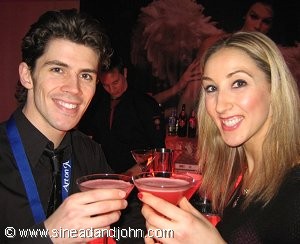 Five times British Ice Dance Champions, Sinead and John Kerr talked to us a little about last season, where disappointingly they placed 4th and 5th in the Grand Prix series, received a make-up deduction at their own Nationals, but then placed 5th at the European Championships and broke the top 10 in the world, finishing with a great 8th place. 

Looking back, how was your experience last season?
Our experience of last year was kind of like an upward graph!  It started off badly and got better and better culminating at Worlds.  Next season we hope to be ready much earlier to start the GP series running rather than playing catch up throughout the year.  That was pretty hard going mentally and physically. 

Which dance of your own did you like best last season?
We actually really enjoyed both routines last year but of course the Scottish OD was very close to our hearts and so very easy for us to skate.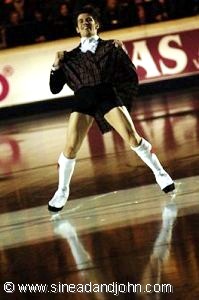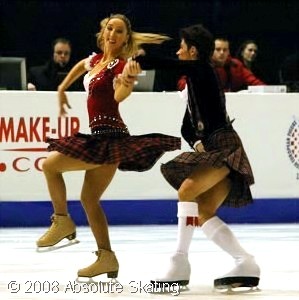 If given the chance would you use the Scottish dance/kilt again?
We'd love to skate to Scottish music again but I don't think the kilt could ever have the same impact second time round.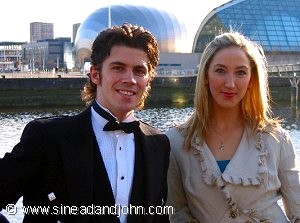 Which dance in general did you find the most innovative (aside your own)?
We really liked Tanith and Ben this year so would have liked to see them in the top three. 

Which 3 couples do you consider your closest rivals?
I think our closest rivals at the moment are Pechelat/Bourzat, Davies/White and Faiella/Scali.  We have a lot of respect for these couples and they all have their own strengths.  We all skate very differently so it's hard to work out who is better! 

Living and training in New Jersey, USA, with coach Evgeny Platov, they divide their time between the USA, and home in Scotland. They have high hopes for the season ahead. 

What placement do you hope for this year?
This year we hope to place in the top 6.  That would be a hard enough but realistic target for us if no-one has retired from last season.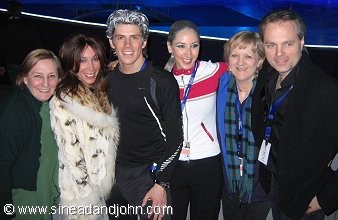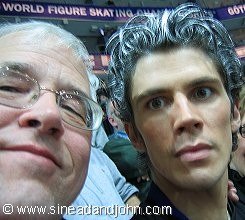 Who is in team Kerr this year and what roles do they play?
We have a lot of people working closely together with us in "team Kerr" ha ha.  Of course Evgeny and also this summer we are working with Maya Usova.  For our OD we have been really enjoying working with world swing dance champion Robert Royston and from back home we are heavily supported by the Scottish Institute of Sport who provide us with our off-ice conditioning program, video analysis and a physiotherapist to travel with us to competitions.  Our parents of course are always an integral part of our team!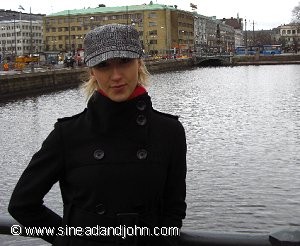 What is your day to day life like in NJ?
Our day to day life here involves 4 hours per day on ice, 5 days a week and 1 day of 2 hours. Off- ice we take ballet 3 days a week and on the other 3, we work out in the gym on either strength or fitness.  We also work a bit off-ice on lifts and choreography.  At the end of the day we are too tired to do much other than just cook and watch TV but sometimes play tennis with Evgeny and his other students or swim at the pool in our apartment complex.  On our day off, we usually take a break from each other and hang out with our boyfriend/girlfriend!!  We'll either go into Princeton or New York.    

What do you think of the proposal of combining the CD and OD in a combination dance?
We haven't thought that much about the combo dance as plan to retire after the 2010 season!  Ha ha so hopefully we won't have to worry about it!!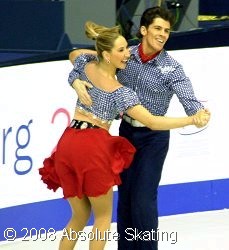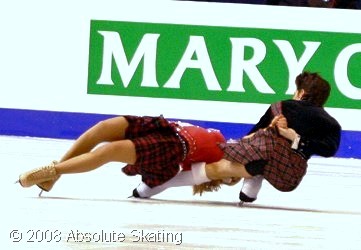 We'd like to think you'd be in the GP final this season - your thoughts?
Of course getting to the GP final would be the ultimate goal for us and we like to believe that this year we have a bit of a chance!  Of course it's tough and there are a lot of good couples but we are really hungry for it and have started the season in a really motivated and focused manner!  

Sounds like a perfect start and with their intriguing music choices for the season ahead: Original Dance ~ 'The boogie bumper' and 'Minnie the Moocher' by Big Bad Voodoo Daddy. Free Dance ~ 'Ruled by Secrecy' by Muse. We are sure to be entertained by their creativity again!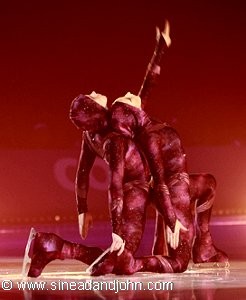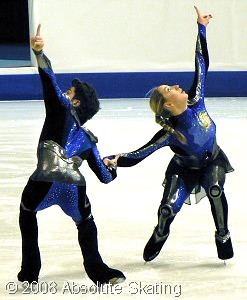 Concluding we asked JK to answer some fun questions:
Which is preferable?
Boxers or Y fronts
Beer or wine
Tennis or swimming
Federer or Nadal
Blondes or brunettes- (there is only one I am allowed to like, lol)
Sun or snow
Clint Eastwood or Brad Pitt - it's gotta be old Dirty Harry
British or US TV - Brits all the way
Letter writing or email - I don't think I've ever written a letter
Joe Calzaghe or Princess Anne
Bush (either) or Clinton - Which Clinton? Bill is bit of a charmer so Bill
Thatcher or Blair - Um, can't really remember Thatcher so Blair

Your favourite at the moment?
Drink - Summer Cocktails baby yeah!
Film - The Dark Knight
Book- Archangel
Song/tune- 'Loch Lomond' by Runrig
Animal - Dogs
Person- Isabella
Rink - Princeton Sports Center
Ice cream - Pralines and Cream