Verner stirred up a hornet's nest in Zagreb
 
By Titanilla Bod
Photos © Absolute Skating
Photographers: Helga Dobor, Joy & Mireille Geurts, Titanilla Bod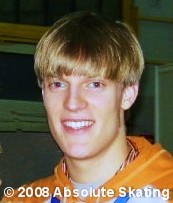 He already won the short program in Warsaw, but he made a mistake in the free skating, so in the end he was happy winning silver. Although he says he hasn't learned from this experience in 2007, at the European Championships 2008 in Zagreb he ran up and down the rink with the gold medal around his neck. Between receiving congratulations, Tomáš Verner had a pleasant chat with us.
What did you do in a different way in Zagreb compared to Warsaw?
I would like to say that I have learned from my experiences in Warsaw but I haven't. It's not that easy to learn in one year how to be a champion, how to fight for the title. The biggest difference was that in Warsaw I didn't sleep at all after I had won the short program. Here in Zagreb I slept well. I tried to think about what I can gain, and not what I can lose in the free skating. That was the main thing.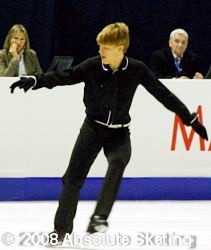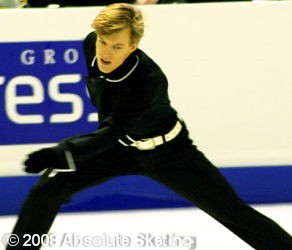 Were you lucky to skate first amongst the favourites?
Psychologically it was better for me, because I didn't see my rivals' skating. But strategically it might have been a drawback, because they could see my performance and could calculate what they had to do to beat me. But the most important thing was that when I was standing on the ice, I didn't care at all if the others had already skated or were to skate after me – I concentrated only on my job.
How did you feel on the ice?
It was hard, because the first jump wasn't like I wished. This didn't give me more energy, of course. It was a fight from the beginning till the end, and I gave it everything I could. I'm disappointed about my mistakes, not only jumps, but many other small things which could have made this program perfect, but I'm simply not like Plushenko, who goes out there, and skates two clean programs without any problems.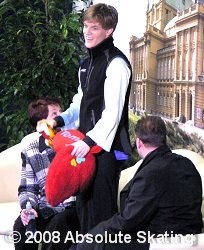 When you finished your program and saw your scores, did you still hope you could be the champion?
For sure I didn't. I know Lambiel and Joubert well. I know that both are competitive and usually do better at competition than at practices. But in the end this competition seemed to be difficult for everyone - not only for me, but also for them.
What was your first reaction when Lambiel finished his LP?
Well… I shouted a little bit.
And when Joubert also finished?
Then they didn't let me, as I wasn't to disturb the others. At first, when I looked at the screen, I just saw that Joubert is somehow not happy and then I slowly realized, that I am the European champion…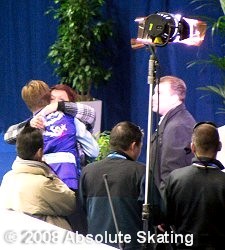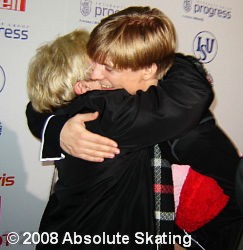 Before the medal ceremony Joubert shook your hand and hugged you. What did he say?
It's only our business.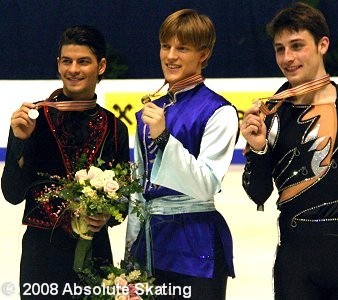 But it seems he has a better relationship with you than with Lambiel.
Probably it's because he doesn't consider me for such a rival as Lambiel. I will have to make him realize.
What was it like to stand on the podium?
(long silence) I have no words to describe it. I stood there, and saw the legends of our sport. At one side the reigning world champion, at the other side a two-time world champion. Flags are rising, and in the middle there is the Czech flag. There is nothing more beautiful. This is the most beautiful thing.
And what about the celebration?
There hasn't been any party yet. Of course, when I go home I will celebrate, but not for a week or so. I have to practice, because I stirred up a hornet's nest in Zagreb, guys are hacked off that I grabbed their title, and will work even harder than before. I have to do the same.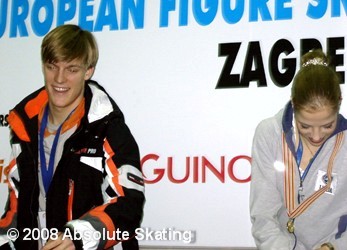 Tomas visits the ladies' press conference / Tomas watching the first group of ladies' practice
Do you remember when you thought for the first time: "I can be a champion"?
I can't say when I thought I can be a champion, but I know when I said I want to be a champion. I was fourteen years old.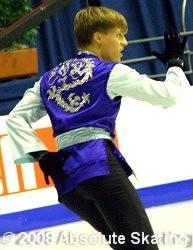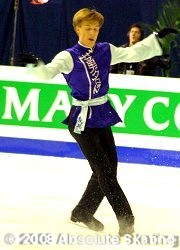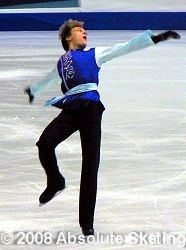 Have you had any doubts about it since then?
I had hard times when I broke my ankle, and I returned after the injury in Moscow at World's in 2005. I didn't even qualify for the short program. It was very difficult, but mainly because I had health problems. And then I said I want to be a champion and now I'm standing here.
Thanks to what could you win this Europeans?
I have found the best possible coaching team that exists.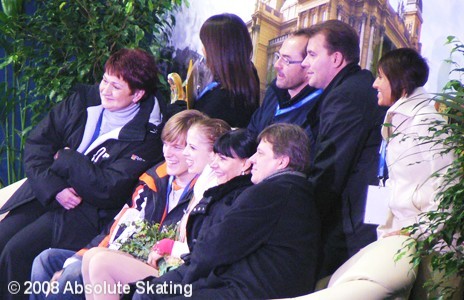 Carolina Kostner and Tomas posing with 'the Oberstdorf Team'
What are your goals now? What about the world championship?
I won't talk about it.
Do you just want to enjoy your European title right now?
I have heard so many similar questions. That now I am a European champion, I am obliged to skate well - even at World's, I have to go for a medal, blah, blah.
I just don't care about this talk. I'm going to Gothenburg to skate two even better programs than in Zagreb, and the rest depends on the judges. And maybe then, in the new season I will be skate for medals and titles.
For how long will you wear your European gold medal?
Well… (wide smile) We'll see. It will remain on my neck for some more time for sure.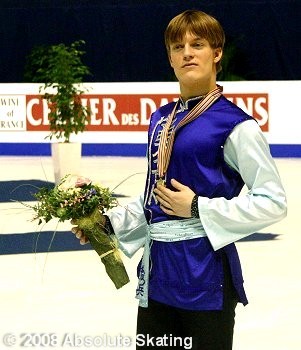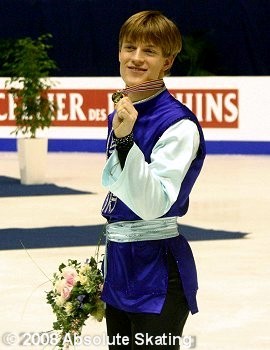 Posing and playing with his medal after the medal ceremony