Arakawa and Asada, Former and Future, Predictions and If you were┬ů
 
By Romain Gazave
Photos © Olivier Brajon
During the competition, World Champion 2007/2008 Mao Asada prefers not to answer any questions regarding the competition itself. Which suited just fine with our little "If you were series" Romain had thought up for Trophy Eric Bompard. Mao was very cute, had a hard time answering the questions, but they made her laugh a lot.
Reigning Olympic Champion Shizuka Arakawa was there to comment, so with her it was a little easier to talk more…. You'd think. Well, translation was a barrier there, a lot of time got lost in that. Yet Romain managed to get her predictions for the Olympics, some more questions and her favourites.
Mao ASADA
(10 little questions)
IF YOU WERE……?

A Colour:
Pink

A Season:
Autumn

A Music Style:
Something from a current Japanese singer

A Movie:
Can't tell (Too many…)

A Book:
An Art book

An Animal:
A dog

A Country:
Japan

A City:
Nagoya

A Meal:
Everything (laughing)

A Musical Instrument:
Piano and Violin
Shizuka ARAKAWA
(Commentating for NHK during BOMPARD)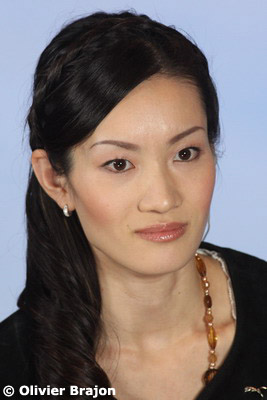 What's your predictions for the Olympics Podium in women category???
(long hesitation…) My top 4 would be Mao Asada, Yu-Na KIM, Joanne Rochette and Miki Ando.
I really honestly can't tell who's going to win though… Everything can happens in the Olympic Games!
What's your opinion regarding the new judging system?
It is interesting that the transitions, artistic and creative aspects of figure skating seem to be more important but I hope it won't refrain the technical evolution (jumps etc) …
What is your plans in the future?
For now I am still skating in shows (and commentating a bit), but I'm not sure yet about what I am exactly going to do once I will stop skating…
Since you won the O.G., is ice skating much more popular in Japan now? Did you feel the difference?
Yes! More people get interested, give much more attention to figure skating now, and have more knowledge and understanding of it.
Now can you tell me your favourite…..?
Colour:
Purple
Animal:
Dog
Singer:
Beyonce
Country:
Japan and Italy
City:
Hawaii
Musical instrument
Violin
Skater of all time (your inspiration…):
Kristi Yamaguchi