The Mystery - Kristoffer Berntsson
 
By Olga Shinkarenko
Photos © Kristina Korolyova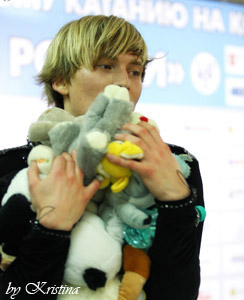 Kristoffer appeared to be quite shy and reserved off the ice. He spoke at an even, steady pace - you would never suspect this is the same extrovert, crazy guy one sees on the ice. When we approached him, Kristoffer was ready to talk only about skating. Skating, skating, skating, but we had questions not about Berntsson-the-skater but about Berntsson-the-person.

"You ask such hard questions just after the performance. Let`s talk tomorrow!"
No problem.
The next day we had caf├Ę, tea and talks. First of all - about skating.
- What age did you begin to skate?
At age 5.
Do you remember that moment?
Oh, I just remember some parts of my first year, I started skating in Gothenburg and still skate at the same ice-rink.
Do you have friends who skated with you?
Of all of those who started, I think none of them are skating today. We rarely keep in touch with one another.
Who was your role-model in skating?
Well, I don`t really have many role-models. When I grew up I watched the videos of the best. For example Kurt Browning and Ilia Kulik.
Which program do you prefer the most - the short or the long one?
Oh, difficult question. They are so different. I like them both. I enjoy my short and also like my new free.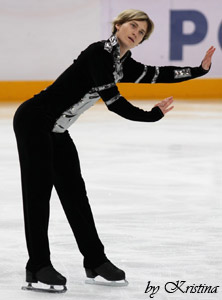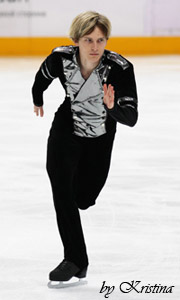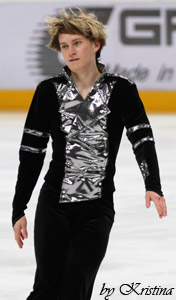 Do you have a favourite program from the past?
All of them are special, but looking back I should say - that`s my free from Tokyo. That was one of the greatest feelings in my skating career. And also skating in Gothenburg.
Did you feel any special pressure there?
I thought that I really-really wanted to do the best ever. You see - when you want something that much you use so much power.
What do you think is the marker of your skating?
I always make something new. I don`t want to do the same thing again. I think people see my efforts.
You`ve been skating for a long time, so you`ve made a lot of programs and had a lot of costumes. If it`s not a secret - what do you do with the costumes?
I keep them in a wardrobe.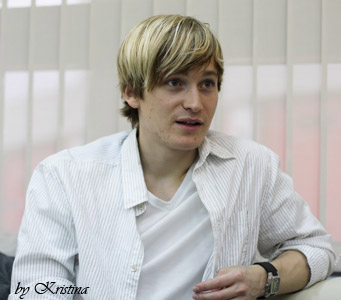 Do you discuss your costume design with someone?
Well, I`m not so good in making costumes so I usually let my costume designer do most of the work.
And what about music? Do you choose music yourself?
We do it together with my coach and choreographer.
Do you cut the pieces of music yourself?
Oh, I used to, but from last year I got the help of a professional, but I`m still pretty good in making music.
He laughs and we understand that it`s time to begin speaking about him as a person.
Imagine that you skate in pairs - who would you choose to skate with?
I don`t know. You see - pair skating is not for me.
OK. Forget about skating. Imagine that you can make a movie - what movie would you make?
I don`t know if I`m a good actor obviously. Still it would be great fun to make an action movie. With Kristian Bale. I also like Tim Burton - he makes such funny movies.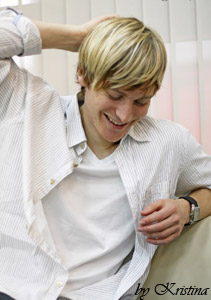 Oh, I see. Well, cinema is interesting but what else? Imagine you are not a skater, what would you do?
I think I would finish my school and work as an engineer. I find it interesting.
You travel so much - what is your dream-country? Which one would you like to visit or return to?
I`ve never been to the Caribbean. It would be really cool I think. And I would return to Japan. It`s funny. It was very unusual in Tokyo.
What music do you listen to?
I listen mainly to rock. I even thought about making a program to such music. It was when I was younger, but now I don`t think it`s good for figure skating.
If you could play in a music band and any instrument - what would that be?
Actually I play the guitar. When I was younger we even had a band. We played some funk-rock. If I could play in a band, I`d play guitar or maybe drums. I like them too. I like rhythm.
Let`s return to figure skating. What will you do after you quit with competing?
I won`t stay in figure skating I guess. I am studying at the university and will work as an engineer.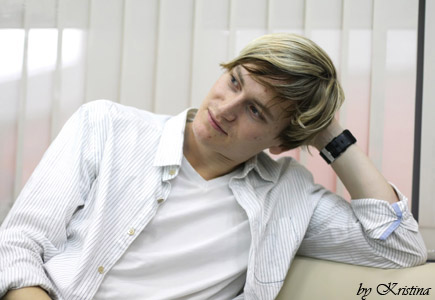 On the ice he is so very lively, so it was very unusual that in our talk he seemed silent and spoke slowly, but then I realised - there were four girls listening and taking pictures of him. I guess I`d be even more uncommunicative in that situation. Still - he is a mystery for me. The mindbending secret on ice - Kristoffer Berntsson.