In the locker room with St├ęphane Lambiel
 
By Nadin Vernon
Photos © Silvia Ulenberg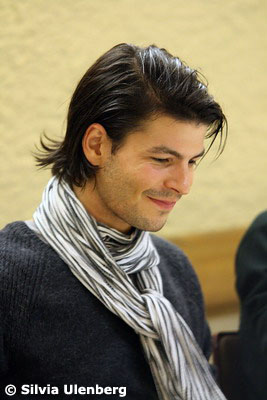 When 2-time World Champion and Olympic silver medallist Stéphane Lambiel announced his comeback to competition this summer after early retirement due to an injury last season, his first task was to qualify his country for the Olympic Games at the Nebelhorn Trophy which was held in Oberstdorf last week.
Stéphane started his campaign on Thursday when he stunned the audience with an incredible new short programme to Rossini's William Tell Overture: A very powerful programme, with exquisite step sequences and choreography, quite clearly aimed towards Vancouver – what better way to represent Switzerland at the upcoming Olympic Games?
A spellbinding free skate followed on Friday and Stéphane won the competition, 26 points clear. He also won many new fans who had watched him here live for the first time.
So the first goal of the season had been achieved. But not only had Stéphane gained the desired spot for Switzerland, he had also clearly set the tone: he was back, full-heartedly.
My interview with Stéphane was scheduled after the men's gala practice on Saturday and during the ladies free skate. We met in the press conference area in the entrance hall of the rink and started off there as it was fairly quiet. However, as the ladies event finished, the hall got more and more crowded and we had to move. The closest place we could find was a locker room nearby, so we just went in there. Stéphane was quick to point out that it wasn't the most glamorous of interview locations: "Sorry, it's not very sexy in here."
First of all, congratulations Stéphane. How does it feel to be back?
It feels great, I had a very good time here in Oberstdorf and am really touched by all the support. It's so early in the season and I'm very happy with my performances.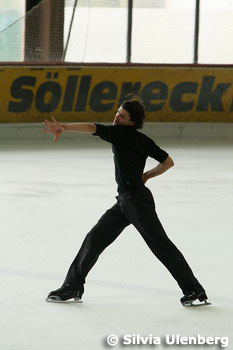 So much has happened in the last year. A year ago, you hadn't even announced your retirement yet.
Yes, last year in October I just couldn't skate. I was in a lot of pain and having shots all the time and doing physio. And it really disrupts your cycle, you know. I would go on the ice, do a spin and have to come off again because of the pain and stop for a few days. I realized there's no point, I didn't want to ruin my body, I would have never been able to skate again and I want to skate forever. So I had to listen to my body. I took two months off and then started again slowly, to build up strength bit by bit. I also saw a physiotherapist in Canada who helped me a lot and now it's getting better and better. In fact, I haven't had any pain for the last two weeks at all.
That's great news. Do you still have to take things slowly now or are you actually back to training 100% again?
I'm fully training again, every day.
You showed a fantastic new short programme. I think this was the shortest short programme I've ever seen. It felt as if the 2 minutes 50 were gone in a flash.
Yes, it felt the same for me (laughs).
Everything about this programme was very quick and easy. We did the choreography with Salomé and it basically came together in just three days, it was almost too easy.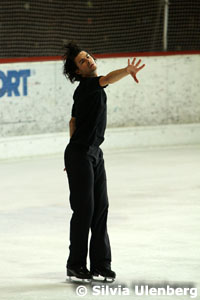 You've been thinking about using this music for a while, haven't you?
Yes, I've always wanted to use this music. It reminds me of Tom & Jerry and other cartoons and everyone knows it, it's so powerful.
We wanted to do something comical and entertaining but still keep it classy. And I'm very happy with the result.
You got a great response here in Oberstdorf. It's such a fun programme to watch, it must be incredibly fun to skate.
It's really fun. Actually on Thursday though, I was very nervous and tense, so I felt quite tight during my performance, especially in the circular step sequence.
You've got a great new costume for it. How did the design come together?
I didn't have any drawings but I really love the costumes in The Tudors, so I asked my designer to watch the show and take that as a basis. We then kept adding things, little details that may not even be noticeable, but add to the overall impact. I'm not sure if you could see it, but we tried to make the fabric look a little bit old as well, so it has a used look to it. And I really love the big collar.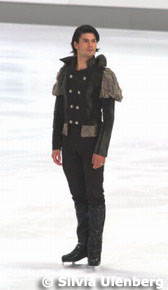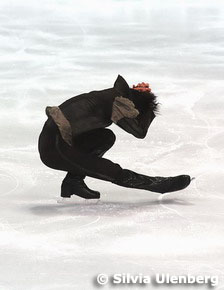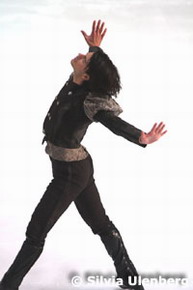 You've also got a new costume for your Tango.
Yes, I wanted something much more simple than the last costumes I had. The programme itself is very complicated with all the detail in the choreography, so I don't need a complicated costume. There's enough going on in the skating. The idea for the new costume was to have something a bit dandy-like with just simple colours.
Obviously the Tango was going to be your free skate for the last season. You kept Poeta for two years, were you originally going to keep the Tango for two seasons, too?
No, that was just because I didn't skate the programme in competition last season. That's why I'm using it again this season. Had I skated it last year, I would have a new programme now.
You've shown this programme at many shows in the last year, and I thought it was at its height in terms of presentation but what we saw on Friday was yet more expressive and intense.
It felt really good, on some days you're just in the mood and it felt really powerful here.
Also, the preparation in the Olympic season is much more intense. You need to have the best of everything, the best programme, the best choreography, the best costumes.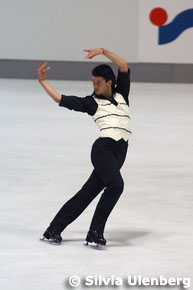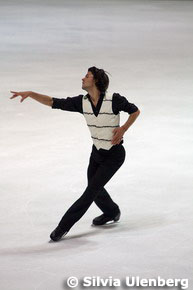 I'd like to talk to you a bit about Ne me quitte pas.
First of all congratulations for creating what I think is one of the most remarkable programmes in figure skating.
Of course with every programme you want to do something new and original, but did you actually sit down and think 'let's do something completely different' or did it just happen once you had selected the music and started putting the programme together?
Actually, when I first presented this choice to Salomé, she wasn't very convinced it would work. She wasn't sure about it. I had never used French lyrics in my music before and for some reason with this programme it was very hard to imagine what the overall thing would be like when we were working on bits of choreography. It's like you have to see the whole thing.
When I skated this programme in Japan for the first time, I wasn't sure what to expect and something strange happened. When I finished my performance, the audience didn't clap right away, there was just silence. And I couldn't move either, we were all struck by it so we just stood there taking in what had just happened. It was a very intense moment.
I think it's a programme that challenges the audience, especially when you come to see a show. In terms of presentation, a skater can be an actor, slip into a character and put on a show, or express himself. Depending on the programme, that ratio between acting and self expression will change, but Ne me quitte pas is the purest programme I know in terms of self expression. There's no acting at all.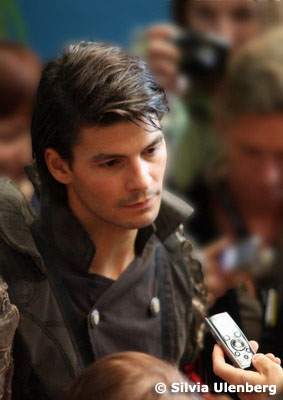 Yes, that's true, we stripped it all back. I wanted to express that with the costume, too. I wanted something very simple and black, so there would be no distraction from the skating. It should just be the skating. That's why we chose the low neck and the loose fit. It's almost like I'm out there in my pyjamas, well not my pyjamas, but you know, it's not a show costume, it's just me.
From a spectator's point of view, that's probably why the programme has such an impact. It's so introverted, you almost feel like you're watching a private performance through a keyhole, one you maybe shouldn't be watching.
Really? I like that.
I'm interested in a particular part of the choreography because as far as I'm aware, nobody has ever done anything like it before: you're expressing some of the lyrics in the song with corresponding moves. You also did this in Father and Son. Where does the idea come from?
We always try new things with Salomé and I always want to bring across the theme I'm skating to. Musicality is very important to me, I think it should be rated much higher in the judging system. In terms of interpretation of music there's much more going on in ice dance.
Would you like it if you were able to use lyrics in other disciplines, too?
Yes, for sure. I think it would be very good if we could have lyrics in our music.
We had to draw to an end, so time for one final question.
What inspires you at the moment? Have you recently read an interesting book, seen a movie or is there any particular music you're currently into?
(thinks for a moment) I really like Paulo Nutini, the Scottish guy. He's very good.
Also, I just saw Woody Allen's latest movie (Whatever Works). I like it a lot, it's just a movie about life.
We had time for a quick photograph and looked around the locker room for a suitable backdrop. It was then that I realized: so much for an unglamorous setting, Stéphane must have brought his own!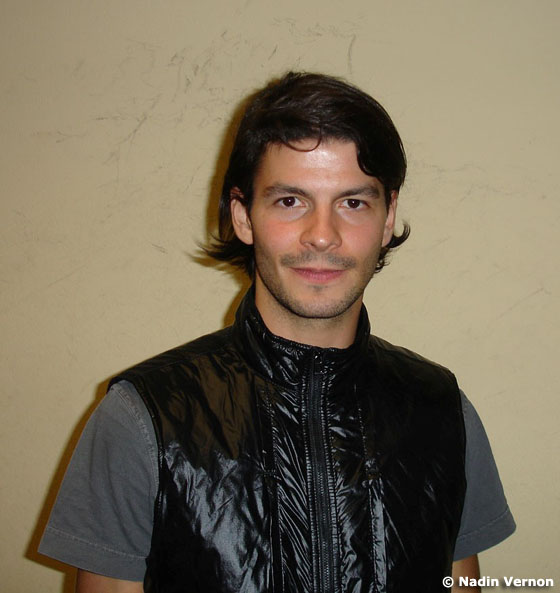 Many thanks to Stéphane for this interview and best of luck for the upcoming season.
I'd also like to thank Marc for his friendly coordination and Silvia for the beautiful photographs.