Morand & Dorsaz: "We hope to be among the first ten at Europeans"
By Reut Golinsky
Photos © Reut Golinsky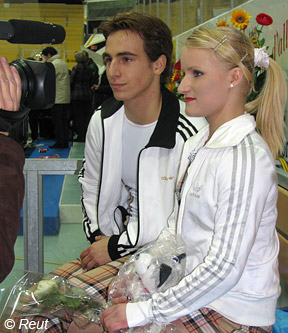 You probably already noticed that I have a soft spot for the Swiss figure skating team. Maybe it started because of my love for this beautiful country, in combination with my sincere sympathy towards the Swiss single skaters, Sarah Meier and Stephane Lambiel (and all of his team, actually). Now I can add to those I will cheer for in Tallinn the cute young pair, Ana├»s Morand and Antoine Dorsaz. Ana├»s and Antoine are the first Swiss pair since Leslie and C├ędric Monod in 1994. They are now the three-time national champions (Congratulations for getting the third title a week and a half ago in Lugano!). Since summer 2008, they have been training in Chemnitz with Ingo Steuer. Last season was their first in senior events and they finished a decent 12th place at Europeans and 14th place at Worlds. Then Ana├»s and Antoine actually missed qualifying for the Olympic Games in Vancouver by just a few points, but they succeeded in obtaining the necessary points at the end of September at the Nebelhorn Trophy. I hope after getting to know them a bit better, you will not miss their performance in Vancouver or in Tallinn earlier this season.
Let me introduce to you the Swiss hopefuls in pairs skating.
You had a big change happen a year and a half ago, when you moved to train with Ingo Steuer. Tell me, how do you feel about it compared to how training was before.
Antoine: Since we began training with Ingo, we began working a lot more than we used to work in Switzerland and now we are more confident on the ice, I think. He is very professional: he knows where he wants us to go, and what he wants us to work on. It's always very organized, unlike in Switzerland.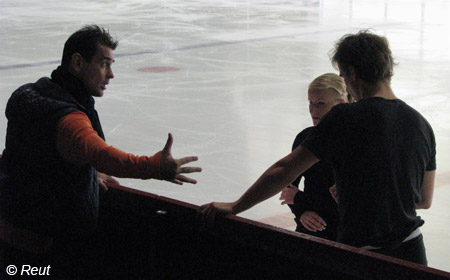 I always thought that the Swiss are also very organized.
Antoine: (laughs) Not in skating.
Where did this decision to train with Ingo come from?
Antoine: We wanted to find another place to train because training conditions in Switzerland were not very good. Our coach also didn't have much experience with pairs before; she was learning with us. We thought about Russia first, but it wasn't possible. Then we thought about Ingo. We asked him and he agreed.
It was actually your idea to choose Ingo?
Antoine: Yes.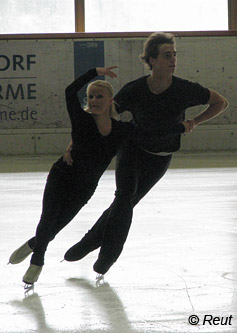 You are the only Swiss pair skaters. The podium of pairs during Swiss Nationals looked a bit funny: the first and only place. How was your pair created? How did you start?
Anaïs: It was our coach's idea because she was skating in pairs herself (Rijana Delessert, skated with Peter Starec, took part at Europeans 74) and she wanted to try to train a pair. She had lots of young skaters in her group - many girls and only one boy. She put us together as a pair; it went well, so we continued. We have been skating together for five years already.
You knew each other even before, when you were single skaters and learned to skate with the same coach?
Anaïs: Yes.
This year you were still competing at the junior Grand Prix.
Anaïs: Yes, our age still allows us to compete at junior competitions where we finish with better results. Also, we were not invited for the senior Grand Prix.
You continue to skate last season's programs this year. Why?
Anaïs: We kept the music (Bohemian Rhapsody by Queen for the short program and Once Upon a Time in America by Ennio Morricone for the long), but we made some small changes in the choreography. We have new costumes too because we wanted to add at least something new.
Who designs your costumes?
Anaïs: Aljona Savchenko does - both for her and Robin and for us.
Anaïs, you're very young, what is happening with school while you're in Chemnitz?
Anaïs: I don't have much time to go to school, so I'm doing some courses on the Internet.
How could your parents let you go so far? Were they not worried?
Anaïs: No, there was no problem, and we keep in touch all the time. And I'm OK living alone.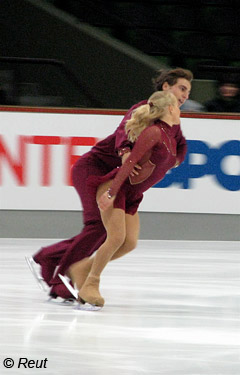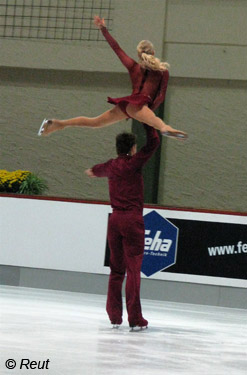 Antoine, what about your studies? Have you finished them?
Antoine: Yes, I have a maturit├ę in economics (matura, final exams young adults, aged 18 or 19, take at the end of their secondary education). Actually, that is only because the school I studied had this specialization and this was the only school in the area which was for the sportsmen. I don't think I want to continue in that direction. I love foreign languages and travelling, but I still don't know what I'm going to do later. I just don't think about it now, I just want to skate as long as I can. After that we'll see.
Talking about languages, Antoine, I know that you speak Russian. How did you learn it? Do you have some Russian origins?
Antoine: Russian is like a love story for me. I really love this language and actually I fell in love with a Russian girl who spoke only Russian, so I learned to speak with her. Also, a lot of people in the figure skating world speak Russian; not only Russians, but also the Czech and Polish. It's very useful and I keep learning it and trying to improve. I also have some practice with my training mates ┬ľ Tatiana [Volosozhar], Aljona [Savchenko] and Stanislav [Morozov] and also with my Russian friends.
I know that Ukrainian and German pairs have separate times for training. When do you train?
Anaïs: We train with Ukrainian pair right after Aljona and Robin, so we can see and learn from them too.
What are your expectations and hopes for the season?
Antoine: We hope to be among the first ten at Europeans. We were twelfth last year, so...
Last season you made both the junior and senior World championships. You were tenth in juniors and you placed fourteenth in Los Angeles, an impressive achievement for your first senior Worlds. How was it?
Anaïs: We were very happy to skate there. There was no pressure, we were just happy to be there and we skated our best (they received "personal best" scores both in short and long programs there).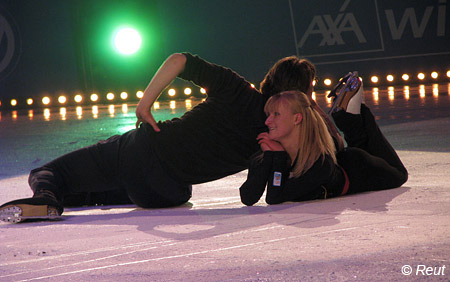 You went to Junior Worlds right before Senior Worlds. Were you not tired? Wasn't it too much?
Antoine: No, we love going to competitions.
However this year we decided to go only to the senior Worlds in Turin, Italy. First we planned to go to both Junior and Senior Worlds again, especially because they both are in Europe this year (Junior Worlds is going to be in the Netherlands), so it is easier. We changed our mind recently though, together with our coach and manager we decided that two World Championships and the Olympic Games will be too much.
Do you think we will see more Swiss pairs soon? Does your previous coach train other pairs?
Antoine: No, because there are no boys left in her group. Maybe in the German speaking part of Switzerland, there will be skaters soon. We hope so.
Tell me some more about how you spend your free time and what you love to do apart from skating.
Antoine: (smiles) We have almost no free time.
Anaïs: We are on the Internet a lot to keep in touch with friends who are far away from us in Switzerland and to keep in touch with skating friends. I like to go shopping. Chemnitz is a rather large city and there is shopping center there.
Do you have friends in Germany?
Anaïs: Only the skaters from our group. Everybody is really nice to us at the rink, but we don't know people outside the rink because we don't have the opportunity to meet them.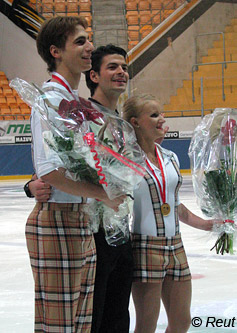 You mentioned the Internet. Which sites do you love to visit?
Anaïs: Some skating sites such as Icenetwork.
Antoine: The ISU site. (laughing) And YouTube. We watch our performances sometimes on there too, but unfortunately they are deleted two to three weeks after they appear because of copyright issues. Also, we visit Facebook and Vkontakte (the equivalent of Facebook, but in Russian only).
I know that you also take part in Swiss ice shows; last winter it was in Davos. Actually, I saw you during the practice of "Art on Ice" in Zurich too, and was disappointed when you didn't skate!
Antoine: We were at the practice because our entire group and Ingo were there, but we were not meant to skate in Zurich, though we did perform in Davos and St. Moritz. This year we will participate in the "Art on Ice" shows, both in Zurich and in Lausanne. This week we also skated in another "Art on Ice" show, which was called "World's Best on Ice."
It was nice to meet you, Anaïs and Antoine. Good luck in Tallinn!
Useful links:
Recent results:

Swiss Nationals in Lugano: 1st place, 152.52 points
Junior Grand Prix in Dresden (Germany): 4th place, 142.45 points
Nebelhorn Trophy in Obersdorf (Germany): 5th place, 151.49 points
Junior Grand Prix in Lake Placid (USA): 6th place, 121.70 points