Ari-Pekka Nurmenkari's key to success
 
By Magdalena Osborne
Photos © EMJO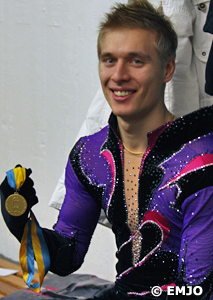 Some weeks ago he became the Nordic Champion for the second time. No one was surprised as this has been his best season ever. After years of barely qualifying for the final at Europeans he suddenly placed 10th after the short program and 14th overall. Skating in front of the home crowd in Helsinki surely helped, but there was more to it than that.
"Last season I lost my National Champion title [after having won five years in a row] and after that I started thinking if I should I quit skating or really do what it takes", he explains as we sit down for a chat after his win at the Nordics in Malmö. This victory is sweet but his knees are in pain after a fall during the morning practice. He's trying to ignore it though and keeps talking about his successful season:
"So I practiced harder and started landing the triple Axel really easily and triple-triples; that helped a lot. This season's been pretty good!"
And spending some time training with Adrian Schultheiss of Sweden just made it a little better.
"Adrian came to Finland before Europeans. I've also trained in Sweden three summers so I know Adrian, we're friends and he helps me a lot. I see him do triple-triples and quads. In Finland I don't have that kind of competition so training with Adrian brings the training to a higher level and it's very good for me. As for my own quad, I've tried it a little bit but will do more this summer. Salchow seems to be easier for me but a toeloop is possible as well."
Sounds promising. And with two great programs this season he has already proved his versatility; Ari-Pekka is more than a technician. The short program is a flamenco version of the Bryan Adams song 'Have you ever really loved a woman'.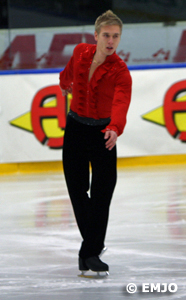 "My goal is to skate to different types of music and we found this one and decided to try it. It's a fun song to express in skating."
Hopefully he can repeat this program as near flawlessly at Worlds as it was at the Nordics and Europeans. The long program is something completely different. The music is by Nightwish, an internationally known Finnish Goth band. But when asked if it's important to him to promote Finnish music he just laughs.
"No. It was just an idea to do something new. I'm not really into Goth music; I like things like Metallica and hip hop."
Ari-Pekka won this season's Nationals and now wants good results at Worlds. This will be his sixth time so he's hardly a rookie although injuries kept him away last season. He wants to convince the Finnish federation to send him to the Olympic Games in Vancouver. But whatever will happen after the games is still undecided. He's going on 26 and after having spent most of his life on the ice preparing for competitions he might be ready for another occupation. Like preparing others for competition, he hasn't ruled out coaching. Spending more time with his wife would also be welcome. Last August he married Annina Ahti, a former tennis star, now a personal trainer in Helsinki.
"Having strong support from family helps a lot with my skating", he says and then laughs at the suggestion of switching to tennis.
"No, no, I'm not very good at tennis! My wife tried to teach me a couple of times then she said no, she won't coach me. But she has tried skating and she likes it."
Does that mean there could be a new generation of Nurmenkaris on the ice in the future? He laughs again.
"I hope not! It's a hard life to be in sports. And our kids should do something less expensive."
That skating is an expensive sport is confirmed by Sirkka Kaipio, Ari-Pekka's coach since 2004. It seems unfair that the Finnish ladies get help with their training from sponsors while he gets nothing.
"It is harder for the guys, but it's standard procedure from the sponsors. First you have to medal, then the sponsors come, everyone comes! But no medal – no interest. The sponsors don't understand the fierce competition among the men and that placing 14th at Europeans is a great achievement. Ari-Pekka should receive something so he can keep going, but that's life. And with the financial crises the sponsors are also cutting back."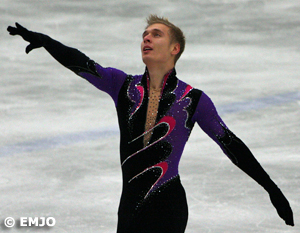 That's too bad but it's interesting to hear her view on his success this season in spite of the lack of sponsors. The answer comes without hesitation and with a laugh:
"He got married! No, but seriously that has been good for him. But he's also a late bloomer; he's had a triple Axel for almost four years but it hasn't been solid until now."
It also seems conditions aren't as ideal for his training as one might think.
"Our ice time is limited to just one or two hours a day so our situation is a bit different, some skaters can train all day. It takes longer this way."
Finland has a long tradition of successful ladies, not men, but times might be changing.
"I coach several young men. None of them are at Ari-Pekka's level yet, but they are always competing among themselves testing how many triples they can do and such. Some do a Salchow, someone else a Lutz but that doesn't matter, they have the spirit of competing! And they all have very different but wonderful personalities. It's good for me as a coach to train both men and ladies."
Sirkka is also optimistic about the future.
"Matthias Versluis [won bronze at the Nordics] has a lot of talent, as does Bela Papp [the Finnish Junior Champion]. Bela lives and trains in Canada now and I think that these two guys will be Finland's strongest men in a few years. They might be near the podium, but it will be hard to medal because there are always so many good skaters coming from Japan, Canada, the US; all over! Male skaters know they have to nail everything and it still might not be enough. The competition is much tougher for them than for the ladies."
Sirkka is bubbly and fun to talk to and she speaks fluent Swedish.
"I don't have a lot of opportunity to speak Swedish so I enjoy it. At competitions and training camps people always talk to me in Swedish like they assume all Finns speak Swedish. The truth is that not many of them do anymore."
Her own background in skating started when she was three. She claims that happened back in 1964, yet she doesn't look to be a day over 35, which I tell her.
"Oh, it's another beautiful morning! Thank you! I actually competed at the Nordics here in Malmö in the mid seventies. I won the figures for juniors, I was never much of a jumper, I finished third overall. I also competed a few times in international events, but never as high as Europeans."
At age 16 she quit competing and started coaching, at first only a few hours a week but it grew to fulltime.
"Hardly a day has gone by in the last 45 years that I haven't laced up my skates! But I never jump anymore and I find myself being more careful on the ice. It gets more dangerous with age; the ground seems much further down!"
Hopefully the ice won't scare her off and she'll keep coaching for years to come. The AS crew wishes her and Ari-Pekka the best of luck at Worlds!