The many faces of Nobunari Oda
 
by Atsuko Kuryu
Photos © H. Mochizuki, M. Hashimoto& Absolute Skating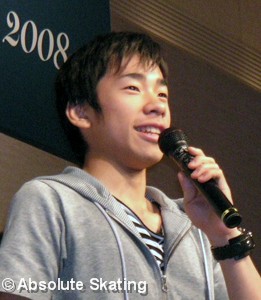 Nobunari Oda, the 2005 Junior World champion, did not seem to struggle much with the transition to the senior circuit. In his first senior season he medaled at two Grand Prix events and made it to the Grand Prix Final. He went on to barely missing the podium at the 2006 World championships (he finished 4th). In the following year, he also medalled at two Grand Prix events and again made it to the Grand Prix Final, where he won bronze. But then his wheel of fortune started spinning the wrong way and on July 25th 2007 he was charged with DUI in his hometown of Takatsuki City, Japan. He faced up to what he had done and sat out the 2007-08 season.

His great comeback came a year later. In the early parts of the season he won four events including the NHK Trophy and the Japanese Nationals. At the 2009 Worlds he managed to finish 7th in spite of two major mistakes. Between crashing into the boards during the combination jump in short program, and doing too many combinations in the freeskate he lost almost 20 points. On the bright side he, together with teammate Kozuka's 6th place, secured his home country three spots for the men at the Vancouver Olympics next year.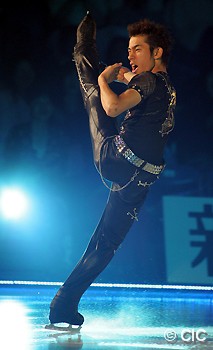 I was able to interview this Olympic medal contender before the rehearsal of the "Dreams on Ice" show in Japan. We talked about the past season and how he plans to approach the Olympic season.

After one year's absence, this past season became a great comeback for you.
I was very nervous before the season started. But as the season went on, I gradually regained confidence in myself. And at Worlds I was able to land a quad-toe, a jump I had struggled with throughout the season. Even though I managed just one successful quad in competition, it meant a lot to me. So, I think it was a fruitful season.

Which competition was the best for you?
WellÂ… I think Worlds. I had ups and downs there too, but more than anything I was able to come back and perform at a big competition like the World Championships again, which made me very happy.

Where was your best performance, at the World Championships?
Yes, I think so. In spite of the mistakes I could still skate well because mentally I was in great shape throughout this season.

I know. Your fans enjoyed watching your performance at the Worlds because you really seemed to have it together both mentally and physically.
Thank you!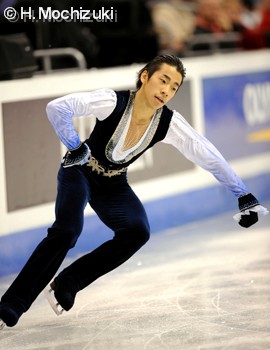 And you successfully landed that quad; how did that feel?
WellÂ… For a long time I watched Plushenko, Yagudin or others do quads and my goal was to become a quad-jumper too. And I think the quad is a great element that will give pleasure to my fans and the people who support me, so putting the effort into the quad was worthwhile!

How consistent is it?
I can't say it's consistent at all because I only succeeded in landing it once this season. I have to work on this jump more and try to improve the quality of the whole program.

Is it true that if a skater does a quad in the program his triple Axel becomes smaller?
Yes, that's true, especially for me. I have to aim for a more beautiful and higher triple Axel even when I do a quad in my program.

Speaking of the quad, Elvis Stojko said in an interview that "There has to be risk in order for sport to happen. Without the risk, you've got nothing". This attitude seems very similar to yours as you continued to pursue the quad throughout this season. Do you agree with him?
WellÂ… yes.

In the same controversial interview he said that lyrical and soft is not men's skating, it should be all about power, strength and masculinity. What do you think about that?
Well... I am a rather soft type of skater (laughs), but I think there should be diversity both in the ladies' and men's fields. It makes skating more fulfilling and fans can enjoy various types of styles. So if many skaters have and show their own characters, I think it would be very nice.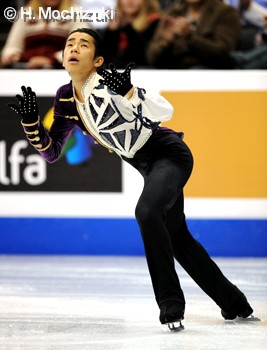 You once said you had to enrich you program components even when you include a quad. Did you mean that you need to pursue artistic qualities?
Yes, that's what I meant. The goal I set for this season was to successfully land the quad and consequently make my name appealing all over the world. To accomplish this goal I sacrificed some artistic quality in the programs. But next season I want to improve on this part and if I can combine the artistry with all the jumps including the quad, then my performance will be much better.

It was reported in the Allsports Russian news about the Junior Grand Prix Final press conference, that renowned Russian coach Alexei Mishin mentioned his impressions of you at the NHK Trophy. He thought you hadn't shown the world everything you can do yet but that you are an outstanding skater who has absolute speed and wonderful dynamics.
OhhhhÂ… What a surprise! I'm very happy!

Do his words make you feel more self confident?
Yes, of course! He coached famous skaters like Plushenko and Yagudin; it is a great honor for me that he said those things. I think I have to try harder now to show myself off.

After the ISU World Team Trophy there were some heated discussions on message boards about your PCS, some felt it was too low for your execution.
I don't think it was. Because my goal of the season was to land a quad, I prepared the program so it would feature the quad, which worked! But I thought it was inevitable I would get lower PCS and I have to accept that it was justified. So I have to work on improving the PCS for next season!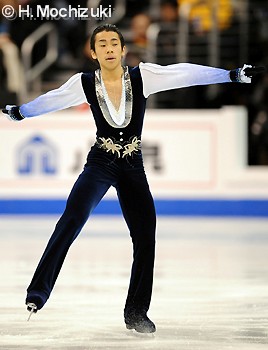 I don't know how to put this nicely, but you have violated the jump regulations at every Worlds you have competed in. Why does it keep happening?
To tell the truth, I'm easily overexcited even in practice when I'm in top shape. So I have to learn how to keep myself in control in competition and in practice. But I should have learned a long time ago.

But doesn't such excitement lead you to a great performance?
Yes, but top skaters never lose their cool while keeping the excitement? When I'm in top shape. I have to learn from them.

Some say you are an artistic skater.
Well... I have been focusing on artistry and detail in every movement in practice, so I am very happy to be appreciated that way.

And talking about artistry, let's discuss your current exhibition program, Tosca. When you first performed it last year in "the Dreams on Ice", many questioned why you chose that kind of program, it seemed ill-fitted. But now you were just outstanding in that same program, your performance seemed so impressive. What happened?
When my coach Nikolai Morozov chose that music for me, I did not have any confidence in skating to it. I always asked myself "Am I doing it right?" during the performance. So I was not able to pay attention to details. But after my performance I watched the video to learn about good parts and bad parts, and the parts where I skate with confidence. That way I gradually came to understand how to perform this program and I could do it better. Maybe the confidence made the difference!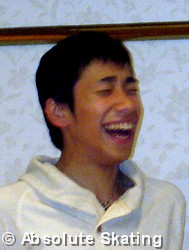 Some say you look sexy when you perform Tosca.
(laughs) Well, I don't knowÂ…

You once told a figure skating magazine that you want to bewitch middle-aged women!
(explosive laughter) Yeah, I did. I did. Yes .

How are you coming on that?
(still laughing ) I don't know. Of course I want to charm them because I want many people, not only middle-aged women but everyone, to enjoy my performanceÂ… but,Â…oh, I'm sorry, I shouldn't have said that!

It's ok cause you can do it for sure! But as you improve in these areas, will you have programs that make good use of your artistics? I heard you plan on comical programs.
Yes. When I took on Tosca I was not sure about how to make extensions or move my body. Now that I feel like my body movement is not too bad and I have more self confidence in this part, I feel ready to take on a comical program where I can make the best use of the beauty of body movement.

Please tell us about the programs you plan for next season!
I'm going to make a comical free program and exhibition and it would be nice if I can show some different aspects of my skating in the short program.

You have been assigned the Eric Bompard Trophy in October. Will that be your first competition of the new season?
Yes.
You will face some great European skaters: Brian Joubert, Tomas Verner, Yannick Poncero or others. How will you hold up?
I'm not sure because it's still off season. But I know they are really good skaters, for example, Joubert does wonderful quads, and Poncero and Verner have amazing skating skills. So I have to raise the overall level of my performance to compete with them before I go to France for the event.

Are you going to do 4-3-3 in the free program at Bompard?
Of course I will, if I'm in good shape and ready to do it.
What are the chances of you trying a quad in the short program?
I have to make the quad consistent first. But if I can achieve this goal, I will put it in SP.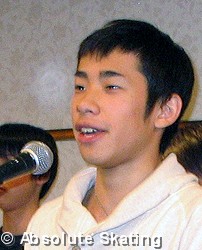 Are you going to practice another quad besides the quad-toe?
No. I have to land the quadruple toeloop constantly so the quality of whole program will be better. As I think this is the most important thing for me, I will focus on enhancing quality of my program.

You must have kept your eyes on the Vancouver Olympics ever since you lost at the 2005 Nationals, which was the Torino Olympics qualifier. Another Olympic season is upon us, how do you feel now?
Since the Torino Olympic season was the first year for me as a senior, I knew nothing about competing in the senior circuit. I just went to competitions and had unexpectedly good result. And the chance for a spot in the Torino Olympics just coincided. I had not prepared for it from the beginning of the season, therefore I didn't care so much about it. But this season the situation is completely different, I will compete with the Olympics in mind! There's a big chance for me to compete in the Olympics, and I definitely want to take it.

What kind of training are you planning, especially for the Olympic season?
I don't have any special plans. Just like last summer, I will work on weight training at first. After I work out properly, I will do some off-ice training with Morozov to learn how to use my body. With this training I aim for higher jumps and of course better performed programs.

It was reported that you bought a special work-out video.
Yes, I did.

So are you going to be a macho man with a six-pack stomach?
(laughs) Yes, as much as I can!

Who do you think will be your biggest rival at the Olympics?
Well... I think all the skaters I compete with are rivals. But it is the most important things to me to struggle with myself and overcome it during the training. I think I am my own biggest rival and I have to win over myself in practice.

What do you mean by "struggle with myself"?
Actually, I am lazy by nature. And I easily fall into negative thinking. So I have to be more positive and overcome such weaknesses, otherwise I can't reach the level to compete with the top-level skaters.

And what is your goal for the Vancouver Olympics?
First of all, I need to get a spot on the Olympic team. Then I want to give a good performance there which leads me not only to the good result but also to one of the best experiences of my life.

Do you have many staff members on Team Oda?
Actually no. I have two coaches, Morozov and Oda, my mother, Mr. Matsumoto, the trainer, and that's it. So I won't call it a team.

Once you said that there was more to life than skating. What do you think about your life and skating?
Well... Of course skating is really important to me because now I have nothing but figure skating! However, I am a human beings first, so I should learn many things from figure skating which I hope will give me the power to live a good life and make me mature as a person.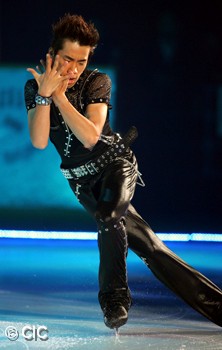 You also said you wanted to be a school teacher. Do you still want that?
Yes. I'll do my best to achieve it.

Don't you think it's a terrible waste to give up figure skating to become a school teacher? You are after all a really good skater.
I didn't mean giving up; I just think we should have various experiences in our lives and of course skating is one. I have learned that experience, whatever it is, gives us valuable lessons. So if I have more experiences in skating or areas other than skating, it will still enrich my life.

Some fans worry that you would make a serious decision after the Olympics because you are planning to return to the university.
I don't have any idea yet. I will not decide until after I discuss it with my coach, Morozov. And it will be after the Olympics.

Thank you very much!
Thank you, too.

I heard that Oda was a bubbly and funny young man, but I actually found him to be rather serious and pensive. But he was still funny in a lot of ways, I guess he has many faces and the public hasn't seen them all. He mentioned he would go for macho, I know he was just joking butÂ… well, why not? I think the new macho and sexy Oda will charm women of all ages around the world.

I am grateful to him for answering my questions with such sincerity. He seems to have a good relationship with his coach Morozov because when I asked him if he enjoys being with him, he answered "yes" right away. He said his coach is truly enthusiastic, which pleased him a lot and also gave him self-confidence. Oda also promised me another interview after he gets a medal at the Olympics or at Worlds. I wish him many medals and the best of luck with everything!