Adam Rippon: "If you can do it with
one arm, why not two!"
 
By Silvia Lozano
Translated by Sigrid Rivera and Irene Villal├│n
Photos © Caroline Paré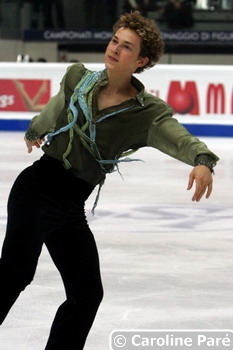 Adam Rippon started skating when his mother carried him to an ice-rink – he was 10 years old. Although he didn't like it at the beginning, he later started to love figure skating. He is the oldest of six children and he admires skaters like Daisuke Takahashi, Alexei Yagudin, Shizuka Arakawa, Miki Ando and Michelle Kwan.
In the autumn of 2008 he moved to Canada to train with Brian Orser and ever since he started with competitive skating back in the 2003/2004 season, his career has been advancing constantly.
In this past 2009/2010 season Adam finished 5th at the U.S. Nationals and got himself a place at the Four Continents Championships in Korea, where he impressively climbed from the 7th position in the short program to gold.
His team-mate Johnny Weir withdrew from the World Championships after the Vancouver Olympic Games, so Rippon traveled to Torino and finished 6th in his World Senior debut.
Now, while he's enjoying his well-deserved holidays, he has given us this interview, so those, who still don't know who he is, can get to know him a little better.

You started skating at an older age than other skaters. Is there any reason that prevented you from starting earlier? How did you decide that you wanted to start skating?
I was never interested in skating when I was younger. I tried it a few times every winter and when I had become a little older, I was finally in love.
Then a lot of your rivals had more years of experience than you. What did it mean for you to become a Junior World Champion that fast?
Well, I actually never felt that I became a Junior World Champion quickly. It was my third year in the Junior level. For someone who is 15-18, three years can feel like forever. Looking back, I can see that it was pretty quick! It was a lot of hard work and I did my best to always stay positive and focused on what I was working for.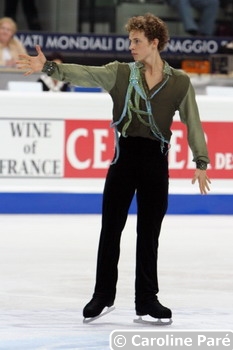 Since you started competing, your evolution in such a short time has been surprising. On the one hand, we suppose that it's like an extra incentive for you; on the other hand, is the fact that people are expecting good results from you rather a motivation or hard extra pressure for you?
I like it when people expect me to skate well. For me it means that I'm known as someone who is a consistent competitor and who can put down a solid program. Sometimes it feels like a lot of pressure, but I think it's a privilege to skate in these competitions and I'm thankful for it all the time.
Who were your favourite skaters when you started in this sport? Did you get to meet them in person?
Michelle Kwan, for sure! I have always loved her. I did have the chance to meet her at Ice All Stars in Korea this past summer. She was so nice! When I had the chance to be in a practice with her, I made sure to just watch her skate around and just soak in the experience.
We guess that some of the skaters you watched competing on TV when you were a kid are now your rivals. What do you think when you're together with them on the ice? When an idol becomes a rival, is it hard for you?
Yes! Sometimes it is weird to think about the fact that some of the skaters I competed with are the same ones I watched when I was younger. I first thought about this at the Cup of Russia when I competed against Chengjiang Li from China. It may sound funny, and I am not sure why, but it was always a dream to compete against him. It never changed my goals or my skating in the competition, but I had to look at the final result a few times to actually believe that we were in the same event.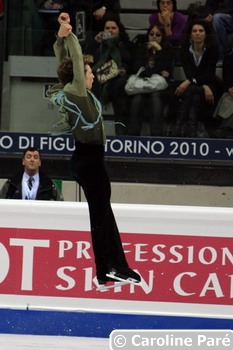 You're a young skater but also an innovative one. At just 20 years of age, you already have your own jump, the Triple Rippon Lutz. We've read that it started out as a joke in training. How was that moment?
It did start out as a joke. Brian saw that I was trying a single lutz with both hands up and he started laughing, saying, "If you can do it with one arm, why not two!". I started thinking, "why not?"! The first few I tried were very scary, but I got the timing pretty soon. I love having an element named after me!
You're a single skater. Would you like to try pairs or ice dancing?
Secretly, I would love to try dance. I am not tall enough to try pairs. I think it would be fun to skate with someone.
After having trained with Nikolai Morozov for two years, you decided two years ago to change your coach and to start working with Brian Orser, who is also Yu-Na Kim's coach. How is your relationship with them? Is training with a champion like Yu-Na positive for you?
I love skating with Brian! The rink I skate in is so beautiful. It's more than any skater could ask for and training with Yu-Na is great. She's so beautiful and a joy to share the ice with.
After Vancouver some young skaters like you are already thinking about the next Worlds, the Grand Prix events and, of course, Sochi... During the next four years, in your opinion, who will be your biggest rivals and who will fight for the podium?
I don't think anyone can be assured a spot on the Olympic podium right now. There are so many talented skaters coming up who have all the same wishes and goals that I do. I think it's incredibly motivating to be considered into this group.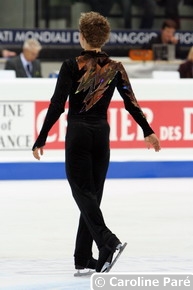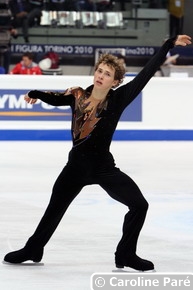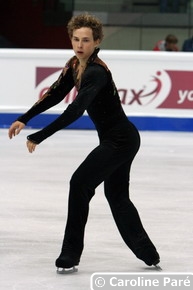 After so many competitions you already know a lot of countries and cities. What is your favourite country for skating? Would you like to visit any other one for a special reason? Maybe Spain?
To be honest, I have had a very good time in every place I have been to. I would love to visit Barcelona. The closest I have come to Spain is Andorra and it was like a dream, it was so pretty.
Thanks to this great season, your first complete senior season, you've won over a lot of hearts all over the world. Are you ready for the "fan phenomenon"?
Hahaha, thank you! I am ready!
If you weren't a figure skater, what do you think would be your job?
I have no idea. I cannot even imagine my life without skating.
Now we've reached the easy part of the interview. Say in a few words the first thing that comes into your mind when you hear these words: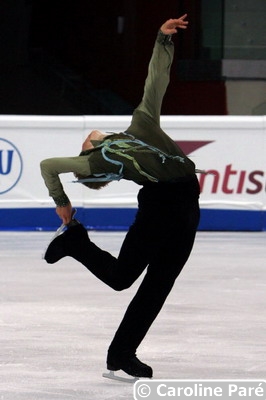 - Twitter: fun
- quad: I will show you the next season
- Toronto: my apartment
- straight hair: curly hair is better
- plane: long trips
- Toronto: the Cricket Club
- gold: competitions
- fall: get up!
- the Olympic games: inspire
- figure skating: joy
And finally, like in the last question, tell us what do these names say to you?
- Stephane Lambiel: one of my favorites
- Evgeny Plushenko: quad toe-triple toe and his hair cut
- Nicolai Morozov: old
- Brian Orser: David Wilson
- Javier Fernández: one of the nicest people I have ever met
- Evan Lysacek: congratulations, Evan!
- Yu-Na Kim: Bond girl
- Mao Asada: triple axel queen
Adam, thanks a lot for your time and for taking a while to answer all of our questions. We wish you all the best for the next season and for the following ones as well.
Congratulations for all what you've achieved till now and we're convinced that it's just the beginning.
Best wishes!
It was so fun! Thank you, guys!
Thanks to the girls of the Orange Team for their help with the interview.