Antoine Dorsaz: "Now I have one dream:
I want to do shows"
 
By Nadin Vernon
Photos © Art on Ice Production AG, Caroline Par├ę, Silvia Ulenberg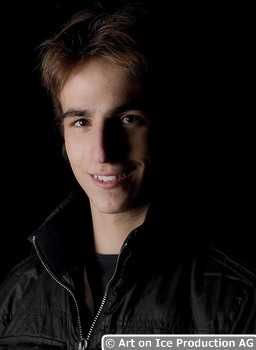 It's fair to say that when Antoine Dorsaz announced his retirement from competitive skating last week, it came as a big surprise to many. Last season, Antoine and his partner Anaïs Morand showcased their Olympic debut in Vancouver and achieved an 8th place finish at Europeans and 13th place finish at Worlds. While the skating world was impressed with this young team's steep progress since being coached by Ingo Steuer in Chemnitz - with fellow team mates Aljona Savchenko and Robin Szolkowy – Antoine was already thinking about quitting competitions for good. Naturally we were interested in finding out a bit more about his decision and Antoine kindly made time to answer a few questions for us.
As you can imagine for many people your decision came as a surprise, especially with Euros 2011 being held in your home country. It's been on your mind for a while to retire, but were you originally planning to keep going during the 2010/2011 season?
I can imagine that nobody was expecting such a decision, especially considering that Europeans are going to be held in our home country this coming season. I do feel sorry about this. Before considering quitting, I was looking forward to skating in front of our own audience. But then little by little the idea started to sound less and less exciting.
Which factors contributed to the timing of your final decision?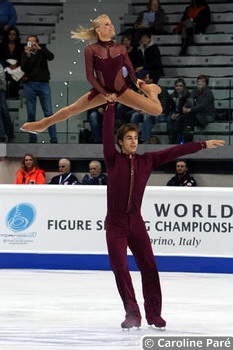 Once we got back to Chemnitz after our break between the seasons, it was clear to me after only a week of hard work that I would neither have the motivation nor the strength to make it to Europeans. It was just too much. I have dedicated two years of my life exclusively to figure skating, have been working very hard every day under Ingo Steuer's tuition, and I am proud of what Anaïs and I have achieved. But maybe it was just too much to handle. I wasn't happy anymore, and when I don't feel happy about my life, I need to change things and my decision reflects this.
Many fans and critics saw a young pair with huge potential for the future in you and Anaïs.
When six years ago our former coach, Rijana Delessert, made the proposal to create a pair out of Anaïs and me, many people laughed at her in Switzerland because there has never been a pair skating tradition in Switzerland. We have great single skaters, but as for pair skating, we don't have the coaches on this level.
Also, something not many people know about is that I took up skating when I was 10, which is very late. Moreover, I spent the first two years skating for 45 minutes a week, 6 months a year, whilst the others were training for several hours a day. Back then I would have never even thought about taking part in competitions. I landed my first double jump when I was 14, whilst at that age most of the skaters we used to compete against on the world stage, surely mastered all the double jumps, and very likely even landed some triples. So in a way I had to catch up, and work very hard to get to the level of the people I was competing against. Maybe it's all about that, as I have been totally giving 200%, I feel like I have given everything I could already, and I just don't have the strength to carry on with our 5-hours-practice-a-day life.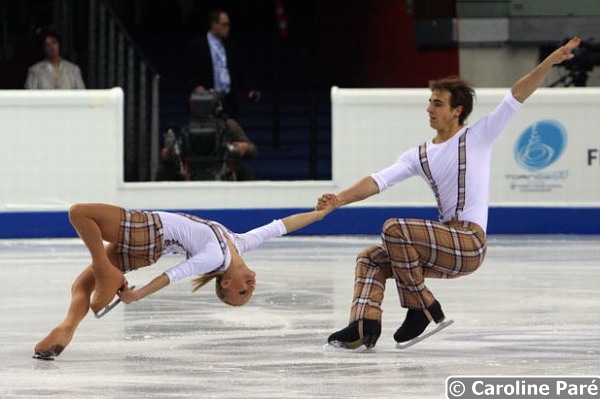 Do you personally feel that you have achieved as much as you can, competitively?
I don't think Anaïs and I have achieved as much as we can competitively, but I think we were pretty close to that. And the progress we could have made by continuing wouldn't have just fallen from the sky, we would have had to work even harder than we used to, and as I said, this would have just been too much work for me to handle.
I'd like to add that Anaïs and I are both happy with my decision and remain on very good terms. I will certainly be rooting for her in future.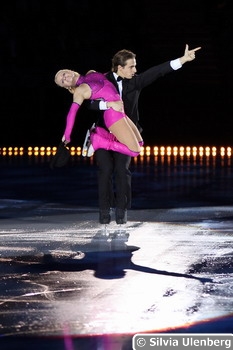 You're planning to continue skating in shows. In terms of personal satisfaction and goals, your outlook is likely to be quite different now than for a competitive skater. What is driving you to carry on and which new challenges are you looking forward to?
For a long time I haven't been dreaming about anything related to figure skating, like victories for example, but now I have one dream: I want to do shows. I've been thinking about studying economics, which also really interests me, but I came to the conclusion that as I still love skating, I could first wander the world for a few years with an ice show, and after that maybe head back to studies.
Can you tell us a little more about the tour you're planning to be in?
Here is my luck: My girlfriend has been hired in probably the world's foremost theater on ice company, The Imperial Ice Stars, and she happens to be looking for a new partner. So my dream would be to skate there with her. However, whilst there's already been some contact with the management and they are interested, a decision won't be made before autumn, so I'm keeping my fingers crossed!
(Incidentally, a few years ago, I saw The Imperial Ice Stars' Sleeping Beauty on Ice production in London and the part of Princess Aurora was played by no other than Mandy Woetzel - who was Ingo Steuer's partner.)
You made many fans across the world, especially in the last couple of years and you will be missed at competitions. What will you miss the most?
I think what I will miss most about competitions is the general atmosphere and above all the great friends I have been hanging out with there.
Also I wanted to thank all the people who have been supporting us, believing in us and cheering for us throughout our career. It is such a great feeling when people send you good vibes.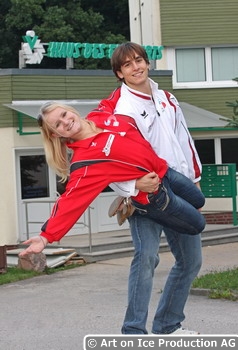 Thank you Antoine, for making time to answer our questions and best of luck for the future.
I'd like to take this opportunity to thank my parents for supporting and helping me in whatever I do, our sponsors Yves G. Piaget, Art on Ice Productions, the Little Dream Foundation, Netplus and the Swiss Sporthilfe for believing in us and giving us the financial support we needed, and without whom all this wouldn't have been possible, all the coaches that have been helping us throughout our career, especially Rijana Delessert who had this "crazy" idea to make Anaïs and I take up pair skating six years ago, and Ingo Steuer, who took us in his group and brought our skating to a good world level, the Swiss Ice Skating Federation and all the people around who have helped us in any way. Thank you very much.
While some fans may be a little disappointed by Antoine's decision, it is clear that you can't compete on this level unless you feel you are able to give yourself over, heart, body and soul. Anaïs and Antoine certainly have given themselves over and as a result made Swiss pair skating proud; I wish them both well in their future careers.