Alissa Czisny: A Skater Renewed
Part I
 
December 18, 2010
By Suzanne Herrmann (Suzie)
Photo © Suzanne Herrmann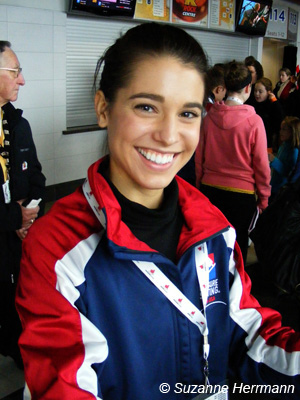 Alissa Czisny was a very busy lady this fall competing in Midwestern Sectionals, two Grand Prix events and the Grand Prix Final. Amidst her busy schedule, Alissa shared some time with Absolute Skating and discussed her goals for this season and a bit about the changes she has made in recent months which have obviously paid off as she has just become the 2010 Grand Prix Final Champion! Before Reut caught Alissa at Trophee Eric Bompard, Suzie spoke to Alissa in Kingston, Ontario at AlissaÂ's first stop in the Grand Prix: Skate Canada.
How about last night?
Umm, well, last night I was—oh, sure… (Alissa stops to sign an autograph for fan who said, "You are so pretty, very nice!" Alissa thanked her and said, "Not sure this is going to work out so well…")
Long story short, one of the US Team Leaders and Jason Dungjen, AlissaÂ's coach, were instrumental in helping Suzie arrange a time to meet with Alissa. Unfortunately the location was less than optimal to conduct an interview; Alissa even tried to get us to slip inside the curtain where she wouldnÂ't be interrupted by autograph seeking fans. While much appreciated, the security guard was not as keen on the idea so we decided to make do with the spot we found. Eventually we snagged a moment and a group of little girls waited quietly and patiently for us to finish before asking Alissa for autographs.
*Take two*
Ok, so how about last night!?
Well, yesterday I went into the performance not really thinking about placements or anything and I just had one goal. I wanted to go out and I wanted to really show the improvements IÂ've been making in my jumps. My short program I was really nervous for because it was my first time out after making all the changes. I happened to see my program on TV afterwards and I really wasnÂ't too pleased with the jumps because I know they can be better than that. So that was my goal yesterday; to go out and make each jump the best I could make it to show that IÂ've really been making improvements. Obviously it didnÂ't happen quite the way I wanted it to, but it was good enough for last night.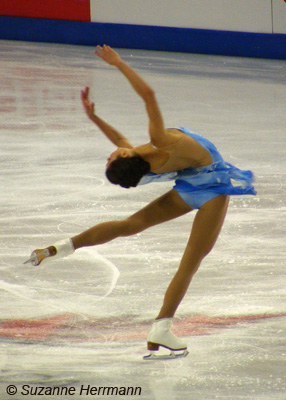 You can definitely tell that you have made improvements and it even looks like when you go into your jumps you have a lot more confidence and youÂ're coming out of them better.
What did you do to improve them?
We [with new coaches Jason Dungjen and Yuka Sato] worked on really all aspects of the jump—the entrance, the take-off; the biggest thing was the air position, so really all the parts of all the jumps.
What is your favorite jump?
Umm, I donÂ't know actually. Sometimes it comes and goes, different ones at different times. What really surprises me though is that the loop used to be my least favorite and it itÂ's not anymore.
ThatÂ's good! What spin is your favorite?
I would probably say the layback.
I love that one.
Yeahhh.
I assume that your goals this season—since you already touched upon that—would be about the same as what they were for here but what do you have goal-wise long term for Nationals, etc.?
You know, I have placement goals for this year obviously, but my biggest goal is to be able to go out for every competition, improve on every competition, and go out and make all the improvements that I want to make and really try to reach my potential.
This is a good start!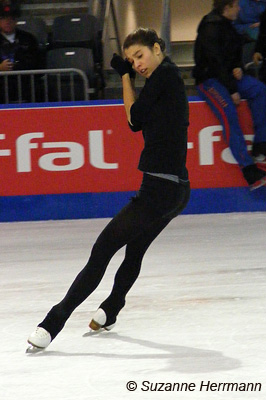 How do you prepare for competition with waiting time while youÂ're here? How do you focus and not get distracted even by your own thoughts?
Umm, you know, I was really, really nervous for my short program because it was my first time out and obviously my last time in a big event didn't go well, so I was quite nervous for that but I had a goal to go out there, breathe, and stay on my feet—
Good goals.
—and you know, those were goals that I could accomplish. They weren't overwhelming, so that was what I tried to go out there and do. In my long program, I wasn't really nervous, so I was nervous because I wasn't nervous!
(both laugh)
But like I said before, I just wanted to go out there and really wanted to show the improvements in each of my jumps, so at that point I didnÂ't even care if I fell as long as they were good jumps. That was my goal.
Â…and they were good.
Out of curiosity, because as a spectator finding healthy food is a challenge. How do you find the proper food and proper nutrition when youÂ're in an event away from home? Spectators are lucky here because Kingston has a lot of places to go to eat but not all places have that opportunity and living on arena food for the weekend is disgusting!
They cater for us at the hotel. Some places like Canada are usually good because we get a lot of fresh fruits and vegetables, which I eat a lot of. I always pack my own food too because I donÂ't eat a lot of meat and I have to get my protein some other way. You know what I mean? So I either pack a lot of my own food find grocery stores or something.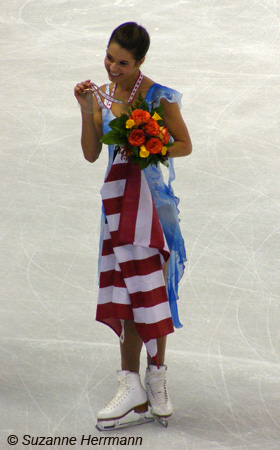 Now you did, I think it was in June, a clinic with adult skaters. How did you like that? IÂ've participated in the one in Hackensack before.
My sister (Amber Czisny) and I did it last year and then this year again. I think we might have done it three years in a row. She and I both really enjoy it because itÂ's different working with adult skaters as opposed to young kids because they really understand more. TheyÂ're not always capable of it, but they get it so we can be maybe more technical.
I enjoy participating in that type of thing because I get the perspective of you, who is competing now and is not displaced from competition [and this new judging system]. ItÂ's helpful that way.
What is your favorite event to compete in or your favorite city to compete in?
Well, obviously I love competing in Canada!
Yes!
I mean, I get good results here, but just in general I love the crowd and the people are so supportive.
Very good.
Thank you very much for your time!
YouÂ're welcome.
IÂ'll let all these patient little girls have a turn for autographs now.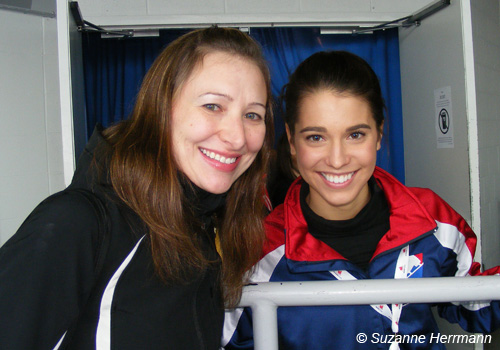 Go to Part II