Kristoffer Berntsson: "No retirement for me yet."
 
September 6, 2010
By Natalia Klintland
Photos © EMJO
He was the one who made people notice the existence of Swedish figure skating in modern times. His style was so different that people watched him, called him "the Swedish guy" and remembered his programs from the time he began participating in senior competitions. He finished in 23d place at the 2006 Olympics, but did not make the team in 2010. Maybe the pressure to achieve his best placement ever was too great. After finishing 15th at Europeans the season was practically over, and people wondered whether he was going to continue, or retire.
During "Stockholm Ice" I asked Kristoffer Berntsson about his plans for the future, but only got a wavering "we'll see" for an answer, along with that certain blank look telling me nothing. At the time I had no other option but to leave this subject out of my story about "Stockholm Ice". The good news, however, was that we arranged to meet later in Gothenburg, which we eventually did. There I got the opportunity to repeat my question as well as asking many more.
What is going on in your life right now?
I'm working on my master's degree. It is a full time job.
How do you manage to combine your university studies with practice twice a day?
Well, the lectures are optional, so instead of attending them I study the manuals between practices. I am an efficient person and I don't like to waste time. Sometimes I also need to put skating out of my mind, and focusing on my studies is a perfect way to do it. I'm not going to devote my entire life to figure skating, so my education is important as well. I'd like more opportunities in the future besides skating, which is why I'm studying electric power engineering at Chalmers University of Technology in Gothenburg. I like the process of creating and finding solutions to various technical problems. Someday I won't skate anymore, but I will still have my brains and my knowledge.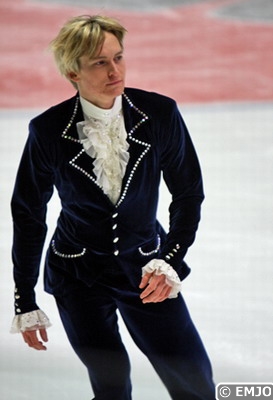 Will you retire from competitions?
Not now, I'm going to skate at least one more season.
Are you aware that many people want to see more of you?
I know that the audience want to see more of my skating. It is important to be appreciated by the crowd; it's easier to continue the training having that feeling. To connect well with the audience is a big challenge and one of my goals.
Why did you choose figure skating, did you watch it on TV?
No, never actually. I was good at skating and just kept doing it. I practiced, but other than that I wasn't interested in watching. Off ice I am just an ordinary guy, although my friends think it's pretty cool I get to be on TV.
That's a surprise; I thought you became an artist by watching other big skaters!
I wasn't good at presentation and artistry in the beginning. But later in my career I've worked a lot on those parts.
I've heard you started skating on hockey blades.
Yes, I did that the first two years without any major problems. It is possible to practice skating without the toe picks, you know. But then I had a tough time changing skates and fell on my face a few times.
Is your family involved in your skating career?
My parents have always supported me and without them my career wouldn't have come this far. But they have never tried to influence or interfere with my training; they have completely trusted me and my coach.
And you have always been a determined person who knows what he wants, haven't you?
I guess.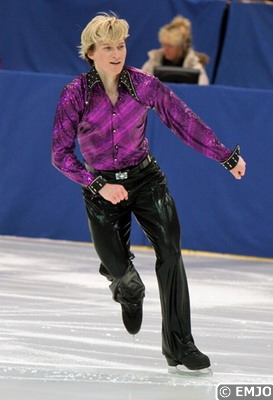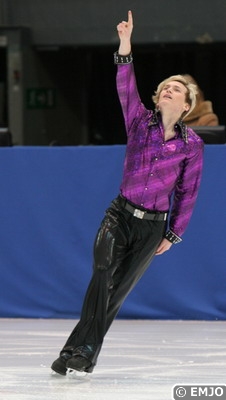 You started skating under the 6.0 system. How did the new judging system affect your skating?
I worked hard, especially on the spins. It was difficult in the beginning because the rules kept changing a lot during the first two seasons, then the system became more stable, which has made it easier to follow.
You are the first Swedish skater to manage a triple Axel. Do you remember your first successful attempt?
Yes, it was at Nationals in Stockholm in 2000. I skated after Filip Stiller who did very well. I'd never successfully landed a triple Axel before, not even during practices, but I simply took a chance. I nailed it and managed to skate the rest of the program clean. It was great!
Igor Bobrin choreographed some of your programs. How was it to work with him?
It was fun. He created two programs for me. I went to Russia and he made a program in one week, then I went back to Sweden and worked on it. The only problem was that I later usually wanted to change something in the program and he couldn't help me then. Now I work with a Swedish choreographer and we can make changes anytime I need to.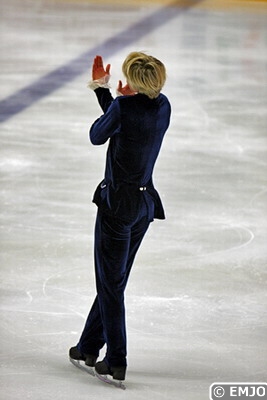 Do you usually choose the music for your programs yourself?
Actually, I get some suggestions from my team and we try out a few things but I always have the last say on the subject. I would never skate to music I wasn't comfortable with. Overall my programs are a product of teamwork.
Are you going to keep your programs from last season?
No, I have new ones. There won't be a broken mirror in the long program anymore.
Competitions or exhibitions, which do you prefer?
Actually, I cannot choose between them, because these are completely different things and I like both. Sometimes you look forward to a competition but once you are there, you just wish it would be over. It depends on if you are doing well or not. If you are, you feel great and you can never get that same feeling from galas. But if you fail at a competition it's tough to be there.
On the other hand there is such freedom at exhibitions; you can release the power of creativity and concentrate on acting. When I retire from competitions I want to continue performing in shows as much as possible, because I love skating.
I know you play the guitar a little. Would you like to play and skate at the same time?
I would need lot of practice for that kind of performance because I haven't played the guitar in such a long time. Many years ago I played in a band with some friends, and a Swedish TV station showed us in a feature about Swedish figure skating. I gained a lot of respect from my mates that time!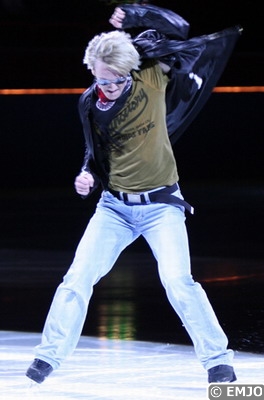 Which competition has been the best so far?
My best result was at Worlds in Tokyo in 2007 (9th). Obviously Worlds in Gothenburg in 2008 were unforgettable too. Even though I made some mistakes there, it definitely was a special experience to skate for the Swedish people.
The Olympics were also outstanding because of the range of the competitions. It was really fun to meet so many athletes in Torino. During a season you usually meet the same people at competitions but the Olympics are different.
You had tremendous support from the audience in Gothenburg.
Indeed, they even did a human wave in my honour. I've never seen anything like this anywhere.
So Worlds at home offered you the time of your life on ice?
You could say that.
We ended our talk here. I believe there are ups and downs in the life of every eligible athlete. But what matters in the end is the connection with the audience and whether or not they will remember the skater, and if so, which part of his skating they would remember.
I want Kristoffer to be remembered for his ability to enchant the crowds because he is truly an artist on the ice who always earns the respect of the audience.