Oliver Höner makes plans
   
August 13, 2010
By Natalia Klintland, EMJO
Photos © EMJO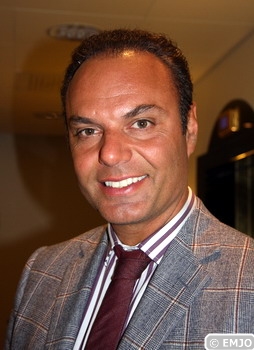 Oliver Höner is a well-known name in the show business, being practically a father of the main concept for Art on Ice, which is combining figure skating with entertainment numbers on the stage like dancers, singers, bands and even a symphony orchestra in order to create a show for everyone. Last season he was also the producer for the show Stockholm Ice, in Sweden.
Lots of famous musicians such as Gloria Gaynor, SEAL, Ronan Keating and latest Anastasia participated in Art on Ice since the first show 15 years ago. Considering figure skaters he has his own demands that can perfectly be described with the first word in the name of his show.
How does today shows differ from the first one you made?
First show I did was very simple compared to now, when we use lots of lightning, transitions and other technical things. We had live music from the second year but it was still very simple concept. Now the concept becomes more and more complicated. You don't actually realize how many details need to be fixed though the audience don't notice or see them .
What kind of skaters are you looking for to be in the show?
You need different kind of skaters. It doesn't make sense to have solely world champions then the show can be boring after a while because all skate quite similar programs so you must have a combination of successful skaters who can also make great performance at the same time. However there are some world champions available that I would never take for my show because in my opinion they aren't entertaining for a show audience. I'd never invite them and work with them… and then you need good skaters that are not so famous but bring something extra to the show like different style or elements. You need a mix of many different things to make a good show.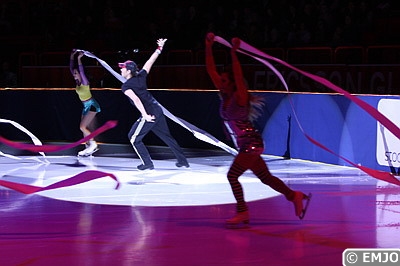 Do you watch competitions and galas exhibitions to pick out skaters?
Sure! You have to know the market. Sometimes I watch youtube as well. It really helps to get an idea of a skater, otherwise I would have to travel even more than I'm already doing now. Especially considering the speciality actors, they are not in competition but in circus or airports wherever and you need to either search on youtube or travel to see them. They have many qualities and still there are not so many actors who are suitable for my show.
How many times do you usually run the same program?
Well, it depends. Sometimes I only run two shows, sometimes more. Here in Sweden it is only one show this time but I used the same program in Basel and I will use in Germany as well. It is more or less the same concept with different skaters. I don't want to run the same program too many times though. Instead, I concentrate on a few shows and then I create a new one. My goal is to run shows smooth without any gaps and every single moment of the show must be entertaining. This is important that you can put together a show in a few days and then perform it but if the transitions, music, lights and other details don't work, it is a shame to have excellent skaters.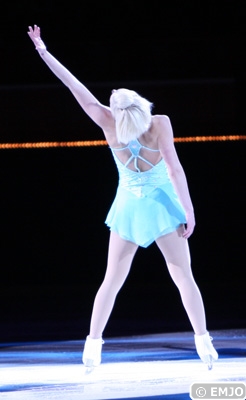 Stockholm Ice is over now. Do Swedish people have a chance to see you here again?
After the first ever show of this kind in Sweden, it could happen that people are demanding something like this and they wanted something like this so I really do hope that it will be continued.
How about adding other cities in Sweden?
You have two or three cities in Sweden that could be hosting this event. I think Malmö Göteborg and Stockholm has arenas for it. Malmö arena is really nice. I have someone in Switzerland whose really close friends run the Malm√∂ Arena.
Once Swedes came to Switzerland in order to watch my show, which is very big there. After that they said: 'Oh, we would like to do this kind of the show in Malmö and we're certainly able to build up such scenery in Sweden as well.' I must say I agree because the mentality of the people is very similar and the market is very similar to Switzerland. There is not such a big population in Sweden but the most of people can afford tickets and are interested in seeing something like that. You need not only figure skating oriented audience but also entertainment oriented people. It works in Switzerland and I think it would work in Sweden as well.
Whom would you like to invite?
I only know Anastasia wants to come to Sweden because here it is a very strong market for her. After the successful shows in Zurich, she called me and said: 'Listen , we need to do more shows together. We should plan something for next winter.' I think she is absolutely right. We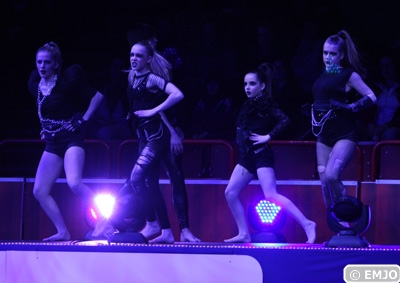 should join together to unite my strong market for figure skating and a strong market for entertainment oriented audience so I'll go to England next week and we'll see how we are going to proceed with that . It could happen that we do more Anastasia shows. She is really the perfect artist for us.
It would be nice have a show with live music here in Sweden too. Do you see that coming?
Well, it is not only big organisation but big money too. But once you have seen that, you don't want anything else. This is the reason we have 50000 spectators every year. Even though you know the content, the show is different from time to time. Every year we have new artists that interact different with the skaters, which gives different programs every year depending on the live effects. It is a big and expensive show because you have to build up a stage, scenery with lots of lights and techniques and you need more than one show in the same venue to fill it up.
Is next show already in the planning?
Yes, I am going to London to make plans.
Oliver Höner is going to expand and explore new territories and we are crossing our fingers that Sweden will be on his list after this first and very successful attempt here.