Jeremy Abbott: "I really like to push past what people perceive as skating"
 
January 21, 2011
By Reut Golinsky
Photo © Natasha Ponarina, Reut Golinsky
Special thanks to Tanya Drubetskaya for the help with the transcript.
Two-time and reigning US champion Jeremy Abbott is determined to win for the third time. But the start of this season wasn't easy for him. He has two sophisticated programs in a completely new style and boot problems delayed his preparation for the Grand Prix competitions. Although, for the first time in his career, he medaled in both events it wasn't good enough to qualify for the Grand Prix Final in Beijing.
We got together right after the end of the men's competition in Moscow (the Rostelecom Cup) and Jeremy already knew that he probably wouldn't be going to Beijing. Of course he was upset and I wasn't sure how interested he would be in an interview at that moment. But in the end we had a very long chat about his programs, boots, Twitter, choreography, "Life is beautiful" and what not. Maybe what helped break the ice so quickly was the fact that we talked while sitting on the floor┬ů (we couldn't find any spare chairs in the press room).
You worked with two very different choreographers this season: David Wilson, a skater himself and Antonio Najarro, a dancer. Can you compare their approaches?
They are very different. With Antonio the program was set on the floor and it was up to me and Yuka Sato to translate that to the ice, so I wouldn't just stand on the ice doing all the moves he wanted me to, but I move across the ice to make it not look static. It was actually very, very difficult! I found it to be one of the hardest programs I've ever had. First of all I'm not used to the strong movement, I'm usually a lot softer and more fluid and a lot more into me. But this program is much more open and strong and the movement is not comfortable for me. But I've really enjoyed the program, I loved doing it. The whole point was to challenge myself and I definitely did that!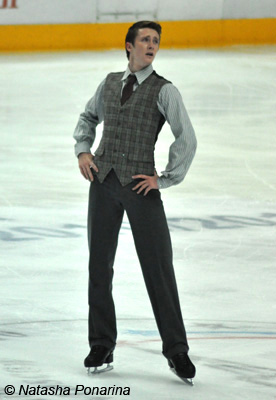 With David we got on the ice and there was nothing, no choreography. It started from the ice and worked its way up. With Antonio the whole program was done off the ice and then we had to make it work on the ice, but with David the whole program was made on the ice. So those approaches are complete opposites. And also the character in both programs is very different. I think the way they were built also shows two very different sides of me and my skating.
You mentioned at the press conference that you like the film "Life is Beautiful" and you use the soundtrack for your free program. What do you like about it?
I love the story; I love the imagination of it when being in such a horrible situation the hero keeps his son's innocence. Just the way he does it, I find it very beautiful. I think the film was made in a really special way and it touches me.
Some people didn't like the approach of making a Holocaust story funny. You don't make fun of such things...
In my opinion they weren't making fun of the Holocaust, they were keeping it very serious. It was more about a father's love for his son and his will to keep him alive, first of all, and then keeping him happy through all of that. It still showed how horrible it was, but it was also showing his relationship with his son as opposed to the horror that was happening.
You were so worried about skating your short program you even wrote about it on your Twitter, that you were praying to pull it off. Now after you've performed it in two competitions, how do you feel about it?
I'm very happy with how the two competitions went. I watched both of the videos and the program is definitely in improvement. I'm still not happy; I know that I can do it better. I'm still uncomfortable with the movement and need more time to work on it and to make it really special. When I watch I can see that I look uncomfortable and I want to make it comfortable and natural so it doesn't look forced. I just need to work more; on the floor and on the ice. It's still early in the season and everything takes time.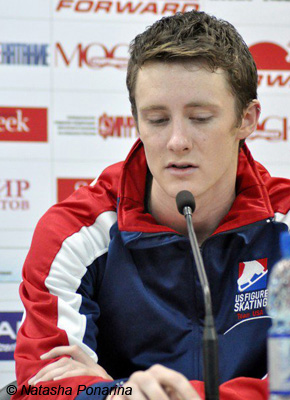 The Flamenco is rather new for you; did you try to watch other videos, flamenco dancers, flamenco shows?
I have watched some flamenco, but not a lot. Antonio didn't choreograph it specifically flamenco, it's flamenco and tango and contemporary, so he kind of special made it for me. I want it to look flamenco, but I didn't want to copy anyone.
You mentioned during the press conference that you wanted to work with Antonio because you liked his work with St├ęphane Lambiel. Weren't you afraid to be compared to him?
Well, to be compared to someone as good as St├ęphane is not necessarily a bad thing. Unless they look at it and think that what I'm doing is bad, but if I can do something as well as St├ęphane or even better, then it's positive for me. Obviously, when a skater chooses a choreographer and a piece of music that is very specific to a different skater [people might wonder before they see the finished program]... But I knew that Antonio wouldn't be giving me the same program that he gave St├ęphane so I wasn't too worried about it.
It's not like you took his music, and it was a different style...
I think most people know Antonio from his work with St├ęphane, so people would definitely think to compare [what they imagine the program might be] before they can see the program but once they see it they'll realize it's not the same.
In previous years you peaked during Nationals...
My season started much later this year than it ever has before and that will hopefully help, ┬Ĺcause usually I get very tired at the end of the season. It's hard to train and it's hard to keep going and then my performances aren't that good. And this year I started a few months later so I'm hoping I'll still be very fresh and very strong at Nationals and Worlds, and show my best performances there.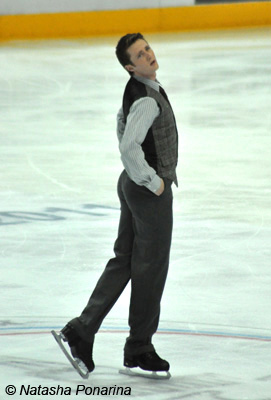 Talking about Nationals, who would you name as your main rivals in the absence of Evan Lysacek and Johnny Weir?
Judging by the season so far, I'd say Adam Rippon and Brandon Mroz. Coming into the season I definitely thought Adam, he is a very strong skater and he is improving year after year; I think he is my biggest competition. But there are so many good men in the US right now. Even with Evan and Johnny not competing this season, we have a very strong field and I think any one of them could come up and surprise all of us.
Who would you name among those you worry about, are afraid of?
I'm not afraid. I feel very good about this season, I'm the two time US champion and I love both my programs, they are very strong. I think I have shown good performances at both of my Grand Prix competitions, I medaled at both which I've never done before. Obviously the lack of consistency in the training kind of showed, but overall I had two very good competitions. They were strong and my short program worked great both times. My long was very good in Japan. Well, it's a lot harder to add the quad to the program.
Was it the quad that made all the difference in the long program?
I think it was a number of things; it's not just the quad because there were plenty of times when I missed the quad but could do everything else in the program. I think the biggest thing was the inconsistency of the training. I was on and off the ice so much, and then the stress of adding the quad made it harder to deal with. But the quad has been strong and I feel very good about it, and it's going to be in the program for the rest of the season.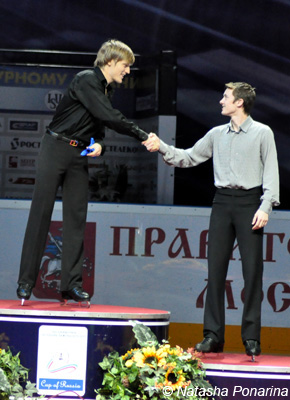 Why were you so eager to add it now?
I've been training it since Japan and the goal was to put it in here (at the Rostelecom Cup, Russia). I always peak early in the season so the goal wasn't about being perfect here or making the Grand Prix Final, but the goal is to be at my best for the World Championships. So I'm putting it in now and if I make a mistake I make a mistake, but I try and I learn. I get more practice from it and by the time the Worlds come, hopefully I'll be strong and confident and everything will go the way it's supposed to.
Even this competition showed that you don't need a quad to win (Tomas Verner won without a quad), so why risk it?
Yes, the last couple of seasons have shown that you don't need the quad to win. I mean the Olympics and Worlds. But I think that now, especially after the Olympics and the change of rules, more and more men are trying the quad and people like Patrick (Chan) and Daisuke (Takahashi) are doing the quad. And not only are they good jumpers but they are fantastic skaters so it's no longer just about being a good skater or about doing the quad, it's about everything. I've been able to do the quad for a few years now and I want to show that I can do it and still be a strong skater.
I love quads; to a spectator they look fascinating...
It's exciting and it's fun and it separates people - it's not something that everyone can do.
Do you plan to stay on until Sochi?
I'm committed to this year and next. Then I will reevaluate my goals and see how I feel mentally and physically. If I still see that I'm going up and not going down then I would love to go to Sochi, the Olympics was such an amazing experience and I would love to be an Olympian again.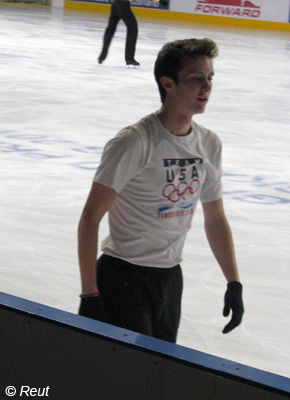 It's nice that you consider the Olympics an amazing experience given your performance there...
Yeah, I mean it was very weird for me because the competition was so bad and afterwards I got very sick. I was in bed the whole time so all I saw was the ice dancing. But it's been a dream since I was very young to be an Olympian, to go and represent my country and proudly have "USA" across my chest. Just to be there with so many amazing athletes - not just the figure skaters but athletes from all around the world from every sport - it was incredible. It's unlike anything you get to do anywhere else. I would gladly take back my performances, but the experience itself was...
Did you watch any other competitions?
No, I was just so focused before I competed and then I got sick so I was in bed. I went to the closing ceremony. But I was sick up until the last day. I actually had a ticket to the final hockey game, but because I had been so sick I didn't go. It was Canada/USA so it was a very good game. I watched it on TV but I didn't go [to watch it] live.
What is the worst thing about skating for you?
Having to work very hard when I'm exhausted and have nothing more to give. There are days when I wake up in the morning and I can't move and everything hurts and I just want to crawl back into bed...
Isn't it useless to practice on such a day?
No, I think something good always comes out of practicing. Because when you go into a competition you never know how you're going to feel, so it's good to push yourself. That way you know when you are in that situation that you can handle it.
What turns you on creatively, spiritually or emotionally?
Creatively I just like to see how far I can develop my own creativity. I get a lot of inspiration from dance and from places outside of skating, and I really like to push past what people perceive as skating. I like to try to incorporate more dance and movement rather than just skating. I don't know, everything is starting to kind of look very similar...
With the new judging system?
I don't know if it's the new system or if it's just because people are doing what's comfortable for them, but I think there has been less creativity, and personally I'd really like to change that.
Two years from now or after Sochi you'll need to decide what to do next. Will you stay in skating anyway?
Yeah, I'd love to do shows. I got to do the "Stars on Ice" tour in the US last year, and Yu-Na Kim's shows, and I loved it. I really enjoy performing so past competitions I'd love to still perform and still push myself creatively and artistically, and do that for as long as I can. And then maybe one day I'd like to choreograph. I think I have a lot of good ideas but I'm very embarrassed to... I'm not confident enough in what I can give to people to put it on someone, to make something good enough for someone. But I'm sure that everyone feels that way. I know when I talk to David Wilson he says: "I do programs and then I feel that they are awful. And then people tell me how good they are and I just don't understand". I guess I feel the same way - I always have great ideas for the exhibition programs but I'm too embarrassed to try to do my own choreography ┬Ĺcause I'm afraid that it won't be good enough.
Don't tell anyone, show it, check the feedback and if it's good tell that it was yours!
That's a good idea!
You seem a bit of a Twitter addict.
I like it because it's gives me a way to talk to my fans but it's not very invasive. It's a good way to show people who I am as a person. When we skate people get an idea of who you are based on how you perform and the couple of seconds they see you off- ice on TV. And I like Twitter because I can show people more who I am aside from just my skating.
Isn't it too short to show your personality? Maybe a blog would be better for such purpose?
I don't know. I like it because it's easy, I can do it from my phone very quickly. If something pops into my head I can just write it down and it's done. I don't have to take time to sit, write paragraphs and make sure my grammar is all correct (laughs). So it's just faster, I can do it from anywhere, you know, it takes like 2 seconds!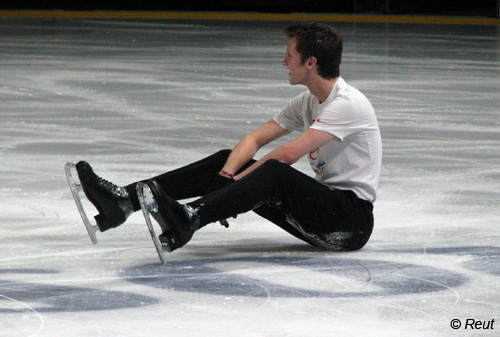 What kind of off - ice person do people see through your Twitter?
Well, most people tend to tell me that I'm "rainbows and sunshine", but it kind of bothers me a bit. I'm mostly silly on Twitter, so people get that side of me but I try to show all aspects of me; that I'm silly and funny and kind of a happy person, but that I'm also serious and focused and I'm a very dedicated athlete. I want to show all of that. But, you know, people see what they want to see.