Adrian Schultheiss: "I will be back with two challenging programs!"
 
December 31, 2011
By Eva Maria Jangbro (EMJO)
Photo © Eva Maria Jangbro (EMJO)
I
t was already known that Adrian Schultheiss would not compete at the Swedish Nationals this year due to a back injury, but he surprisingly turned up anyway at the press conference prior to the competition. I had a chat with him about the unfortunate start of the season, but also about the future.
Let's start with the beginning of the season, or rather the preparations for it.
First of all it was tough after Worlds. I had doubts whether I should continue or not and I had many thoughts about what had been. Then I decided to continue, so I went to the USA; to Delaware and coach Priscilla Hill, and to train with Viktor Pfeiffer. It was really fun. It is those conditions you want to have at home, like for example, there are many great skaters which give you good inspirations and Viktor (Pfeiffer) is a good friend. I like Priscilla's coaching too. It is also very different to be in the USA with so many rinks and figure skating people around. It feels bigger there and I enjoy the fellowship with other skaters. You can go and meet people at other rinks since the rinks are close to each other. The joy of skating returned to me.
How long did you stay?
I was there eight weeks. Well, I had planned to go home sooner, but since there are only like three or four ice hours per week available at home, I decided to stay in the USA where I had daily ice time. I also had to replace my skates twice, well no, the first pair was ruined during a camp in Sweden. Then I skated with a new pair in the USA for two weeks and then the heel broke. I got a new pair but they were too soft, so I got extra hard ones. One pair usually lasts me a whole season.
You have changed skating clubs too?
Yes, I needed a change; I didn't enjoy training at my old club anymore. The other students are getting younger and younger, and it was difficult to get a coach, since Maria Bergqvist doesn't coach at that club. She is employed by the Lerum skating club, and Johanna Dahlstrand, the other coach I had, had the whole club to take care of, so I switched to the Lerum club.This is perfect and Maria is my coach. I like the conditions here but right now I am not jumping due to my back.
Do you lose your triples if you don't practice them?
No, I always have them. I can do a triple now if I want to, it's more doing them all in a program and having enough stamina that is the problem. The body needs to keep going to manage that. We are practicing an alternative program to keep my energy up, but it is not the same without the jumps.
You did do some competitions before the back problems got too bad.
Yes, I started noticing that something was wrong a week before the competition in France, Cup of Nice. I had four hard days there: I had to get up very early for the flight to Nice and then at 5 o'clock again the next day for morning practice. On the third morning the fire alarm went off, and the next morning someone had set my phone alarm for 5 am. I was supposed to rise and shine early and go to practice all happy and rested, but it was the opposite. I did a triple Axel and landed really badly. I think that happened because my body was so tired. I was warmed up so that wasn't it, I think I was simply worn out and my body couldn't take it. And here I am with a typical figure skating injury made worse by poor boot support. The ice is very hard indeed!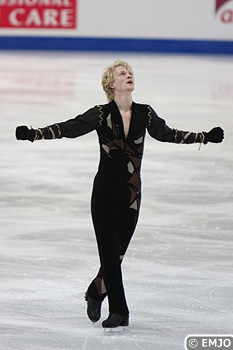 I have to say you look really great now though, and very different from last season.
I lost a bit too much weight then, but now I have to get rid of some subcutaneous fat, or whatever it is called…
Somehow I don't think that will be a problem once he is able to train in full again and he does look great!
You kept your programs from last season.
I kept them since I hadn't decided what I was going to do. I had many thoughts about what all had been going on, and if I should continue skating or what. We changed the short program last season, so I felt no need to renew it, but we made little changes in the choreography. For next year there will for sure be two new programs and costumes. I ruined the costume in France by the way. It got stuck in the leg doing the Lutz during practice. (He shows me his leg and a little scar.)
What about the future?
Well, I want to be able to skate for a long time yet, so if they recommend surgery, surgery it is. I could skate tomorrow with full power, but then if I want to continue to skate I will have an unhealed back injury, and that is not good. I want it to heal before I skate again.
What is your relationship with Alexander Majorov like?
Well, we are competitors but we talked about it and we are friends.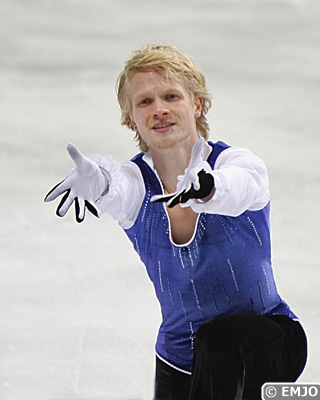 I heard that you intended to go to the Majorov camp in Luleå, but that did not happen.
No, I decided to stay in the USA instead since I really liked it there.
Is there anything you would like to add to this conversation?
Yes. I would like to say that I am very grateful to all who still support me even when things turn out the way they have. I am hoping that things will be better next season and I will be back with two challenging programs!
The next day Adrian found out he would have surgery the week before Christmas. He is doing fine or as he says: "Just done with the surgery in my back. I'm ALIVE!!"
He will not compete at Euros but is counting on being ready for Worlds. We wish him a speedy recovery and really hope to see him back on the ice soon.
Good luck, Adrian!