Alena Leonova: "I feel that I can show new sides of myself."
 
December 10, 2011
By Maria Bagdasarova
Photo © Natasha Ponarina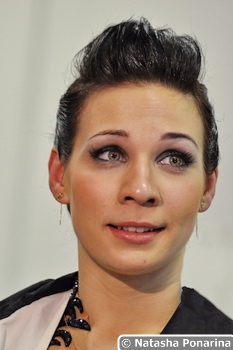 Winning her silver medal at the Rostelecom Cup in late November, Alena Leonova secured her place in the Grand Prix Final which takes place this weekend. I caught up with Alena right after her free program in Moscow and asked her about training with a new coach, her goals for the remainder of the season and much more.
Could you please sum up your Rostelecom Cup experience?
I'm really pleased with the way I skated both programs. I did everything I planned. I had troubles with the first part of my free skating at the previous competitions. So the most important thing for me in the free here was to do it well. It is a shame I missed the double axel right at the end of the program, it's a jump I can do in the middle of the night with my eyes closed.
My main goal for this event was to show my best skating and that I had worked on the flaws I made during the events earlier in the season. I achieved that, and a place in the Grand Prix Final is a nice bonus.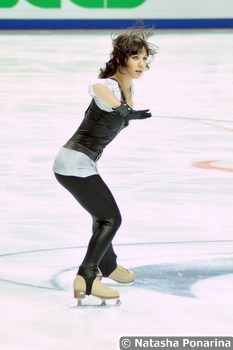 Didn't you set yourself an objective to qualify?
No, I never pursue such goals like to win a particular medal. I just go out there and try to show the best I can.
This year you competed in three Grand Prix events. Was it easier or harder for you?
It has harder physically and very tiring emotionally. On the other hand I got more mileage with the programs, exposure to the international judges and a chance to improve my rating. Overall, it is definitely very positive to have more opportunities to present the programs to the audience.
Last season finished a month later than planned. How did it affect your preparation to this year?
I did not have a proper vacation, because I had to adapt to the new coach and flow into the new team. It turned out to be such a pleasant experience that I did not feel any tiredness at the end of that season. I plunged into the new job and was happy with everything.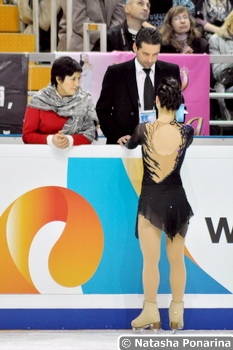 At the press conference you mentioned that with your new coach Nikolai Morozov you have more fun at practices than you used too.
First of all, Nikolai is a very interesting person. He is a competent coach on the ice and a good friend off the ice. He can help with a lot of things, most importantly, prepare me psychologically for the competitions.
The training process and the skating style are totally new for me. It opens a lot of new things for me every day. It is great that our group members are international. Everyone has different skating style and does their best. Besides, I can practice my English with Florent Amodio and I am on very good terms with the ice dancers.
You mentioned the new skating style. What exactly do you imply?
Previously I was a joyful girl with no hint of seriousness. Now I feel that I skate more femininely. My free program is very dramatic. It is totally different to what I used to skate to, so it took me a while to reconcile with this style. But now when I just skate at the practices I turn on lyrical pieces. I feel that I can open new emotions in me and show new sides of myself.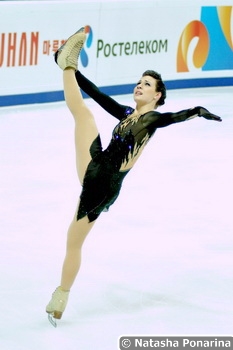 How did you come to the decision to change coaches?
I had been thinking about this for a while. It started not to work too well with Alla Yakovlevna when I reached that high level when I had to be strong and stay clean at every event. I needed change. I heard a lot of positive things about Nikolai and did not think too long to make a decision. Even though I do not like Moscow, I was ready to head wherever needed to get results. Besides, I was very excited to experience a new training approach changing from female to male coach.
Last two seasons you portrayed certain characters in both of your programs. You continue this trend with your short. So was it a thought-out decision to take dramatic music for this year's free?
In the short program it is important to show your level. So we made it playful, comfortable for me so that I can land all my jumps. In the free we decided not to place a child on the ice. I wanted to showcase what I learned – the flow, that I got rid of the roughness, that my movements have become smoother. At the same time, this music allows me to be focused on the elements.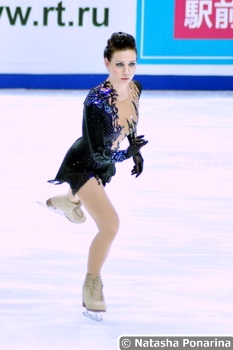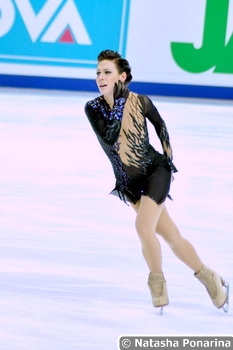 The entrance of Elizaveta Tuktamysheva and Adelina Sotnikova to the senior scene has been widely anticipated. Now you finally compete with them on the international level. Has something changed for you?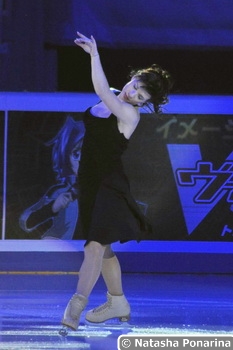 I met with Lisa at my first competition of the season - Japan Open. We did only the free skating there and I lost to her. At that point I thought that I had to do something to win against her. At Skate Canada I had a disappointing short program and didn't have a chance to move higher than I did in my almost clean free. Here at the Rostelecom Cup, I edged out Adelina. But I can say that I feel less pressure competing against them now. Yes, technically they are ahead of me, their triple – triple combinations are more difficult than mine. This gives me motivation to develop in this area. But I feel that my quality of skating is better at the moment, so I will play on this at the Grand Prix Final.
Last season you were placed fourth at both Europeans and Worlds just missing a medal. Does this fact affect your mentality coming into these competitions this year?
I should advance each season, so I set the goal higher every time. Especially now in the new environment which gives me extra energy. At the Europeans I will definitely fight for a place on the podium and will even try to put myself in contention for the gold.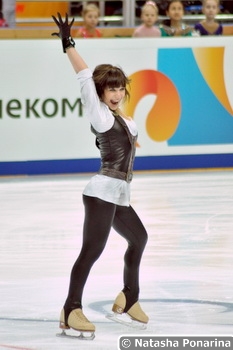 Preparing for this season you attended a camp in the US and other countries. How did you like this international experience?
I really enjoy training abroad. The setting is unstrained, there is no pressure. It's a combination of a vacation and training for me. I love travelling, so this is very good for me. It does not exhaust me, new impressions give me energy. I visited New York for the first time and liked it very much there.
How will your preparation for the Grand Prix Final and the Russian Nationals look like?
First of all, I will analyse the protocols and work on the levels I got at the Rostelecom Cup. I will stay calm and focused in these two weeks before the Final. And considering there will be not so much time left till the Nationals after the Final, the competition in Quebec will be my key point going to Saransk.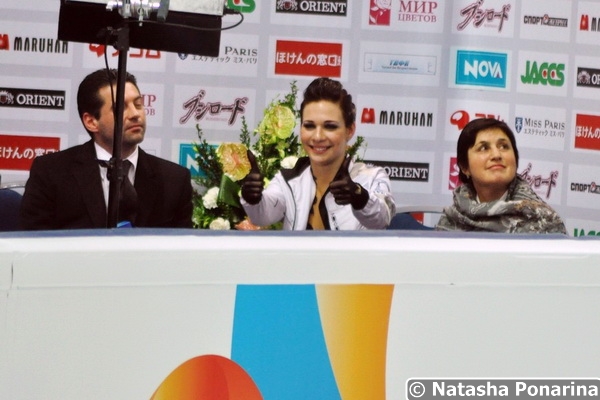 We congratulate Alena for staying focussed and winning the bronze medal at GPF only a few moments ago!