Michal Březina: "Since Olympics, skating moved on"
 
January 3, 2012
By Reut Golinsky
Photo © Eva Maria Jangbro (EMJO), Reut Golinsky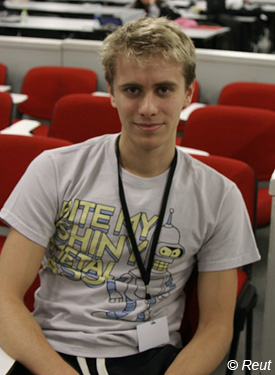 Czech figure skater Michal Březina demonstrates a young generation of skater, who at the previous Olympic cycle did well at junior level (he is the 2009 World Junior silver medalist) and succeeded to move up to senior level to "taste" the Olympic Games in Vancouver. Now, in this current Olympic cycle, Michal becomes more and more visible. He came fourth at the last two World Championships and was the winner of Skate America this season. He definitely can be named as one of the contenders for the European, World's and even Olympic podiums.
Our interview explores finding "his" choreographer, the state of Czech figure skating, comebacks of past skating champions, his fans and home town Brno. And also... what does it mean if you wake up and nothing hurts?
Looking back a year ago during the Grand Prix series in 2010, you were in a different place than you are now...
Yes, problems had started at the Nebelhorn Trophy. I was practicing quads and on one of them I felt really bad, somehow twisting my body. I started having pain in my stomach area and I didn't know what it was. Afterwards doctors explained me that during that twist I had a little cut on the vein, and that without the surgery the cut could open even more and it might have become worse. I had to have the surgery which put me off the ice for almost two months because I was told to have at least six weeks of rest. So the beginning of last season was indeed hard, but, we must knock on wood, this season is fine.
Yes, this season definitely started better. You even won Skate America. Were you surprised about that?
I was really happy with my short, because it was clean and nice. Though I didn't expect that Takahiko (Kozuka) would make so many mistakes and that I would stay first, I thought he would beat me. And after the free skate I was surprised that in the end I won, because I had mistakes in it.
After Skate America you said that you were told by your coaches not to try the quad, but next time you will do one.
When you watch the practice at big events, there are at least four or five guys that will go for quad. If I want to be on the podium, I have to do it. Actually I felt I could do it already at Skate America. The triple salchow in the free skate was pretty big and there was no problem of putting another rotation on it, but I didn't think about that at that moment.
Can you make decisions about such things while you are in the middle of performing?
No, because when I think about stuff during the free skate it's not working for me. This is what happened at the end of the program at Skate America; I changed the ending and after the triple flip I started to think how to change the rest and I popped two jumps and fell on one. That's my problem, I can't think while skating. When I skate I need to have an empty head, go and do it. I want to know before I skate, the latest at the warm up, what I'm going to do, so I can try it at the warm up.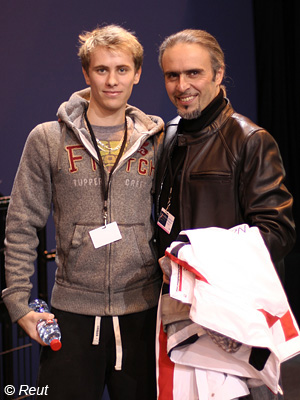 You mentioned your coaches. How is your time divided between them and where geographically you usually stay?
Until last year, until May when I graduated, I always had to go back home for at least a week every month. Then it was a little bit easier for my coach in the Czech Republic, we were skating together and then I was back to Oberstdorf. But now, since Worlds and my graduation, I was home for one week, after Skate America. I spent the time in Oberstdorf or I was in Detroit working with Pasquale (Camerlengo). So now I work more with Karel Fajfr.
Pasquale choreographed both of your programs this season. And he mentioned in his interview that you enjoy working together and plan to continue until Sochi.
Yes, we started to work after Worlds in Turin. Actually it was me who decided about it because I really loved Daisuke's (Takahashi) program and I knew Pasquale did it, so I was just: "I want to work with him!" I told my coaches, they talked to Pasquale and everything worked out. I really enjoyed it. I love the programs he made for me, they are awesome, and I feel free in them. He listens to the music and then shows the moves, it looks so easy when he does it. But it takes long to get to the level where he is, only after lots of practice I get the feeling for the music, for everything I do with my body, and then the program looks better, closer to what he showed me.
He makes you understand everything you do [on the ice]. When we worked on the step sequence in my free program, everything he did, I was trying to do exactly the same. And then he told me: "Don't look at me, do it yourself, feel it". And it helped me, I was moving like he showed, by in my own way, the way I felt it.
It sounds that you're fond of this work. Would you agree to any idea Pasquale proposes you?
Now, probably, yes. Now, I think, he knows me well enough, which music is better for me, what I can do in the choreography. Especially with the music. When we looked for the music for the free program this year, he said: "I want something nice and easy, but powerful at the same time". So we were listening to some pieces of music, and after one of them I said: "I want to skate to this". And he answered: "That was exactly what I wanted you to skate to!"
He also mentioned he thinks to try classical music with you.
When we worked with him the first time he wanted me to skate to blues in the short instead of the Japanese music I'm using now. But he never told me that he wants me to skate to the classical music. I think that it's something you have to try; you have to try different music, you have to show that you can skate to different types of music, that you can perform anything. That's what makes you a figure skater. You have to know how to do tango, how to do classic, how to do modern dance. So if he comes with some classical music next year, I probably will try.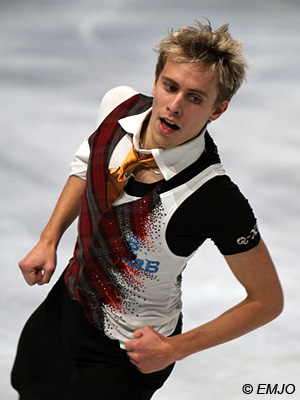 Are there any music pieces you have thought about for next year?
Well, I never think about it so much ahead. I have my programs till Worlds, and when it's over I will search for the music. Actually there are a lot of Czech classical composers, so maybe I can try something from that.
In your free skate you show us two different people: the ordinary "boring" guy by day, and then the rocker by night.
Yes, that was the idea of the program. When the guy - and that's the part from the movie - works really hard to do everything right and the end of the program is something like "he did everything right, now he can have some fun".
To which of those two personalities do you relate more?
To both. And I like both parts of my program which makes it easier for me to perform.
You too love to party after you worked hard during the day?
Yeah, I think everybody does. You need to have some fun after you work. If you work too hard and you don't have any fun then work becomes not fun either.
You were fourth at Worlds last year and the year before in Turin, do you feel now that expectations from you increased? Do you feel any pressure?
I always tell to myself: "I don't have to prove anything to anyone". I just do my job on the ice. I always try my hardest and if it doesn't work, it doesn't work. We are just humans, we can make mistakes. I don't feel any pressure from my federation, not even from fans. They always know that at the competitions I always try to do my best. Even after Europeans (in Bern, where he placed 8th - ed.) my fans were grateful and sent me a bunch of messages. I was disappointed with myself but they made me feel a little bit happier. And I got some push to work toward Worlds. If I skate, I skate what I know, and the result will come with the skate. I do my stuff on the ice and then just wait for the marks, that's the only thing you can do.
How do you keep in touch with your fans?
I have a Facebook, a Twitter account; also there is one fan page on Facebook which I check as well.
So their opinion is important for you?
Yeah, I always read the messages, sometimes you can get some ideas from them; like, for example, they send me ideas about the music. I was actually thinking about some of them. Nobody suggested "Untouchables" (music for the free program - ed.), but anyway it's not like you have to listen to the fans, they give you advice, but to feel the music is more important.
But I read all the messages and I reply every time when I see somebody wants to talk to me. That's the most I can do.
In one of your tweets you mentioned that you cook. What do you cook?
I live alone in Oberstdorf, so I have to cook myself. I'm not the chef, but I can do some stuff that I like, like pasta, meat; basically I can cook anything I want. Everybody can cook, you just have to try sometime, you need some practice, it's like with the ice. I find some recipes on the Internet and just try to do them. Most of the time I like what I cook for myself, but of course I'm not as good as my mum.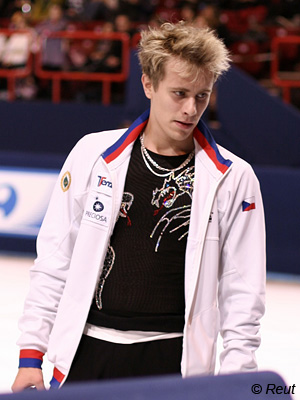 Are you a celebrity in your country?
Not really, sometimes I get interviews in newspapers, on the TV, but it's not like when I walk on the street everybody knows me. Sometimes I can see that people recognize me when I go to the mall, some of them are turning their heads because they realize that they saw me somewhere. But it's not like when I walk in there are hundreds of people who ask me for my autograph. It's nice when people know who I am, I like that. But I don't need that much of attention, I'm not that kind of guy. I'm happy that I can go anywhere and not be disturbed.
But you're aware that together with Tomáš Verner you make your sport more popular in your country.
Yes, I think so. We didn't have good skaters for a long time, so now it's his and my job to make it popular again. Skating was always popular in Czech Republic; our job is to make it even more popular.
What do you know about the situation with Czech skating?
I know a couple of Czech skaters, they are young, still in juniors. The best one after me and Tommy is seventeen or something. If you look at them, they know what they do, but they need more practice, not in the jumping, 'cause they can do all the triples, but it's more what I didn't have until we started working with Pasquale. I can see it, because I know, I had the same problem. Till I started working with Pasquale I never got the second mark, because the choreography wasn't really good. Same is for them, they need to find someone to work with and make the second mark higher. They need to find someone really good, someone they love to work with and then they will get better. I hope they will.
But it's not so easy. It is also a question of money.
Yes, it's not so easy, it wasn't even easy for me, if I didn't get the money from my federation, I probably wouldn't have a chance of working with Pasquale. Because he is a world known choreographer and you have to pay him for his work. I was really happy that my federation agreed to pay for me, so that I could work with him, that helped me a lot. I could move on with my skating.
Talking about Czhech skaters we can't not mention your sister, Eliska Březinova, who is also skating.
Yeah, she is skating sometime. She took part in one junior Grand Prix (Junior GP in Austria - ed.), she did well in the short but the free skate didn't work out so well. I feel bad that I don't have time to watch her skating, because I'm not home. Sometimes she can skate amazingly, but sometimes she skates so bad that you don't want to see it. There is no middle, she will either skate amazing or really bad. She can do all the triples [except Axel], she does triple flip and Lutz for half a year now, though they are less stable. If she skates well, she can do a clean program with everything; if she skates badly she can fall on double Axel.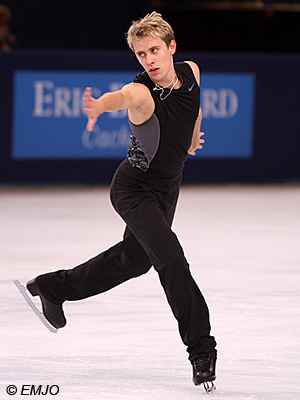 She lists your coaches as her coaches, including Karel Fajfr.
She actually worked with me in Oberstdorf during the summer. It was my coach's idea, as my parents are good friends with him. He knew that my sister skates too, so he just proposed: "Take her with you".
But you say that it still didn't help, because the problem is not in the technique but in her head?
It's more the issue of the age, she is fifteen. She needs to find what she wants. I think she doesn't know that yet.
Did you know what you wanted at that age?
No, actually no. But I always did on the ice what I knew from practice. I didn't know where the skating would take me, how it would continue, but I knew that when I go on the ice I do what I know. And I always did.
You came to skating because you wanted to play hockey and your father advised you to learn to skate first. How did your sister come to skating? Because of you?
I think so. I was always at the rink; my dad was always at the rink, so she also was always there. I don't really know how it happened. Maybe she was just used to the fact that she spends so much time at the rink, and when she is there she can actually skate. She started earlier than me: I started when I was seven; she started when she was five or four. We'll see. If she works hard maybe we will see her in a couple of years on the Grand Prix events as well.
Maybe you even can make some program together!
Not really. I love my sister, but I don't want to skate with her. (smiles)
With your girlfriend (Allison Reed, ice dancer) then?
Actually after Europeans she went with me to Obersdorf for a couple of days and we skated together. But I wouldn't dare to try lifts or something like this, because I would be scared to hurt someone. Maybe just skating would be fine. I think it might be fun. Maybe for an exhibition this might be cool even.
In your interview for Absolute Skating, the one from Euros 2010 in Tallinn, you were asked about Plushenko's comeback. And your answer was: "I think he shouldn't have come back". What do you think about it now when he is going to do it again?
I said it back then because if you look at Worlds 2009 before Olympics, you see that they wanted to have Evan Lysacek [to win] at the Olympics. Americans really wanted an Olympic champion again, because it was Russians for a long time, since Victor Petrenko; the last one from US was Brian Boitano (in 1988). That's why I said that Plushenko shouldn't have come back, he could win, but there was so much pressure on everybody. Evan deserved it, he skated clean. I still think that an Olympic champion should have quad in the program. That's what makes men's competition the men's competition. Also Zhenya made some mistakes in the free skate, and he missed one combination, that's why he probably lost (Plushenko had three combinations of two jumps each while by rules he could add the third jump in one of them which could give him needed points to win). But still, he has three medals from Olympic Games now!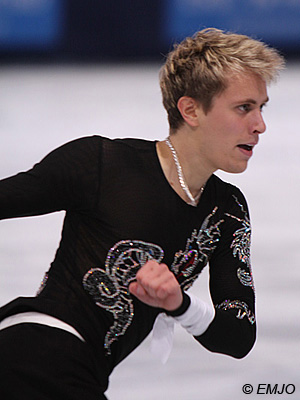 If he comes back for Sochi it will be even harder for him than it was in Vancouver. I don't think that other skaters will be afraid of him, I think, they will try even harder to beat him. I know he is a really great competitor, and he really wants to prove to everyone that he can still do stuff. We'll see. It will be fun to skate with him again. It was really awesome to skate with him at the same competition. But this time I will try to beat him. It would be great to beat an Olympic champion, wouldn't it?
You were supposed to compete with Evan Lysacek in Paris, but then he withdrew. What do you think about his comeback?
Again, I don't want to be disrespectful but I think that for him it would be even worse than for Zhenya. Since Olympics, skating moved on. If you look at the first ten at Worlds, they had at least one quad in the program, and the rest of program was skated mostly clean. I don't know how Evan's condition is right now but for a couple of years I didn't see him doing quads. It will be really hard for him to compete with Patrick Chan or Daisuke Takahashi, who are good skaters and also do quads.
In general do you usually follow other competitions?
When I'm near the TV, I watch. If I can't then I just check the results. If someone tells me that some skater was really good I also search for a video. I try to watch performances of those I know, always check how my friends did.
Name me something that really impressed you this season so far, either the result or the program, the performance.
Definitely Javier (Fernandez) at Skate Canada, the short program was just amazing. I saw that on TV live. Of course Daisuke Takahashi in Japan (at NHK), he was, I think, even better. In pairs I saw Maxim and Tania (Volosozhar/Trankov) at Skate Canada. They were great. Of course, Alissa (Czisny) and Carolina (Kostner), they both skated really well at Skate America, and, I think, Carolina skated even better at Cup of China. I saw the competition of ice dance at Skate America, with Maryl and Charlie (Davis/White), it was really nice too. And also in ice dance I just love the free dance from Kaitlyn and Andrew (Weaver/Poje), I was watching it with my mouth open.
Let's finish with something not skating related. You're from Brno. Try to convince me as a tourist that I should come to visit Brno instead of Prague. What is interesting and special about your home town?
Historically Brno is special because it was the only city in Czech Republic that the Swedish army wasn't able to conquer in Thirty Years' War. Under the city we have something like eight floors of catacombs, only a small part of it is open for the public, because they let you only into those which are known to be safe. I went there once, it's really amazing: you go under the ground in one part of the city and you get out of it in the other part. It goes under the whole centre of the city. We also have a castle which is standing in the middle of the hill (Špilberk Castle). It is a very old prison. Nobody ever was able to escape from it, it was especially hard because the prison is under the castle and there is only one way up and out, there is only one door. Like in Prague we have a really big church (Cathedral of Saints Peter and Paul). It's from 13-14 century. There are a couple of other old churches too. We also have our own mummies! They are not like the Egyptian mummies, you can actually see the faces of the people, they still have skin; they have been preserved in the underground of the church (Capuchin Crypt and Church).
As earlier Michal told me that he had problems with his new boots which caused a blister I finished our talk wishing him well which led to somewhat philosophical talk about the suffering and the meaning of skater's life.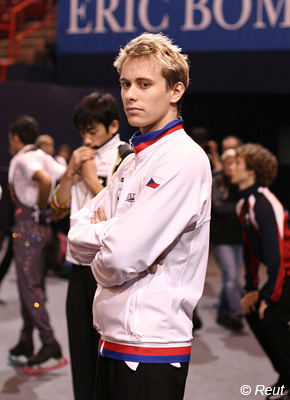 Thank you and hope you'll feel better.
It'll be fine; it'll hurt but will be fine.
No, when it hurts it's not fine.
But we are skaters, everything hurts.
Yeah, I heard that joke that if you wake up and nothing hurts, it means that you're dead.
That's what I tell myself: "If you wake up and you don't have a back pain, and your knee doesn't hurt, and you can move your arms, then it means that you're probably dead".
Sometimes I wonder why suffer then? What does skating give you that you're willing to suffer for?
It's not what it gives you. It's what you have already. Now it's part of my life, I can't imagine going to vacation and have a vacation without skating. I never go to vacation not thinking about skating. You just can't do it without. We all think about skating all the time.
Well, thank you for this talk and good luck in beating all the Olympic champions who are coming back.
(laughs) I'm pretty sure we all will try to beat them.
The second half of Grand Prix series went less well for Michal; he was only fourth at Rostelecom Cup in Moscow and last (sixth) at the Grand Prix Final in Quebec City. He finished second at his National championships behind Tomáš Verner, but the gap was almost 20 points. We hope he recuperates for the Europeans and wish him good luck with the rest of the season.