Meagan Duhamel and Eric Radford: "We both have a very good balance with our skating and our lives"  
November 23, 2011
By Nadin Vernon
Photo &copy Eva Maria Jangbro (EMJO)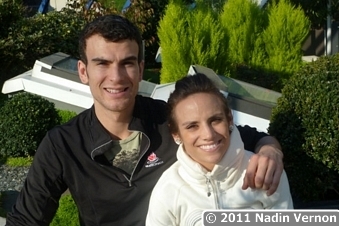 Meagan Duhamel and Eric Radford (CAN) took the bronze medal at the Trophée Eric Bompard, having placed second after the short program. They now have an anxious wait, as the Rostelecom Cup will determine if they are able to qualify for the Grand Prix Final, which takes places in Quebec this year - two hours from where Meagan and Eric live. I caught up with them on a sunny Sunday morning in Paris.

Congratulations on your bronze medal here, how do you feel the competition went for you overall?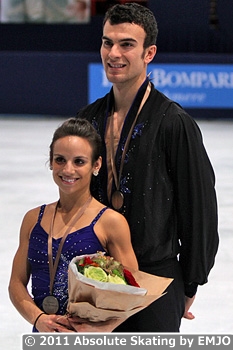 Meagan: We're really happy with the short, we skated that very well. We can do the long a lot better than that. We made completely different mistakes than we did at Skate Canada. We fixed what happened there but then different stuff happened here. But we know we can skate that program much better and we're looking forward to doing that the next time because those were some unfortunate silly mistakes.

Eric: Everything was great in the warm-up and then on that first opening jump, we did the Lutz and then we did the toe and then we probably should have just ended it there. But when we're training we always want to maximise our points, so we both went for that.

Meagan: We know that the last double toe is an extra point and if we would have lost something by one point we would have regretted it.

Eric: It's funny, by not doing that toe we would have gained two extra points. Actually almost four, because we wouldn't have had the downgrades. That's one of those unfortunate blunders, that you just can't really control. And then the throw.

Meagan: It's the first time we've ever missed a throw in competition and I ever fell on that. And it looked ok in the air.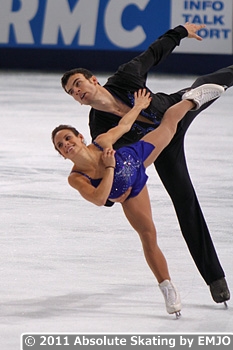 Did you watch your programs again other than in the replay?

Meagan: Yes, we watched them on youtube.

Eric: We sort of laughed, because my double toe looks kinda silly (laughs all round) and we had that little collision in the middle of the program.

Meagan: Which was kind of funny

I bet that never happens...

Meagan: Oh it never happens (laughs). I don't think we really felt comfortable in that program. At Skate Canada we were really comfortable and we were really into the choreography and this time it wasn't so much like that. So I think when we're more comfortable we'll have less little errors.

Was it difficult to go out straight after Vera and Yuri? You were probably able to tell from the atmosphere that they had a very good skate.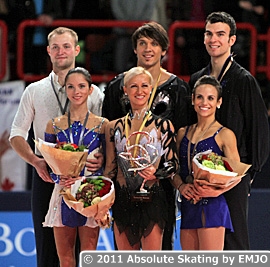 Meagan: Not necessarily the skate but hearing their score. We never scored 125, so we stepped on the ice and coming second became out of the picture. So even though we didn't watch their skate, we knew that they must have had an amazing skate.

Eric: Yes, when we heard 125 we thought ok, probably that isn't going to happen, because we've never done it before.

Meagan: It's possible, but we don't have that in our pocket at the moment. We came in here and we knew all the maths, we knew if we came second we would make the final or if we come third and score a certain number, we would most likely have a chance to make the final.

Are you where you want to be at this stage of the season?

Eric: We did a couple of smaller competitions before these two and we've done clean shorts now, so I think we got the short under control. The long program, I think we've made a huge variety of mistakes in all the competitions.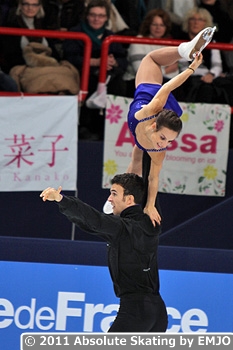 Meagan: Yes, every competition we're making different mistakes.
Eric: So I think we're slowly getting them out of our system and it was the same for us last season actually. We didn't really start to build our peak until Nationals which is January, so I think that despite the mistakes here we're still feeling confident because we know that this is still near the beginning. Of course we want to skate clean, but the fact that we didn't, gives us room to grow and it lets us learn what we need to concentrate on when we go back out there, so in the end we are probably going to take away a lot more from the way we skated here than if we came here and had a perfect program. We'd rather make the mistakes at this competition, and learn from them, so that we can have great skates when it really counts.

Meagan: But we're really happy because we're seeing an improvement. We got a +3 from one judge on our triple twist, we got +2s on all our lifts, we got all our levels, our side-by-side spin has been one of our highlights in our program with the Level 4 and plus 2s, and our component score in the long program has been the highest we've had. And we could skate the program so much better than we did yesterday so we know we're going in the right direction.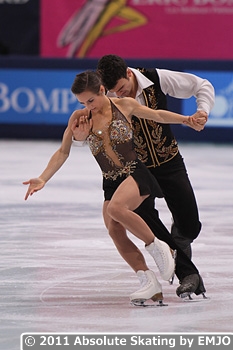 How do you go about finding music to skate to and who's involved in that process?

Eric: Throughout the year I'm always keeping an ear out for music and usually what happens is I put a CD together with a bunch of different types of music and this season it kind of happened that our choreographer came to us with this music for the short, and we really liked the idea of having the Flamenco character. If you skate to a slow piece of music, unless it's Romeo & Juliet, where everybody knows the story, it's hard to portray a story, whereas with a Flamenco piece of music there's a character right from the beginning and a specific style that you can work with. So I think that's what we really wanted to go for. We wanted to have a short program with a good sense of style and character and we know that Aranjuez is a very common piece of music but we really liked this version. We know that Michelle Kwan used it...

Meagan: ...but we're not aware of any Pairs team that has used it, so as common as it is, it's not common in Pairs skating. And our choreographer did a really good job with creating the program.

Eric: I spent a lot of time trying to find long program music and I brought in idea after idea and it wasn't the right music and I think I was just randomly listening to music on youtube and I heard the Yellow part and it's sweeping and melodic and then it's relatable because people know Coldplay and it's powerful, and so I brought this in and said, Can we please skate to this? And then the Viva la Vida part came later. It's music that we really like and can relate to and I think it fills an arena.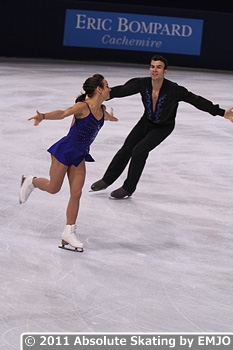 Meagan: And we really felt that at Skate Canada, as soon as the music came in, the crowd was so into it and that's what we wanted. It's relatable and people can feel it. The judges came up to us after Skate Canada and said, 'We can really feel that program and you guys feel it and in turn we feel it and you're really connecting us and it's an amazing piece'. So it's good.

Eric: And I think that once we have that really good clean skate it's all going to come together in the long program. For example when we missed the loop in the long program, there is a big choreography section that we left out, so when you make mistakes you lose something, it's hard to keep the flow of the program.

Is it quite easy for you both to agree on a piece of music?

Meagan: We both agree on everything pretty much.

Eric: Yes, we're both quite flexible.

Meagan: I guess we both like the same type of building long program. I think that our music last year and music this year is really grand, standing ovation type music and we both like that and it's easy to skate to that for us, so we enjoy it.

This is your second season together. How did you adjust to each other when you first got together?

Eric: I think because Meagan and I were such strong single skaters, it was really quite natural.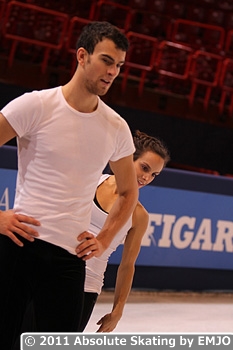 Meagan: We just adapted so easily to each other.

Eric: Yes, I mean we both had partners before where some things would work easily and then there were others things that were always a struggle from day one and they just never got to that point where they were just natural. But for us pretty much from day one everything was pretty natural. We never really struggled technically with anything, and I think the biggest factor in that is that we're both strong single skaters and we're both very adaptable. In the lifts, if something's a little off and she's a little off, I can control it. Or in the throws, if I'm a little off, Meagan's really good at pulling it back together. So as a team we have a lot of leeway together, it's not like we're going in and it has to be absolutely perfect for everything to work, it's really comfortable.

So does it feel like you've been skating together all along?

Meagan: Pretty much.

Eric: Yes, I think we still have a lot of building to do like matching our styles even more and connecting a bit more and building that unison of a team that's been together a longer time. But both technically and artistically, we're always trying to take that next step and I think what we're realising is, there's no big leaps. You can't just jump five steps ahead. We're taking little steps but what's important is that we're noticing each competition we are improving and other people are noticing it too so it's not like we're doing all this hard work for nothing.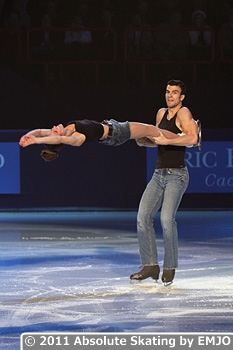 What are you looking to achieve this season?

Meagan: Well I think at the beginning we were so eager because we knew what we could attain, like what was possible for us. So when we first started out we had a little bit of a hard time because we had really high expectations right away. We went to our first ever International last year and wanted to win it. So it took us a while to settle in to our expectations and slowly everything is building up, and this year we sat down and we made our goals and our goals were to have more intricate, more difficult choreography, be more consistent, make the GP Final, make the National title and improve our ranking at the World Championships. And I think that even if at this competition and at Skate Canada, we didn't skate as perfectly as maybe we would have hoped to skate, we're still step by step achieving our goals. And we came here knowing what we needed to do to have a chance at the final, and it might not have been easy and we might not have been perfect, but we put ourselves in the position to achieve our goal. And then after this season is done, we'll sit down and we'll decide how to approach next season, especially with Worlds in Canada and take it step by step every time.

We've seen quad twists and triple Axels this season, what are your goals when it comes to technical content?

Meagan: We are the only team doing a triple Lutz right now so I think that's how we push our boundaries technically.

Eric: I think we're always going to be pushing ourselves, getting levels on the twist, coming up with new intricate lifts, and there are so many different things you can do for entrances and exits of pretty much all the elements, so I think that's where a lot of the pushing the technical boundary comes from.

Meagan: And we're capable of doing all the triples side by side so we have a wide range of which ones to choose to do. We're very luck in that aspect, that we have that in our hat. And we can do all the throws, so we're not limited. Right now, we're doing the Triple sal in the short, but ideally we want to do the triple Lutz in the short. We just have so much difficulty in our short program right now, that our main priority was to skate a clean short program and it's a lot less stress to do the sal. But as the season progresses, it's our goal to put the Lutz into our short as that's going to be an extra two points. It's worth it.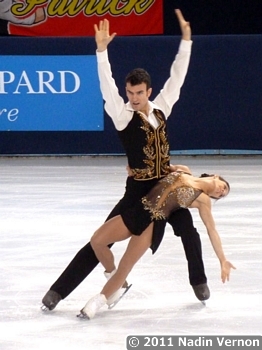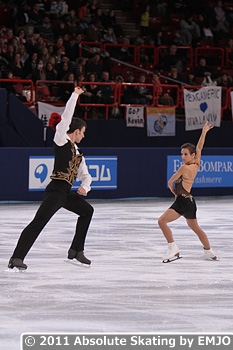 Can you talk me through your weekly schedule?

Eric: I usually wake up around 6:30. We're on the ice at 8, so we usually do about three one hour sessions in the morning, and then twice a week we do another hour with our choreographer at a different rink. And then twice a week we work with a personal trainer and I do coaching as well, three times a week. I coach kids from ages of about 4 to 14 and then we have our weekends off to just kind of relax and get away from skating.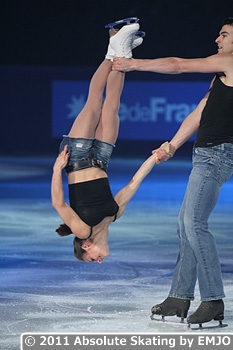 Meagan: Erik coaches and I study, so that's where our schedules vary. I do Yoga and Pilates for off-ice as well as working with the personal trainer. Studying is through correspondence, so on weekends during my free time. I'm studying Holistic Health and I'll be a registered holistic nutritionist in May and then I'd like to go into personal training and Yoga instructing and I'm looking forward to starting that next summer. I'm actually a vegan, so that's what got me interested in holistic health. I've started to invest in naturopathic therapies and I just find it very interesting, this very pure organic type of lifestyle.

So you're already thinking ahead about what may come after skating?

Meagan: Well, you have that balance in your life. I think that's the most important thing, if our lives were one dimensional it would be very difficult. I'm going to be 25 soon and Eric's 26, and you need to have balance in your life. That's the only way we're going to enjoy what we're doing.

Does that also mean time off each other? Obviously you spend so much time together on the ice.

Eric: Yeah, we both have our separate lives and I think that's another thing about me and Meagan's relationship on the ice. We work really hard when we're at the rink but it never feels like work. We're always laughing and having fun but we work really hard and when we're away from skating, it's...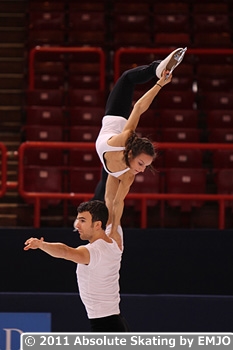 Meagan: ...life! (laughs)

Eric: Yes, everything is left at the rink. I think we both have a very good balance with our skating and our lives and that kind of balances between us on the ice somehow. It's very good.

To come back to training again for a moment, do you do run throughs every day?

Meagan: Yes, we alternate every day. On a Monday morning we'll do the long program and Tuesday we'll do a short and we'll alternate back and forth. But if on Monday we're doing our long program, we'll do our short in parts. We used to do a full short and a long every day but I think that Eric and I have realized that for us it's best to give 110% to one program instead of maybe doing a long program and saving some energy because we still have to do a short later. And in competition, you don't do both programs in one day.

Eric: Yeah, it's a little more quality over quantity.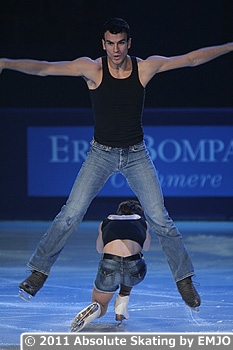 Will you be doing any shows at all?

Meagan: We love to do shows, so anybody reading this, please invite us to a show (laughs). We have a lot of show tricks and show moves, we love it.

Eric: We're doing a show in Meagan's home town in December and then we'll be doing the Christmas Show in Courchevel.

Meagan: Yes, they've invited us to come and we're really excited about that. I've done the show there before but it will be Eric's first time in Courchevel, I've told him all about it (laughs).

The balance that Eric and Meagan are talking about here is something that doesn't just come across on the ice, but I also noticed it during the press conference where both answered questions in equal measures which doesn't actually happen that often. And again during our interview, Meagan and Eric were finishing off each other's sentences and really illustrated this balance, equal involvement and healthy relationship. I wish them all the best for this season.