Emanuel Sandhu: "There's beauty in ugly and beauty in darkness."
 
December 1, 2011
By Fannie X.F. Wang
Photo © Fannie X.F. Wang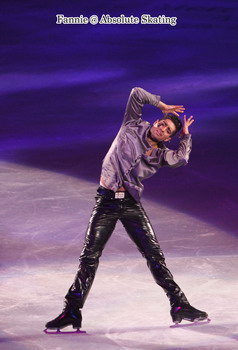 At Art on Ice in China, Emanuel was doing exercises when I knocked on the door of the changing room. I asked him if it would be okay to have a quick discussion later at his convenience. He looked at me, thought about it before replying in a very polite manner:
"Okay. Just a minute. Let me put my shirt on."
It's so great to have you in the cast. We haven't seen you for a few years since your last visit here.
Yeah, I know it's been quite a long time. I always enjoy coming to China. I am very, very happy to be back here and to see my Chinese fans. My fans are very nice and supportive and Shanghai is a great city.
It's been a while since we saw you in major skating events; could you give us an update?
Yes, I've been dancing and skating.
Tell us more about the projects?
Well, I've been busy with So You Think You Can Dance Cananda for a couple of years and I wasn't really skating much at all then. Now I'm doing both dance shows and skating shows, so I'm enjoying myself. It's a dream come true for me. You know the last program we practised? (Chopin's Etude "Tristesse") For me it's about pushing boundaries, being completely worn out and then looking for ways to expand the sport and be the first one to do something. To be cutting edge and so, to skate and dance in one single program.
Was it your idea?
Yes, it was. I would love it if I could add trickier moves, but the stage was wet and I have to be very careful lest I fall. I think doing SYTYCD Canada opened up my creativity and generated many ideas. Well, I'm glad to be in a show like Art On Ice here, which allows us to be as creative as we can be.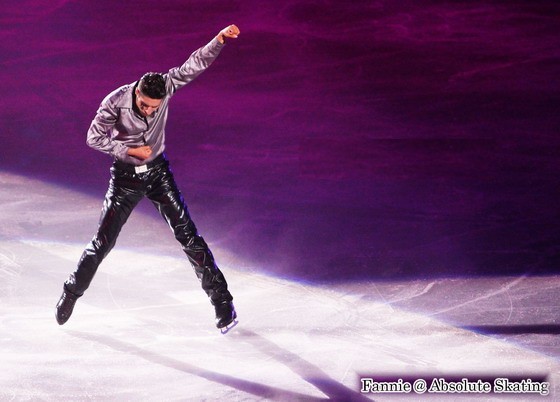 So how often do you skate now?
It depends. Of course I don't skate as much as, for example, when I prepared for the Olympics.
How do you feel about the technical part if you don't skate as frequently as before?
Well, you know, it's all about practice. It's all about rehearsing it.
Now that you have so many things to do, how do you arrange all of them?
By working on my time management skills (laughs).
I saw you practicing your old program "Purple Rain". Could you speak more about it?
"Purple Rain" was done in 2001. I'm a huge fan of Prince. The program is a bit angry and dark, but there's also apology and hopefulness. We always see happy and happy, but any human being can relate to the fact that, it's not just happiness in reality.
Here's one thing I learned about SYTYCD Canada. You know Mia Michaels, the choreographer? I had a chance to work with her. One day during rehearsals, she said , "DON'T be afraid to honor your darkness. There's beauty in ugly and beauty in darkness." This program represents the physical expression of that. I performed it many times and it also became a signature piece and I don't have many signature pieces (laughs). I am kind of putting it in a purple rain suit case and open it up and present it when I want. I decided to do it at the time when I was feeling sad and lonely.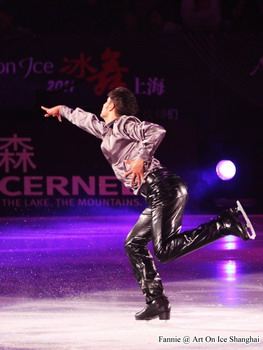 You still feel sad and lonely?
No. I'm much better now. So I have to tell you, this program is more difficult to skate because, um… I don't know. It seems to work better when I am tortured, if that makes sense. It's such a dramatic program. I know a lot of people refuse to talk about their dark side, but I have no problem talking about it. Many times I find that I was the most creative when I was struggling.
How long will you still be staying here?
I'll be leaving on Monday. Thankfully I have all day Monday and I can go to the museum of contemporary art. In a new city, I always go to [an art] museum when I can and the gift shop because it has beautiful art books.
Art books?
Yes, for example an art book about the exhibition presenting in a gallery. I always buy it in the language of the country that I'm in. I master this collection of art books in different languages of different things. It's wonderful.
Emanuel announced his comeback and was scheduled to participate in 2012 Skate Canada British Columbia/Yukon Sectionals on 11st Novemeber at Capital News Center, Kelowna, B.C. Many in the skating cycle looked forward to watching this highly gifted three time national champion compete again. However, he was forced to withdraw from this qualifying event due to a foot injury. Will we at some point see him competing again?