Nóra Hoffmann and Maxim Zavozin: "We like to explore ourselves"
 
May 5, 2011
By Titanilla Bod
Photos © Joy & Mireille Geurts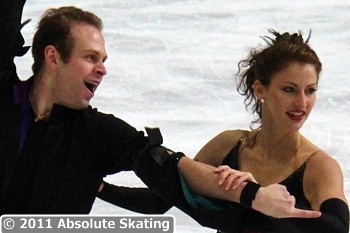 January 2011, location Bern Switzerland. They wanted to be in the top five, but in the end finished eighth at the European championships. Nonetheless they made a good impression with their energetic free dance portraying a gypsy witch. Nóra Hoffmann and Maxim Zavozin of Hungary shared their thoughts with AS after the competition.
What do you think about the rule changes and the new short dance?
Nóra: We like it. We enjoy the waltz. Some couples chose modern music for it, we stayed with classical waltz music to show our classical side as well. I like the dance, it's flying, it's carefree…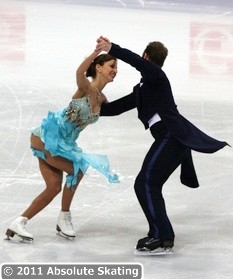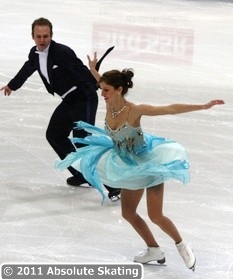 What about your free skating?
Maxim: It's our favourite free dance so far, specially because it was done together. But it
still needs work and improvement. Now we know what to focus on and we are going to work
really hard before the world championships. We want to improve, we want to show that this is
a very good program and we can perform it really well.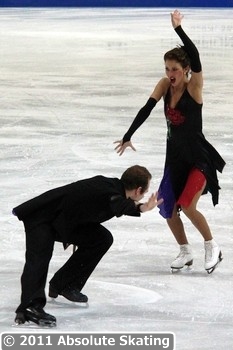 You are getting into Hungarian culture through your programs – last year it was the csárdás and now the "Nagyidai cigányok" (Gypsies from Nagyida). Do you enjoy it?
Maxim: I love it. It's so much fun to do. Hungarian people are such warm and also firey people, and the music and the dances are very exciting. I love it.
Nóra, you seem to enjoy being the gypsy witch.
Nóra: I adore this program and I enjoy it very much. I hope once we can perform it so well that we get the good levels. We skated very well at the Nationals, and I think we skated well also here at Europeans, but we didn't get the levels.
Are you very disappointed?
Nóra: Oh, no, I think we did what we could. It was really hard to skate here now, the arena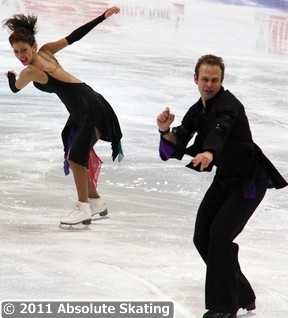 was so cold, so I'm already glad I didn't fall. It could have been worse. There is no reason to
get desperate, despite the score I think we made a good impression in the judges.
Maxim: It wasn't our best skate, but compared to how we've been feeling at practice here everyday, it was definitely an improvement. I guess the technical panel didn't like our performance so much, so that's the result.
Nóra: We felt good on the ice and I think in general it was a good program, I think the crowd liked it as well. But at the end it was really a "free skating", because Max stumbled a bit, so I quickly started to do something and he did the same, it was kind of free style in the last fifteen seconds. I couldn't just stand there and wait for him, I had to improvise. There should have been one more small lift, but I hope the mistake was not that noticeable, mainly if somebody is not that familiar with the program. We got shockingly low scores for a few elements and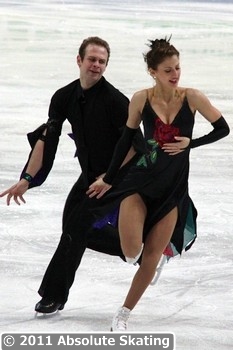 I don't really understand this. We didn't get level 2 for our step sequence during the whole season. But the technical panel probably didn't like this program this time.
You said you had problems at practice. What was it?
Maxim: We practiced two times in the practice arena and as we talked with other skaters
about it, nobody really liked it, because it was so white and everybody got lost in it. That was
specially my problem there, I was so lost in the rink that I couldn't really focus, I didn't know where I was going.
Who choose the music for this free dance?
Maxim: We choose it together.
Nóra: We saw the Experidance show together and we decided to use this music.
Maxim: Once we came home, we bought the CD from the show and we were listening to it
and said: this will be our free program next year!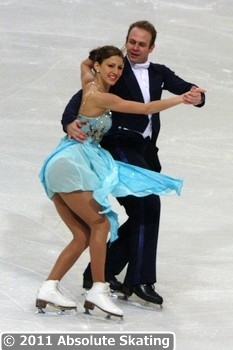 Is it intentional to do something totally different each year? Last season you had a hip-hop
free dance and now you skate to gypsy music.
Maxim: We want to show the judges that we can perform and skate different styles and not
just to stick to what is comfortable for us, and we like to explore ourselves as well, what we
are capable of.
Overall how satisfied are you with this season?
Nóra: It's like up and down. At one competition we are in a very good shape, at the another
one it's not so good, there is always something happening, there are many competitions, many
results, it's new for us that now we are also under bigger attention. We enjoy it, but we are
also a bit nervous, we haven't really got used to practicing with the top teams yet, but on the
other hand we are a bit angry that we are not real contenders yet. So there are many mixed
emotions, it's like whirlwind.
Unfortunately, bad luck haunts Nóra once again: she and her partner had to withdraw from the World Championships because she got ill a few weeks ago. At first it seemed to be a food poisoning, but later on the doctors were almost sure it is pyelonephritis. Nóra wanted to compete in Moscow as it would have been kind of a home soil for them (they train in Moscow), however, her condition forced the couple to withdraw.
We wish Nóra a quick recovery and many successes in the future.