Javier Raya: "There are many sides to skating"
 
March 2, 2011
By Nadin Vernon
Photo © Joy & Mireille Geurts, Nadin Vernon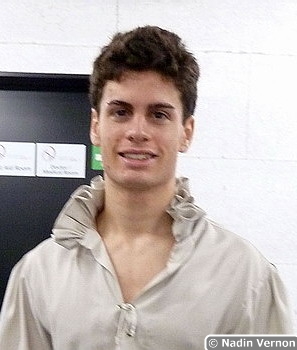 Javier Raya from Spain attended his first European Championships in Bern this January. The 2011 National Champion made the move to seniors this season and won his first senior National title in Barcelona in December, where he beat Javier Fernández in the free program.
Watching Javier Raya live for the first time in training in Bern, I noticed that next to clean triple axels and triple-triple combinations, Javier's skating stands out for being very expressive. His free program – Puccini's Tosca, choreographed by his coach Ivan Saez – provides the perfect vehicle for showcasing his artistic footwork and fast spins with inventive positions.
Javier easily qualified for the short program in Bern, coming fifth in the preliminary round. Unfortunately the short program didn't go as well; I caught up with Javier just after to find out about his experience at these championships.
Javier, it didn't go so well today, what happened?
This really wasn't my best performance, not in terms of the jumps anyway, I think the rest was quite good, the artistic side and the other elements but overall I'm really unhappy today.
These were your first Europeans, were you very nervous?
I don't know really, I've been to Junior Worlds three times so it's not like I haven't skated in big international competitions before. With seniors, the name is obviously much bigger. I have actually competed with almost all the skaters here before, many times. And for me this was just one extra competition. So really it's not that different to me. I should have done so much better today and been in a better position, but as you saw - unfortunately it didn't work out. I missed many jumps today.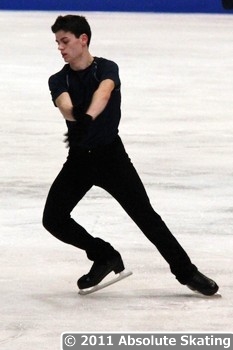 You've been skating very well in training.
Yes, training has been going really well and the warm up was good. And these are jumps that I can do in training all the time. So tomorrow I really want to have a clean skate and show what I can do.
You train in Madrid, have you been to any summer camps?
Yes, I'm usually in Canada for the summer. The first time I trained with Daniela Slovak in Calgary, then with Manon Perron in Montreal, and the third time I trained with Brian Orser.
Your skating stands out for being very artistic, it's not just about being an athlete, is it?
That's right, there are many sides to skating and it's nice to be creative, but of course you have to do the jumps too and today I only managed to save the program. Let's hope I do better tomorrow. The rest was pretty good, the spins, but not the jumps.
Do you prefer skating the short or the long program?
For training I like the long program because there are more parts, so it's not that repetitive. But the short program is good because there's so much power in it with the music and that makes it very interesting.
How many ice rinks do you have in Spain, is skating becoming more popular?
We just have twelve rinks, but skating is very popular. So even though there aren't many rinks, wherever there is one, there are many skaters and many people who want to skate. So the few rinks that we have are very busy. And in Madrid we don't have many hours to skate either. We don't have our own rink, we have to share it with ice hockey and we have just two and a half hours a day, so it's not that much.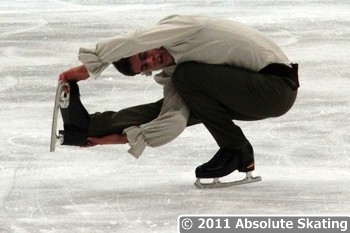 What off-ice training do you do?
Other than training I do gymnastics every day. I used to do dance but don't really have as much time for that now.
Is skating shown on TV in Spain?
Yes, all the competitions are shown on TV in Spain, also the Nationals which is very good so that's improving. And we have great fans who travel to competitions which is great.
What are your plans for the rest of the season?
I'm so tired this season, it's been a long season. I haven't really stopped and it's the first time I'm at Europeans. Unfortunately we only have one place for Worlds, but there may be a smaller competition in Madrid I can attend. And I would really like to go to Triglav Trophy, so I hope that my federation will send me there. It would be good to go, because it's hard to train if you haven't got competitions to go to. So I would like to go there to get points.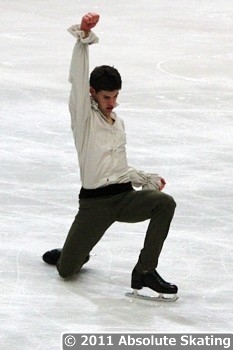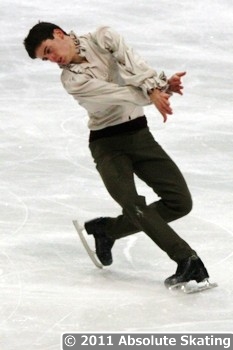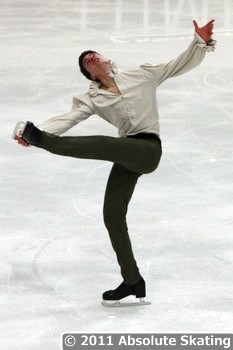 After the men's short program, the draw took place for the free where Javier Fernández drew for Javier Raya. He drew the number that always sparks a round of applause, the Number One. But as it turned out, this draw wasn't so bad for Javier Raya at all, as he skated a beautiful near-clean free program which earned him twelve more points than his skate in the preliminary round. Visibly relieved, Javier studied the scores with his coach as he came to the mixed zone to answer a few more questions. This is also when I noticed blood on his hand and shirt.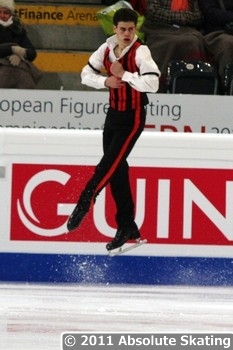 You cut yourself?
Yes, again [laughs]. It's the third time this week, it always happens at competitions.
You had a great skate, how do you feel?
I felt very well at the start but then my feet got a little bit tired. But I'm so happy.
How did you get your nerves together today?
I think skating first was actually very good for me because I was warm from the warm-up and on the other days I skated late which wasn't so good. I felt really good this time.
You got a Season's Best.
Yes, I got a Season's Best but it still wasn't the best I could have done. Unfortunately my PCS wasn't as high either, but I achieved a good technical score. I'm happy.
Hopefully we will see Javier in another competition this season where he can show his abilities and establish his name. A name you should remember for the future, not as 'the other Javier', but as Javier Raya.