Kevin Reynolds: "The quads are my most consistent jumps"
 
January 20, 2011
By Titanilla Bőd
Photos © EMJO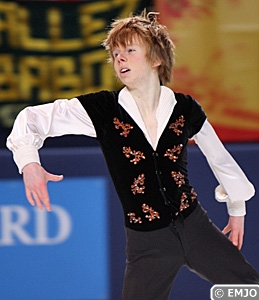 He landed two quads in the short program at the Skate Canada and has written his name into the chronicles of figure skating. Missing his home town Olympics was a big disappointment for him, but he already sets his eyes at Sochi Games. This is Kevin Reynolds, the rising star of Canadian men's skating.
You made history at Skate Canada with two quad jumps in the short program. How do you feel about it?
It was such a surprise, because it was the first time I really tried it in major competition and it clicked right away. It was really exciting to do it in front of the home crowd and the audience's reaction was great. It was amazing.
What do you think about your performance in your second Grand Prix event, the TEB Paris?
It started off pretty well for me. I did a great short program with a quad-triple and a triple axel, but unfortunately the marks put me quite of out of content for a medal, so it was hard to come back in the long. But there was also some positive aspect, as I got credit for my quad salchow in the long, as well as for the triple axel, triple toe. So I'm happy with that.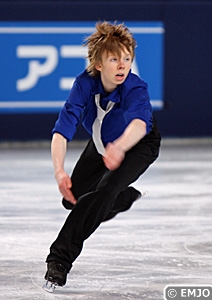 Why is the quad so special for you?
I used to admire guys at Salt Lake Olympics, Plushenko, Yagudin and Goebel. I wanted to achieve quads later, and I'm happy that I did. I would like to get a little bit more consistence, so that I can land them all the time. The quad is my most favourite jump.
How is the quad different from a triple?
A triple is a lot easier in a sense that it doesn't take a lot of energy. A quad takes a lot of energy and concentration, so I can be very tired physically and mentally, that's why it's so hard to do it.
Do you spend much longer time in the air during a quad than during a triple?
I think the air time is pretty much the same, it's about how fast your rotate, how much speed you can generate at the take off where there are differences when you do a quad or a triple.
Which is your favourite quad?
I learnt the salchow first, when I was fifteen, so that's my favourite jump.
Do you plan to add some other quads to your repertoire?
I was practicing quad loops, and I'm pretty excited about that. I will see the progress and maybe I will include it in my programs later in the season. I'd like to be the first man to land a quad loop in a competition.
You were probably happy when you learnt that the new rules allow to put two quads in the short program – with the previous rules it wasn't possible.
Yes, it's a great opportunity for me, because my quads are my most consistent jumps, better than my axel. So I wanted to take the opportunity, but as it showed in Paris, they are risky and if you don't land them perfectly, you loose lot of points.
Last season there was a big discussion if it is important for a champion to have a quad, if it's possible to become an Olympic champion without a quad jump. What do you think about it?
The new system put a lot more focus on the skating, spins and footwork, not only the jumps. As we've seen in the recent years compared to 1998 and 2002, the jump has gone down a little bit for the top skaters. But I think eventually jumpers are coming to tope again so I think we will see more quads in the future.
What about the other elements, do you like the spins and steps?
I liked to spin when I was younger, but some of the new rules, this year specially, are restricting the spins a lot, we have to do a lot of awkward features in order to get points, so it isn't as free and you can't really spin as fast as you'd like to. I hope that in the future they will give a lot more freedom for the skaters in the spins, so they can demonstrate their best spins.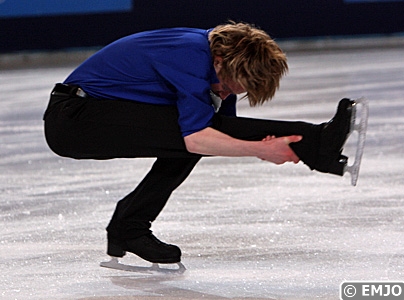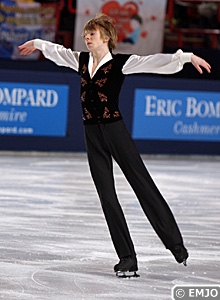 This year you skate to a classical music in your free program. It's kind of a new direction for you, isn't it?
Last year's free was a Led Zeppelin medley, so it's quite a drastic change this year to a classical style, but I like it so far. I like the freedom that the music has and how can I express it, especially at the footwork sequence and in the step choreography in general. It's a challenge always to do the top technical elements, with the performance as well. I hope that by the end of the season I can combine them both so I can give a good long program.
Was it your idea to try the classical music or someone else has come up with it?
As always, we chose together, the coach, the choreographer and me. We decided on the classical piece, because we wanted to try something different at the beginning of the Olympic cycle.
Last year you didn't make it to the Olympic team. Has the disappointment gone now or does it still hurt?
I was very-very disappointed at that time, home town Olympics – this comes once in a lifetime and I won't have this opportunity again, to be so close to it. But it motivated me to be better, that time I landed my first quad loop and I think I was motivated by the fact I didn't reach those Games. So now I'm looking ahead to Sochi in 2014 and possibly the 2018 Games as well.
Do you dream about an Olympic medal?
It's far off in the future, anything can happen in three and a half year, but one day I'd like to be World and Olympic medallist. That would be my goal, to represent Canada with pride.
What do you think you need to be a big champion?
My weakness is now my presentation, because I've been classified as a strong jumper, so I think I will just continue to improve my presentation and my skating skills, and I hope one day I can compete with the top skaters.
Are you nervous before the competitions?
As a jumper in a new system – it can be very nerve-wracking, because you know that there are so many points in risk with those quad jumps and trying to perform afterwards is very difficult. So I get nervous before competitions, but I think it's been a lot better in the recent years, you could see more consistent performances from me.